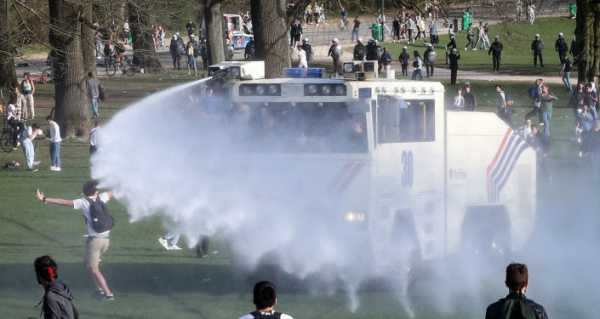 In late March, Belgium reintroduced strict COVID-19 lockdown measures in response to a dismal surge of new coronavirus infections across the country.
A video of Belgian police dispersing an anti-coronavirus lockdown party in a Brussels park has been published by the Ruptly news agency.
In the footage, mounted officers were seen deployed at the Bois de la Cambre park in the country's capital, where they cracked down on the event's attendees.
Some of the revellers were seen hiding behind trees as they were pounded with water cannon.
Late last month, the Belgian government announced the reintroduction of coronavirus lockdown restrictions, Health Minister Frank Vandenbroucke  justifying the decision with what he felt was a dismal increase in COVID-19 patients in Belgium's intensive care units.
According to the World Health Organisation's latest situation report, the number of confirmed coronavirus cases in Belgium soared to 887,920, with 23,045 fatalities.
Sourse: sputniknews.com