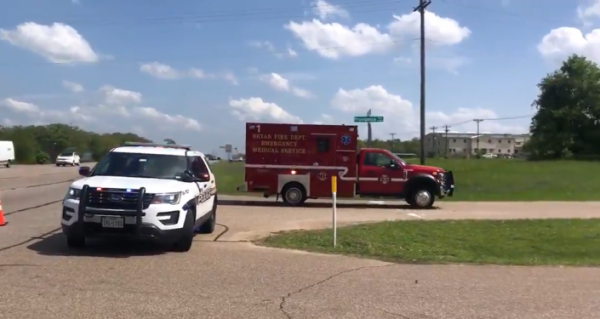 The shooting incident took place in the city of Bryan, Texas, approximately after 2:30 p.m. local time, according to reports. The motive or description of the shooter remain unclear.
Bryan Police Department chief Eric Buske confirmed on Thursday that the shooting incident at Kent Moore Cabinets in Bryan, Texas, killed one and injured four, while another person was hospitalized after suffering an asthma attack.
He also said that the police may have a suspect in custody, noting that it appears he was an employee at the business.
The Bryan Police Department, in a tweeted statement, confirmed seven victims, among them one deceased, four hospitalized in critical condition, one with a minor injury and one "medical related to the incident". It was also confirmed that the suspect is an employee at the business, and he has been arrested, with his motives remaining unknown.
​​Texas Governor Greg Abbott released a statement after the shooting incident, confirming the arrest of the suspect and sending prayers to those affected.
​The Texas Department of Public Safety said that a trooper was shot in the incident, and he remains in "serious but stable condition."
Earlier, a law enforcement alert said that the shooting incident in Bryan left at least 7 people injured, with local media reporting that several people were in critical condition.
The suspect, who was reportedly armed with a semi-automatic rifle, was said to be at large at the time.
​Local media outlet KBTX 3 reported that local Jane Long Intermediate School was temporarily under a sealed perimeter, but students were released to parents around normal dismissal time.
The motive or description of the shooter remains unclear.
The Bryan incident comes after two recent deadly shootings in Boulder, Colorado, and Atlanta, Georgia, which killed 10 and 8, respectively. In wake of these new shootings, the Biden administration on Wednesday announced what it described as "six initial actions" to address gun violence, particularly pledging to stop the proliferation of so-called 'ghost guns,' and implementing a "red flag" legislation that would allow for temporarily barring people of concern from accessing weapons.
On Thursday, Biden also called to remove gun manufacturers from legal immunity for the weapons they manufacture that they currently enjoy in Congress.
The president's new initiative on gun control has reignited debate and prompted criticism from some, particularly from the Republican Texas governor, who accused Biden of threatening rights provided to Americans by the Second Amendment of the US Constitution, that states that the right of Americans to bear arms shall not be infringed.
Sourse: sputniknews.com