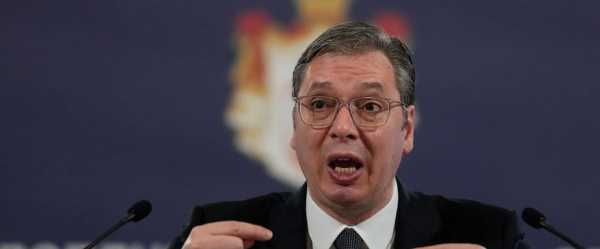 BELGRADE, Serbia — Serbian President Aleksandar Vucic said Thursday he won't "sign anything" during upcoming European Union-mediated talks with Kosovo's leader that are intended as another attempt to defuse decades of tensions between the two Balkan wartime foes.
International officials are hoping for progress on Saturday when Vucic meets neighboring Kosovo's Prime Minister Albin Kurti in the North Macedonian lakeside resort of Ohrid.
Solving the long-standing problem between Serbia and its former province of Kosovo has gained importance as the war rages in Ukraine and fears mount that Russia could attempt to stir instability in the volatile region where it holds historic influence.
Last month, Vucic and Kurti met in Brussels and reached a tentative agreement on a 11-point EU plant to normalize relations between the two neighbors following the 1998-99 war and Kosovo's declaration of independence in 2008.
But after pressure from Serbia's increasingly vocal far-right groups, Serbia's populist leader Vucic appeared to backtrack, pledging he would never recognize Kosovo as an independent state or allow it to join the United Nations.
"When someone signs something, I will sign it, and the people will decide on that," Vucic told reporters Thursday. "As for signing something (in Ohrid), I'm not planning anything."
EU and U.S. mediators say the Ohrid meeting will focus on how to implement the tentative agreement that calls for the two countries to maintain good neighborly relations, recognize each other's official documents and national symbols, and would see Belgrade allow Pristina to seek membership in the EU and U.N.
Tensions have simmered between Serbia and Kosovo, whose independence is recognized by many Western countries, but is opposed by Belgrade with the backing of Russia and China. EU-brokered talks have made little headway in recent years.
Serbia has maintained close ties to its traditional Slavic ally Russia despite the war in Ukraine, partly because of Moscow's opposition to Kosovo's independence.
Vucic said Thursday that for now, Serbia won't join EU sanctions against Russia for its aggression in Ukraine. Serbia, an EU candidate state, is the only European country besides Belarus that has ignored the embargo.
Sourse: abcnews.go.com