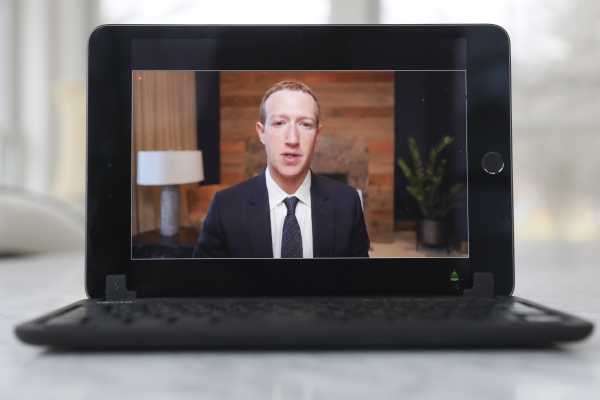 This story is part of a group of stories called

Uncovering and explaining how our digital world is changing — and changing us.

Former President Donald Trump will not be returning to Facebook — at least for now.
On Wednesday morning, the Facebook oversight board, a body of journalists and policy experts appointed by the company to rule on its toughest content decisions, announced that Facebook was right to block Trump from posting on its platform in January. But the board opened the door to Trump possibly returning to the platform by saying Facebook should not have banned him indefinitely. Facebook banned Trump in the wake of the storming of the US Capitol on January 6, as CEO Mark Zuckerberg said the risk of violence was "simply too great." Twitter also banned Trump permanently that same week.
Before the ruling, there was no indication Facebook had any plans to lift its indefinite suspension of Trump. In its ruling, the oversight board said that it upheld the suspension of Trump's account, but warned that an "indefinite suspension" was inappropriate. Now, the board says Facebook has six months to make a final decision about a permanent response to Trump's account. The board said that the company could restore his account, or could permanently boot him — but that it needed to make a decision either way. Essentially, the board is punting the final decision over Trump's account back to Facebook.
Sign up for The Weeds newsletter
Vox's German Lopez is here to guide you through the Biden administration's unprecedented burst of policymaking. Sign up to receive our newsletter each Friday.
For now, that means that Trump will continued to be barred from the social media platform, but that Facebook must soon decide if it will allow him to return. Before he was banned, the former president used the platform to spread false claims about Covid-19, to question the legitimacy of the US presidential election and mail voting, and he appeared to encourage violence against protesters in the midst of demonstrations over George Floyd's murder.
At the same time, the oversight board's decision sets a new precedent for how it will guide Facebook on how to handle the accounts of politicians and heads of state, a group that have been given more leeway to violate the platform's community guidelines than typical users. "In applying a vague, standardless penalty and then referring this case to the Board to resolve, Facebook seeks to avoid its responsibilities. The Board declines Facebook's request and insists that Facebook apply and justify a defined penalty," the board wrote in its decision. Basically, the oversight board is making it clear that it expects Facebook to make these calls and take responsibility for them.
In its decision, the board added that, beyond the question of Trump's individual account, "[w]hile all users should be held to the same content policies, there are unique factors that must be considered in assessing the speech of political leaders."
The oversight board's decision is its most important yet. The board, which started taking cases last October, has ramped up its work in recent months and already issued several decisions concerning Facebook's policies on hate speech, nudity, and harmful misinformation. Many of its early decisions have involved posts that Facebook has taken down from everyday users, while Wednesday's decision is its first regarding a (now former) head-of-state's access to their account.
"Facebook must, within six months of this decision, reexamine the arbitrary penalty it imposed on January 7 and decide the appropriate penalty," said the board in its decision. "This penalty must be based on the gravity of the violation and the prospect of future harm. It must also be consistent with Facebook's rules for severe violations which must in turn be clear, necessary, and proportionate."
The case was originally expected to take about 90 days, but the board extended its own deadline following the influx of more than 9,000 public comments. (The oversight board also received a "user statement" on Trump's behalf.) The oversight board will not release the names of the panel of five people who wrote the decision, which — according to the board's rules — must have been approved by a majority of the 20 member board. The decision comes as critics have continued to question the oversight board's legitimacy, dismissing the body as a cover for Facebook.
Related
Facebook and Twitter made special world leader rules for Trump. What happens now?
Facebook first suspended Donald Trump in the aftermath of the Capitol attack. While referring the case to the board, the company's head of global affairs, Nick Clegg, said the decision was made in the "extraordinary circumstances" of "a US president actively fomenting a violent insurrection designed to thwart the peaceful transition of power." Facebook, he said, encouraged the board to uphold its decision to suspend the former president, arguing that politicians are not allowed to use the platform to incite violence.
Although the oversight board has power when it comes to individual bans or content decisions, that power has significant limitations. If it decides that Facebook should change its policies, it can only make recommendations about how to do that.
Beyond directing Facebook to make and explain a final and "proportionate response" in regard to Trump's account, the company recommended that Facebook come up with a system to "rapidly escalate content" in question if it's political speech from an influential speaker. The board also recommended that Facebook review how its design and policy choices may have contributed to the election fraud narrative and "the exacerbated tensions that culminated in the violence in the United States on January 6."
Unlike the specific decision regarding Trump's account, these recommendations are not binding. Still, they could influence how the company acts in the future. Wednesday's decision signifies that Facebook — at least in the oversight board's view — was within its rights to ban Trump from its platform, which sets a precedent for other world leaders.
On Wednesday, Facebook acknowledged the ruling from the oversight board. "We will now consider the board's decision and determine an action that is clear and proportionate," the company said in a statement. "In the meantime, Mr. Trump's accounts remain suspended."
Open Sourced is made possible by Omidyar Network. All Open Sourced content is editorially independent and produced by our journalists.
Will you support Vox's explanatory journalism?
Millions turn to Vox to understand what's happening in the news. Our mission has never been more vital than it is in this moment: to empower through understanding. Financial contributions from our readers are a critical part of supporting our resource-intensive work and help us keep our journalism free for all. Please consider making a contribution to Vox today from as little as $3.
Sourse: vox.com