Francis Ngannou is a former UFC heavyweight champion, who was boxing professionally for the first time when he took on Tyson Fury; Ngannou nearly served up one of the biggest shocks in the sport when he came close to beating Fury, only losing by a narrow and contentious split decision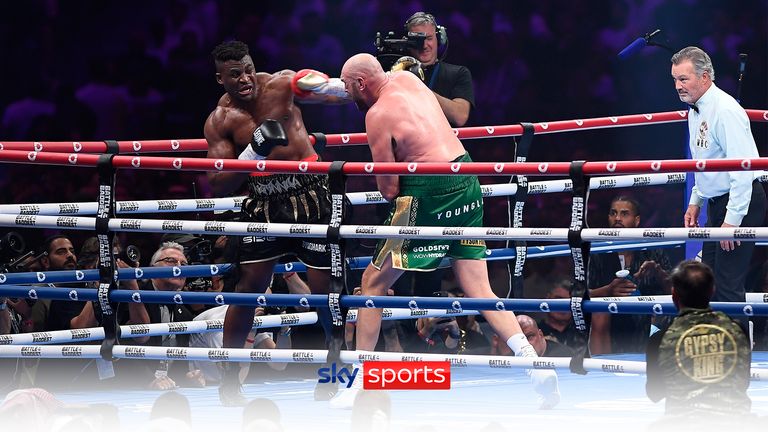 Sky Sports' Matthew Macklin believes Tyson Fury underestimated opponent Francis Ngannou, as he narrowly defeated the former MMA fighter in a controversial points decision
Tyson Fury edged out Francis Ngannou on a split decision on Saturday. It left a lot of questions that need to be answered.
What happened?
Fury, the WBC heavyweight titlist, had to rise from the canvas to edge out former UFC champion Ngannou on a split decision.
Ngannou was having his first professional boxing bout and levelled Fury with a left hook, before going on to make the rest of the 10-round contest highly competitive, in the end winning for one of the judges but conceding a close decision on the other two cards.
Francis Ngannou denied remarkable upset win over Tyson Fury
Tyson Fury and Oleksandr Usyk confirm undisputed heavyweight title fight next
Stream the best boxing and more with NOW
Wait, what?
Yes, a no-bouter (in boxing terms) seemed to give Fury, for most people the pre-eminent heavyweight in boxing today, all he could handle.
Ngannou arguably deserved to win it outright when Fury was certainly expected to control and outclass the MMA star in a boxing match.
Instead Ngannou almost engineered one of the biggest upsets in the history of the sport.
Was that the right outcome?
Ngannou certainly thinks it wasn't. On Monday on social media he claimed: "I got robbed by those judges.
"I should have done better," he said, but added: "I really believe that I won that fight."
Judging in boxing is a subjective business and the split verdict to Fury isn't the worst decision the sport has ever seen. But the consensus view seems to be that it should have gone Ngannou's way.
That's not only from partisan followers of MMA. For instance while the last undisputed heavyweight champion Lennox Lewis had Fury winning, boxers like Carl Frampton and Chris Eubank Jr scored it for Ngannou.
Is Ngannou the best boxer in the world now?
Hold on, boxing can count the likes of either Terence Crawford or Naoya Inoue as its most gifted fighter. Nor was this ever a 12-round title fight so Fury was always going to retain his WBC world championship.
But Ngannou had pretty much the best professional boxing debut we've ever seen. You can't call it a case of beginner's luck because Ngannou is an elite martial artist who'd excelled in the UFC.
That Fury signed an agreement to box Oleksandr Usyk next indicates he was looking past Ngannou, a grave error, but we don't know to what degree Fury underperformed and Ngannou over-achieved. We need to see more of Ngannou as a boxer, but he's gate-crashed the top tier.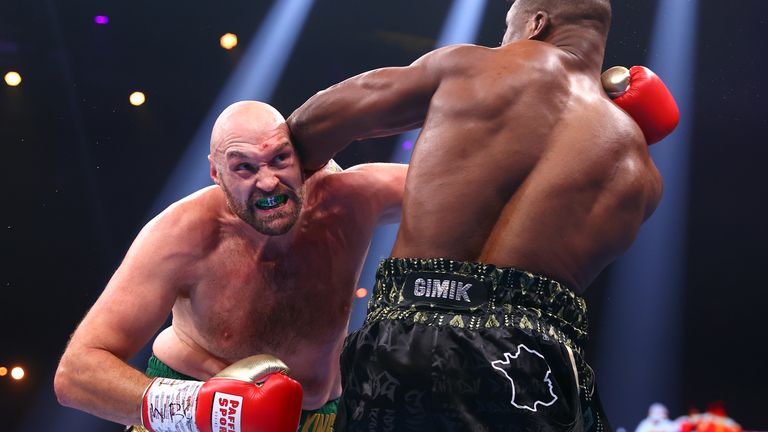 Image: Tyson Fury finds Ngannou hard than expected to contain
What does it mean for Tyson Fury?
Fury, the boxer, was meant to toy with Ngannou, the MMA fighter. That he didn't, that many high-profile observers from both sports thought Ngannou should have got the decision, will be embarrassing for Fury.
Fury has a boxing legacy, he beat Wladimir Klitschko and had a tremendous trilogy of fights with Deontay Wilder. But that performance hurt his reputation.
Looking forward, becoming the undisputed heavyweight champion, and fighting British rival Anthony Joshua, would help him secure a place in heavyweight history.
Will we get the Fury vs Usyk undisputed championship fight?
We will. Fury and Usyk have agreed to box one another for all four of the major heavyweight titles and they reaffirmed that fight will be next.
Before Ngannou threw an almighty spanner in the works, they were both eyeing that fight for December 23 of this year.
However after Fury took some punishment against Ngannou that date could not be confirmed.
Usyk's team are pushing for December 23, his promoter told Sky Sports they have that date "inked" and Fury "cannot escape". Fury will have to assess how long he'll need to recover and if that fight is delayed neither will box anyone else in the interim. Usyk will wait, and Fury has shown how dangerous a warm-up fight can be.
It's safe to say it should happen, but we still don't know when.
Shouldn't Ngannou get a rematch?
If his performance against Fury on Saturday raised questions, a rematch should provide answers. Though if Fury is locked into the Usyk fight a rematch could not be immediate anyway.
Ngannou is mulling his next options and, having signed an agreement with PFL, his next outing could be a return to MMA.
A Fury rematch will have appeal for all concerned, though it seems most likely that both will have other fights first.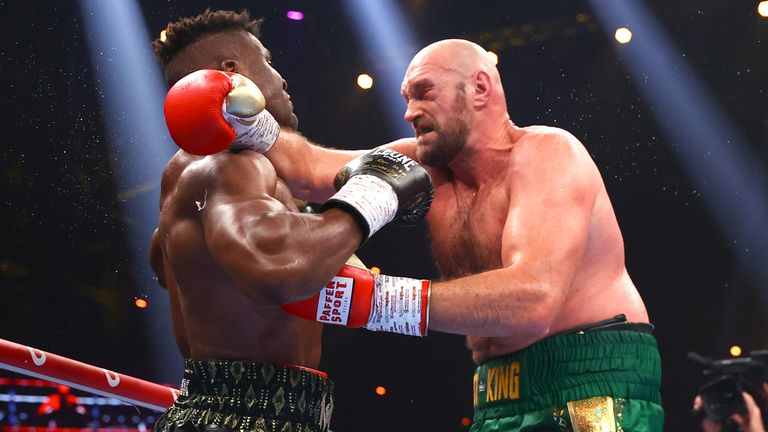 Image: Former UFC champ Ngannou showed impressive boxing ability in his first bout
Will he fight other boxers?
Ngannou has served notice that his punch power is genuine, he is tough and his boxing is underrated.
He's made a name for himself in the boxing world now and other lucrative fights will be offered to him. Anthony Joshua's team has suggested AJ vs Ngannou, Deontay Wilder would consider fighting Ngannou (though he wants to box Joshua first).
He might be 37 years old but Ngannou has a future in boxing if he wants it.
Will we get more MMA vs boxing fights?
These types of events are clearly money-spinners. Floyd Mayweather vs Conor McGregor wasn't competitive but it was high profile. This was competitive and can be cited as an example to justify pitting a high level UFC striker against a top class boxer. So what next? Sean O'Malley vs Gervonta Davis? Why not?
As for boxers going the other way, that is happening too. Stars of the women's sport are doing it. Claressa Shields has fought in PFL and undisputed super-middleweight champion Savannah Marshall is training up in MMA to start competing in that sport as well.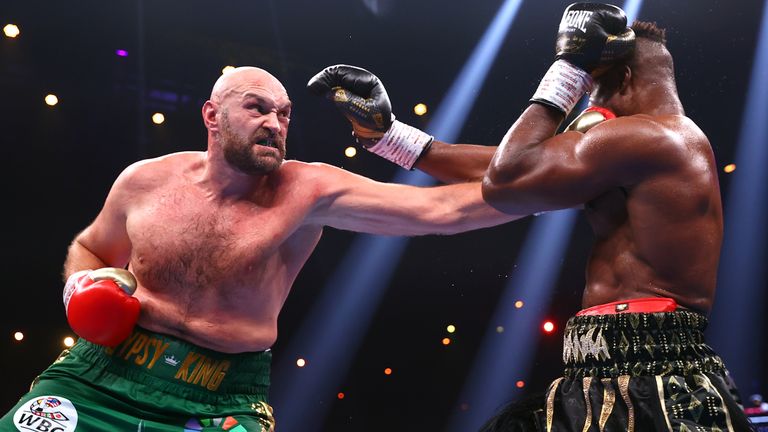 Image: Fury does have the showdown with Oleksandr Usyk to look ahead to
What does it mean for boxing?
Francis Ngannou hasn't destroyed boxing. Boxing was doing a fine job of that all by itself, thank you very much.
Whether it's the failure within the sport to match the best against the best, time after time; whether it's boxing's struggle to effectively address performance enhancing drug use; whether it's the clear and present danger of losing its place in the Olympic Games in future – this list could go on – boxing has a lot of severe and deeply entrenched problems, and Ngannou serving up something of a humbling is not the worst of them.
Boxing, more often than one would like, can be a theatre of the absurd. It can also be spectacular. The impossible dream of Francis Ngannou coming tantalisingly close to becoming a reality is a reminder that boxing can be both at the same time.
Sourse: skysports.com