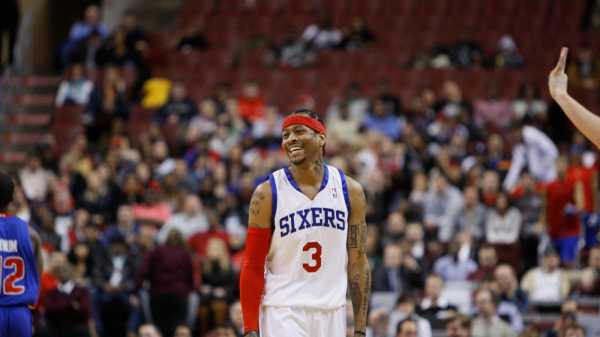 Allen Iverson joined the Philadelphia 76ers in 1996. What followed was a decade of dominance, several records, and a final year with the Sixers before his official retirement in 2013. Since then, he's had time to process the ever-evolving nature of the NBA world.
"You can see the freedom in everybody. You can see the personalities and everybody's not the same. You know, everybody's got their own style, their own swag, just to have something to do with that, it's like a proud encore".
Iverson's journey on his own individuality has been complex.
"I never really thought about it, I never really had the vision because I didn't want it to come to that time where I was the old head".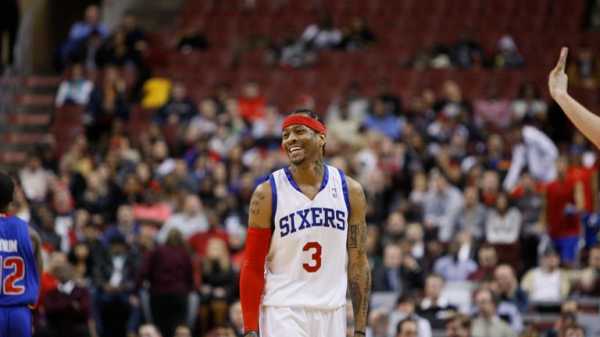 Image: Philadelphia 76ers' Allen Iverson plays for the Sixers one last season ahead of his retirement.
"But it was better than expected, especially the respect that I get and the inspiring people of all ages, facts. I think that's dope. That's a blessing in itself, you know, to add an opportunity to live out my dream".
Trending
Ref Watch LIVE! Dermot on Fulham's red cards and Newcastle offside
Transfer Centre LIVE! 'Liverpool increasingly unlikely to sign Bellingham'
Spurs players expect Conte to leave before next season
Kravitz: Hamilton right about Red Bull | Red Bull 'ultimately' back Max
Papers: Chelsea plotting Osimhen move this summer
Arteta: Everyone must give a little bit more in title push
Who will win the race for £100m Bellingham?
Who's to blame for problems at Spurs?
'England exposed to the importance of the Farrells'
Alonso restored to third, hits out at FIA amid time-penalty farce
"That's one thing. But then to have the impact on people as I did is just another monster".
The 48-year-old did exactly that during his first spell with the 76ers. Over 10 years, Iverson was able to help the Sixers improve their form in the league, and feature in a memorable playoff campaign in 1999. Will Doc Rivers and Joel Embiid be able to surpass those feats this year?
Also See:
"I tell you what, I think they have the personnel. Talent-wise on the court and the bench. Now it's a matter of putting it all together with a bunch of execution and some luck".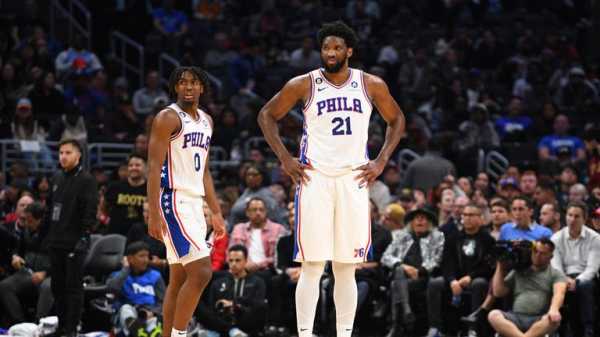 Watch Joel Embiid and Tyrese Maxey combine for the Philadelphia 76ers against the Indiana Pacers.
"You know what I mean? I think wanting to win the championship, you've got to have some type of luck too."
NBA playoff and play-in tournaments: which franchises will make post-season and which will miss out?
Who are the MVP favourites heading into the final stretch of the 2022-23 season?
Joel Embiid: "he's a walking cheat code" | Indiana Pacers head coach Rick Carlisle in awe
"It's a gruelling season obviously with that many games. To be able to get to the finals and then you've got to be somewhat healthy because once you play that many games during the season, everybody is beat up. Everybody is nicked up".
"From the outside looking in and going through it, that's the gratification you get knowing that the pain that you went through throughout the season isn't in vain. You know what I mean? It all has to come together and I think we got a great opportunity on paper".
Whether that extends to Embiid winning the MVP against steely competition is another question altogether. Iverson has first-hand experience of what that resolve feels like having won it himself with the 76ers in 2001, when he led his team to a 10-game unbeaten start to the season, averaging a then-career-high 31.1 points.
"You know, it's going to be Joel. I think he deserves it".
Twitter Due to your consent preferences, you're not able to view this. Open Privacy Options
"But then I also think Giannis deserves it. I think the Joker (Nikola Jokic) deserves it".
"I mean, a lot of people can win it. I think that's the dopest part, it's a conversation, a debate. You know what I mean? It's not a runaway guy. So more power to whoever wins it".
It's not the only award that Iverson has his eyes on. Having won the NBA Rookie of the Year in his debut season, with 23.5 points, 7.5 assists, and 2.1 steals per game, the shooting guard had some advice for the current crop.
"Just play, just play every game like it's your last. If it's meant to be, it's meant to be. I think that's what separated me from other guys".
"My mental approach to the game is that I never cared about my statistics. As far as going into the game, I'd know I had to score 30 or that I couldn't turn the ball over".
"I understood that those things came with the game, but my mind had always been that the one thing that I'm going to do is concentrate on playing harder than everybody out there. And, you know, I think that's what got me over the hump",
"I knew I was gonna play hard every night regardless if I was hurt. Sick. Anything".
"But just understand, when all the chatter is over, and, and you don't hear the crowd, you don't hear the roar from your family, your friends, be your own cheerleader. You understand? Just be your own cheerleader and believe in yourself".
"Everything else will fall in place but the work has to be put into the effort, and I'm not just talking about sports. Anything that you're trying to do, the work ethic has to be there, because when you are not working, the person you know is up for that spot is working harder".
"If most people look at it like that, then I think, more dreams come true. Just go after it right now".
Sourse: skysports.com