Two tickets for the All-Ireland football final of Dublin and Tyrone were spotted on eBay for €3,500.
The auction for the much sought-after tickets has since been removed from the website.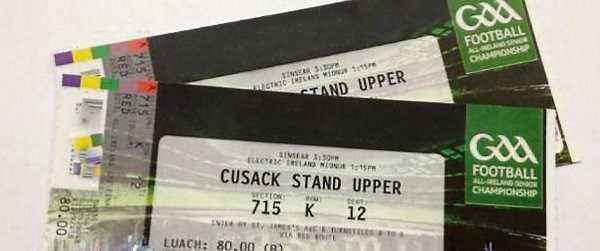 The person selling the tickets claimed to be a season ticket holder.
According to the Herald, the tickets were removed after a Dublin supporters group reported the auction to the GAA and eBay.
The auction began at €500 but saw the price soar to €3,500 before it was taken down.
Earlier this week, the GAA issued a warning for anyone thinking of buying or selling touted tickets.
In a statement, the GAA said: "Tickets for GAA All-Ireland Finals are distributed directly to our Clubs and County Committees.
"Any tickets being sold in excess of face value on touting websites that are brought to the attention of the GAA will be automatically cancelled.
"The Association also routinely monitors ticket touting websites and where possible, endeavours to establish the original source of the tickets, taking action where necessary.
"We look forward to the co-operation of our members and supporters in this matter and urge everyone to purchase tickets from official sources only."
Last month, a new ticket touting law was approved by Cabinet to decrease the number of profit-seeking ticket sellers.
Sourse: breakingnews.ie