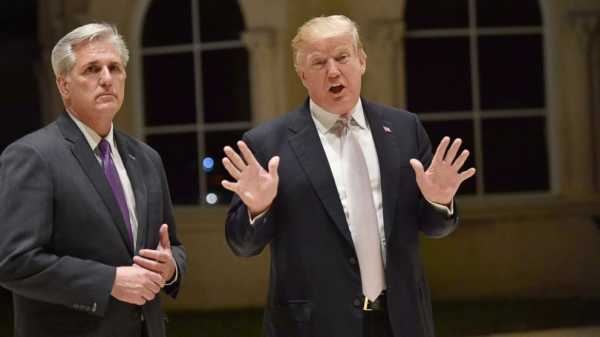 The details of the expletive that still appears very likely to have been spoken by President Donald Trump don't matter in the bigger picture. Neither do the declarations – "I'm not a racist" – or making fun of a senator's first name.
For now, the blame game beats out the name game. Trump and his Republican allies would have the public believe that Democrats concocted a story that had the president insulting immigrants based on race; that Democrats don't want to take care of Dreamers who could be facing deportation in mere weeks; and that they are rooting for a weaker U.S. military.
Deflections and accusations can take the president only so far this week. The president and his negotiating partners will be judged on results in the coming days – and shutdowns stink like other words that start with "s."
The RUNDOWN with MaryAlice Parks
While a shutdown would reflect badly on every Washington leader politically, it would likely be much worse for congressional Republicans who control both chambers — and terrible for the White House.
Democrats know this.
A crisis like that, a week before the president's State of the Union address, would not only be embarrassing, it would be bring back all-too-recent questions about whether this GOP team can govern at all.
Democrats are being told by their base that any cooperation on the issue at this point therefore is undue. The fate of the Dreamers was never supposed to be tied to other changes in immigration policy, progressives say, and particularly not now when Democrats have a modicum of leverage.
Republicans have started to accuse Democrats of trying to ram controversial immigration policy when government spending is at the brink, prioritizing "amnesty," they'll say, over keeping the government's lights on.
But the majority of American voters say they want a long-term solution for the so-called Dreamers, and by putting their foot down, Democrats, arguably, benefit from looking like they put their foot down.
The TIP with Tim Swift (ABC affiliate WPLG)
Rep. Mario Diaz-Balart, a Miami Republican, was in the room Thursday when Trump reportedly described some African nations as "s—hole countries", WPLG reports.
"This is a president that said things differently than clearly I would say them," Diaz-Balart told Local 10's Glenna Milberg Monday. "I will not comment on what may or may not have been said. The bottom line is I will not be in a position to solve this problem."
The affiliate wrote the meeting was set up in part to negotiate a deal to extend the Deferred Action for Childhood Arrivals policy – an Obama administration-era policy allowing people who were brought to the U.S. illegally as children to work and go to school under certain conditions.
The Trump administration has said that the program should be phased out and has called on Congress to create a new policy by March.
Diaz-Balart supports extending the program, also known as DACA, and WPLG said he wants to avoid criticizing the president to keep the negotiations on track, WPLG reported.
"I'm the only person from South Florida that has a seat at this table," Diaz-Balart said according to the affiliate. "I am going to use it not to criticize, not to point fingers, but to stop the imminent deportation of 800,000 young people."
Visiting constituents in Naples Monday, the affiliate wrote that he said he wants to help DACA participants, known as Dreamers, not call the president or other negotiators like Sen. Dick Durbin, D-IL, names.
"How does it help to point fingers or say names to the very people I have to quietly negotiate with?" Diaz-Balart said, according to WPLG.
WHAT YOU NEED TO KNOW TODAY
President Donald Trump participates in joint press statements with President Nursultan Nazarbayev of Kazakhstan.
Homeland Security Secretary Kirstjen Nielsen is on Capitol Hill today for an oversight hearing. Nielsen — who was in the Oval Office last week when President Trump is alleged to have made the "s—hole" comment — is likely to face questions about what happened—under oath.
A congressional source and two sources close to Steve Bannon tell ABC News the former White House chief strategist is expected to meet behind closed doors with the House Intelligence Committee today.
Attorney General Jeff Sessions delivers remarks today at the Department of Justice in honor of Dr. Martin Luther King Jr.
Secretary of State Rex Tillerson is in Vancouver today co-hosting a meeting with his Canadian counterpart to discuss North Korea's nuclear weapon and ballistic missile programs. Missing from the table? China, Russia and North Korea.
Today we'll hear from the doctor who performed the president's physical last week. In an unusual move, Dr. Ronny Jackson will face reporters in the White House briefing room.
The Democratic National Committee will roll out their strategy around Trump's inauguration and first year in office. An outline of their message can be read here.
QUOTE OF THE DAY
"My memory hasn't evolved. I know what was said and I know what I said." — Senator Lindsey Graham in an interview with the Charleston Post & Courier about his interpretation of a comment made by President Trump at a White House meeting on immigration last week.
NEED TO READ
One year Into Trump's presidency, agencies work to make good on his campaign promises. The first 12 months of President Donald Trump's administration showed little regard for precedent, tradition or protocol. ABC News has broken down some of the most important changes from the federal agencies during the Trump administration's first year in Washington. (ABC News) https://abcn.ws/2EJkh5J
Steve Bannon expected to meet with House Intel Committee. Bannon will field questions from congressional Russia investigators for the first time as he continues to face backlash for his comments in a controversial new book about the Trump White House. (Benjamin Siegel, Tara Palmeri and Ali Dukakis) https://abcn.ws/2r9H1Km
Trump breaks with past presidents on MLK Day activities. President Donald Trump's schedule yesterday marked a break in presidential tradition. Though it isn't unusual for Trump to visit his golf course while spending time at his Mar-a-Lago property in Florida, the timing of it today, on Martin Luther King Jr. Day, shows a break from the actions of past presidents. (Karen Travers) https://abcn.ws/2rac1d6
Who's out, who's still in at the Trump White House 1 year later. There was a slew of high-profile departures from the Trump White House over a three-week period this past summer–but they were hardly the only ones during the first year. Here's a rundown of the biggest departures thus far. (Meghan Keneally) https://abcn.ws/2r7rQRU
Government shutdown looms with no DACA deal in sight. Congress has until midnight Friday to strike a deal on a host of thorny issues before government funding is set to run out, but talks appear to be at a standstill and a stopgap spending bill is looking more likely. (Mariam Khan) https://abcn.ws/2B3Olqu
The White House's shifting narrative on Trump's 's—hole' comment. A public he-said, they-said debate has been unfolding for days in the wake of last week's Oval Office meeting where President Donald Trump reportedly used a derogatory term to refer to certain countries. (Meghan Keneally) https://abcn.ws/2rcPgFi
Secretary of State Rex Tillerson has mixed record under Trump presidency. Nearly one year after he took his own oath of office, Secretary of State Rex Tillerson has defied all the major headlines about him: He's still here. But his record at the State Department is, at best, mixed, with fierce, vocal critics decrying his "hollowing out" of the esteemed agency and steady supporters praising him for being one of the "adults in the room" across from a president with whom he has major disagreements. (Conor Finnegan) https://abcn.ws/2FJLA1d
Education Department faced turbulent year during Trump's first year in office. 2017 was a turbulent year for the federal Department of Education — an agency that oversees education policy for around 50 million kids nationwide. Before Trump even swore the oath of office, his nominee for secretary, Betsy DeVos, seemed to flounder through her confirmation hearing. (Erin Dooley) https://abcn.ws/2mBkCji
HHS goal under Trump: rolling back Obamacare. In his first act as president, Donald Trump, sitting at the Resolute Desk, signed an executive order directing agencies to minimize "the economic burden" of the Affordable Care Act until it is repealed. (Meridith McGraw) https://abcn.ws/2EJ8vID
The Department of Justice has faced high profile criticism a year in Trump administration. The Justice Department has long been a lightning rod for political criticism, but this past year brought it to a new level — with a Republican president taking sharp aim at the Republican attorney general he nominated. (Mike Levine) https://abcn.ws/2DBeq35
Trump EPA spends first year rolling back environmental regulations. In its first year under President Donald Trump, the Environmental Protection Agency moved quickly to fulfill several promises Trump made during his presidential campaign, most notably to roll back climate regulations put into place under the Obama administration. (Stephanie Ebbs) https://abcn.ws/2mJ1fWp
Interior Dept focused on expanding energy production in first year under Trump. The Department of Interior's major agenda item in 2017 was fulfilling President Donald Trump's executive orders to expand oil and gas drilling in the U.S. in order to promote American energy independence. (Stephanie Ebbs) https://abcn.ws/2B6iHbP
Maryland pastor attacks Trump with VP Pence sitting in front pew. A pastor in Maryland who had Vice President Mike Pence as a captive audience on Sunday took the opportunity to attack the politician's boss, calling President Donald Trump's comments on Haiti and Africa "hurtful," "dehumanizing" and "vulgar." (Mark Osborne) https://abcn.ws/2DCkGYw
Trump's doctor set to brief reporters on presidential physical. Dr. Ronny Jackson, the presidential physician, is expected to brief reporters at the White House Tuesday on the results of President Donald Trump's first physical exam since taking office after deeming the 71-year-old president to be "in excellent health" in a brief statement released soon after the check-up's completion on Friday. (Jordyn Phelps) https://abcn.ws/2Det3fP
The New York Times reports that Missouri Gov. Eric Greitens, still caught up in a scandal revolving around an extra-marital affair, is facing pressure from Republicans in the state to step down. https://nyti.ms/2EHc560
A new poll from Gallup finds that about six in 10 Republicans (61%) say they are satisfied with the way things are going in the U.S. — the party's highest level of satisfaction since February 2007. https://bit.ly/2FEtyx8
Sourse: abcnews.go.com