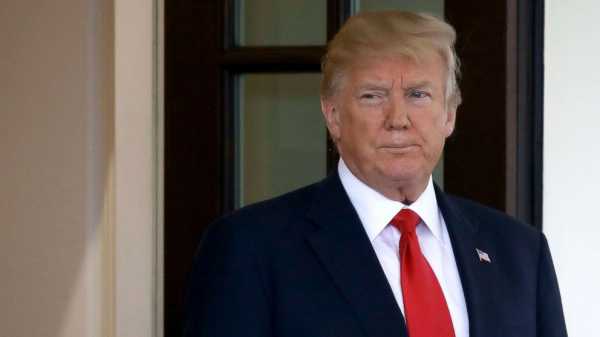 One week from now, there might be a broad immigration agreement on top of the new tax law. Or … the federal government could shut down, and 800,000 "Dreamers" might have to start making plans to leave the country, and so-called "s—hole countries" will surely take a chunk of presidential blame.
The insane pace of developments in the Trump era have often looked like the kind of chaos that only a "stable genius" might be able to appreciate. This sure doesn't look like an environment for bipartisan compromise to take hold.
But even amid talk of racial dog whistles and worse, recent events reveal a coping mechanism that Washington has begun to employ– maneuvering around the president's words and tweets at key times.
The Trump agenda is many things, and Trump's latest comments represent many more. But Trump's Washington is still moving fast – just not always as the result of the president's own leadership, or in the directions he wants it to move.
The RUNDOWN with MaryAlice Parks
Once again the president's language seems to divide Americans and American residents, or at least, perhaps more specifically in this case, divide the world into areas he likes and areas he does not like.
When the president asked why the U.S. would want some immigrants over others from, as he put it, "s—hole countries," he presented a worldview where some people are more valuable based on birthplace, a world where people should be sorted.
This president has an unusual habit of sorting, talking in terms of us vs. them, good vs. evil, him vs. everyone else. When the president talks constantly about his former political enemies, he alienates and "other-izes" those who voted for her. He reminds people of teams. When the president talks disparagingly about where some immigrants came from, he risks pitting neighbor against neighbor based on the color of their skin or their accent.
Ethnic minorities and non-native born Americans serve in the military in incredibly high rates and new immigrants are often heralded as great soldiers. They contribute to their communities and the economy in significant ways.
While of course there will always have to be tough decisions about who can immigrate and when, and while the country voted for the president's hard line approach on this issue, writing off sections of the globe whole cloth had felt, for a while, to be a thing of the past.
The TIP with Arlette Saenz
House Minority Leader Rep. Nancy Pelosi is getting criticized for a nickname she has for the bipartisan leadership group talking about immigration.
The group includes Democratic Whip Steny Hoyer, D-Md., Senate Majority Whip John Cornyn, R-Texas, Senate Minority Whip Dick Durbin, D-Ill., House Majority Leader Kevin McCarthy, R-Calif., and White House Chief of Staff John Kelly.
"Five white guys I call them," Pelosi said at her weekly press conference, jokingly asking whether they were going "to open a hamburger stand next or what?" Five Guys, of course, is the national hamburger chain.
Now, it seems Pelosi's comments have set off a little intra-party squabble.
Hoyer, part of the House and Senate leadership group that met on DACA Thursday, is calling Pelosi's suggestion "offensive."
"That comment is offensive. I am committed to ensuring DREAMers are protected and I will welcome everyone to the table who wants to get this done," Hoyer said in a statement.
WHAT YOU NEED TO KNOW TODAY
Trump heads to Walter Reed National Military Medical Center today for his first presidential physical. At age 71, Trump is the oldest person ever to assume the presidency.
The president signs a proclamation to honor Dr. Martin Luther King, Jr. Day.
David Letterman is back — and with him came President Barack Obama. The former talk show host debuted a Netflix series overnight alongside Obama, his first guest on the series. It's Obama s first appearance on a talk show since leaving office.
Secretary of the Treasury Steve Mnuchin speaks today at the Economic Club of Washington, D.C. on tax reform, the debt ceiling, the U.S. economy on a national and international scale and his agency's initiatives.
The House is in today for a pro-forma session.
This Week on 'This Week': Sen. Jeff Flake, R-Ariz., and Rep. John Lewis, D-Ga., come exclusively to "This Week" Sunday
QUOTE OF THE DAY
"My parents came from one of those countries but proudly took an oath of allegiance to the United States and took on the responsibilities of everything that being a citizen comes with… The president must apologize to both the American people and the nations he so wantonly maligned," — Rep. Mia Love of Utah, the first Haitian American Republican woman to be elected to Congress. Love issued her statement in response to sources saying President Trump raised questions about people from Haiti, Africa and "s—hole countries" coming to the United States.
NEED TO READ
Sources: Trump questions allowing immigrants from Haiti, Africa, other 's—hole' countries. In an Oval Office meeting at the White House Thursday, President Trump grew frustrated at a proposed bipartisan immigration plan that would scale back the visa lottery program, but not eliminate it, asking those in the room why they would want people from Haiti, Africa and other "s—hole countries" coming into the United States, according to multiple sources either briefed on or familiar with the discussion. (Ali Rogin) https://abcn.ws/2FsNLWM
Both Democrat and GOP lawmakers slam Trump's 's—hole' remark. It didn't take long for lawmakers on both side of the aisle to react to President Donald Trump's description — according to multiple sources either briefed on or familiar with Thursday's Oval Office discussion — of Haiti and African nations as "s—hole countries." Elected officials issued statements, took to social media, and appeared on cable news to slam the president's remarks. https://abcn.ws/2ms0qRV
President Trump clarifies position on FISA after tweet expressing surveillance concerns. The controversial Foreign Intelligence Surveillance Act, which authorizes the U.S. government to monitor electronic communications of suspected foreign terrorists and spies, passed the House on Thursday, but not before the president issued the confusing statements via Twitter that drew his support for the measure into question. (Alex Mallin and Benjamin Siegel) https://abcn.ws/2APKtZX
Trump to make Iran deal decision today: Tillerson. President Trump will decide today whether or not to waive nuclear sanctions again and keep the U.S.'s commitments to the Iran deal, according to Secretary of State Rex Tillerson — the first time he has been faced with the choice since he announced his new strategy for the country late last year. (Conor Finnegan) https://abcn.ws/2ExhoVr
Governors, lawmakers angry Florida exempted from offshore drilling expansion. Governors from several other coastal states quickly cried foul and said that they also wanted their states exempted as well. (Stephanie Ebbs and Ali Rogin) https://abcn.ws/2D3uFsK
Prosecutor launches criminal investigation in connection to Missouri Gov. Greitens' affair. In audio provided to ABC News, the unidentified woman the governor had an affair with claims Greitens tied her up in his basement, blindfolded her, and then took a photo of her with the intent to blackmail her in that compromising position if she went public with the tryst. (David Caplan) https://abcn.ws/2miYF8H
Trump cancels trip to London, says he turned down offer to cut ribbon at new US Embassy. President Donald Trump announced the sudden cancellation of a planned trip to cut the ribbon at the new U.S. Embassy in London late Thursday, blaming the decision on the Obama administration's decision to sell the country's old embassy for "peanuts." Trump had been scheduled to attend a ribbon-cutting ceremony for the new U.S. Embassy in Britain next month. (Mark Osborne) https://abcn.ws/2mmNo7f
Texas schools failed to identify special education students: Department of Education. The department found that some independent school districts in the state "took actions specifically designed to decrease the percentage of students identified for special education" and that the Texas Education Agency "failed to fulfill its general supervisory and monitoring responsibilities." (Adam Kelsey) https://abcn.ws/2CPoMLp
Dreamers pin hopes on an immigration fix. For months, the futures of thousands of young immigrants illegally brought to the country as children have hung in the balance as pundits, politicians, judges and journalists have debated their fates. Nearly six dozen "Dreamers" met with lawmakers outside the Capitol Wednesday to advocate for DACA protections. ABC News spoke with several of the "Dreamers". Here's what they had to say. (Paola Chavez and Arlette Saenz) https://abcn.ws/2D5s4yz
Trump administration to allow states to enforce work requirements for Medicaid. The federal Centers for Medicare and Medicaid Services (CMS) today released new policy guidance that allows states to enforce work requirements on the millions of low-income people who receive Medicaid. (Meridith McGraw) https://abcn.ws/2FswAES
Doctor of North Korean soldier who defected aided by his American 'Master Yoda.' When a North Korean soldier sprinted across the heavily fortified border between North and South Korea last year, he likely didn't realize he'd end up being kept alive by a star South Korea doctor and that doctor's American mentor. (Joohee Cho) https://abcn.ws/2DlwqOX
Swiss group tries to block Trump from World Economic Forum in Davos. The petition reads that Swiss citizens "ought to resist Trump's inhumane politics," calling for a "World First – not American First vision." The campaigners also highlighted their disgust with the U.S. administration's decision to pull out of the Paris climate agreement and took issue with many of the White House's priorities. (Clark Bentson) https://abcn.ws/2AOW6k9
In an interview with The Wall Street Journal, President Trump said he "probably" has a "very good relationship with Kim Jong Un." https://on.wsj.com/2D5eWIG
Politico reports on a growing question from Clinton fans watching the Oprah 2020 frenzy play out this week: Where the heck was Winfrey in 2016? https://politi.co/2DpMa3v
Sourse: abcnews.go.com