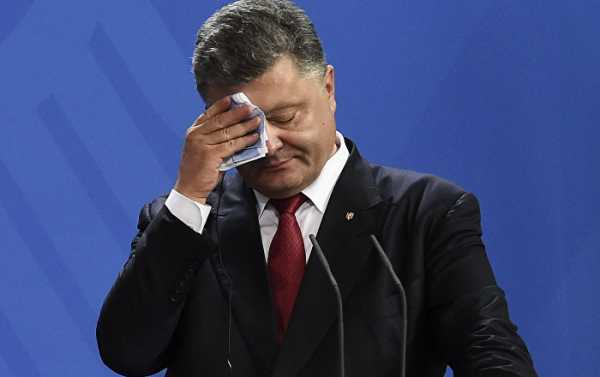 The activist from the radical Ukrainian feminist group Femen managed to gain the attention of attendees of the prestigious Vienna ball, flashing her bare chest while urging President Petro Poroshenko to be removed from the event over allegations of corruption.
According to Femen's blog, the purpose of the protest was "to inform high society about the inadmissibility of the presence at the aristocratic table of a primitive huckster and embezzler Poroshenko."
"Under the guise of an aristocrat lies a military looter who does not disdain earnings on the blood of his fellow citizens. Poroshenko, get the f*** out of the Ball!" the group's message continued.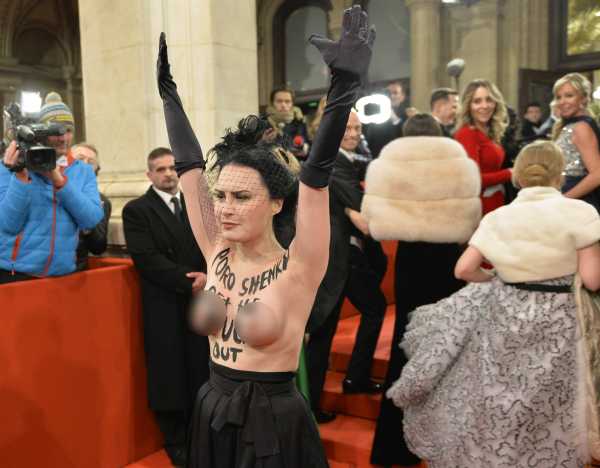 An activist of women's rights movement Femen demonstrates on the red carpet prior the opening of the Opera Ball 2018, the highlight of the Austrian capital's ball season, on February 8, 2018 at the State Opera House in Vienna
Half a dozen security guards and police soon grabbed the woman, identified as one Alisa Vinogradova, and dragged her away off the red carpet as she shouted anti-Poroshenko slogans. The debacle was captured live on local television.
President Poroshenko and his wife Maryna attended the Vienna Opera Ball on Thursday evening during the couple's visit to Austria. Austrian Chancellor Sebastian Kurz and President Alexander Van der Bellen, as well as a number of other European politicians and public figures were in attendance.
Femen, founded in Ukraine in 2008 but now headquartered in Paris, is known for its outrageous publicity stunts involving women baring their chests and shouting slogans to bring attention to a variety of issues. The group is particularly active in Eastern Europe, and has trolled President Poroshenko on multiple occasions.
Sourse: sputniknews.com