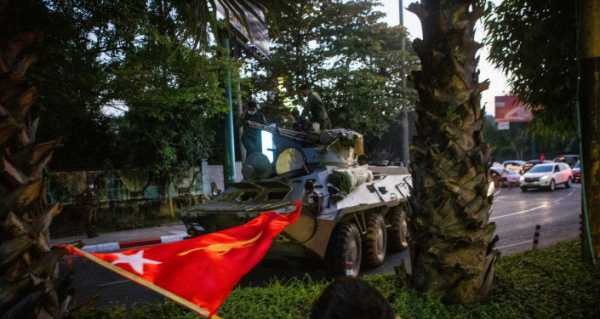 The Southeast Asian nation is in a state of emergency after the military seized power earlier this month and arrested several senior officials, including the president and the state counsellor.
The US embassy in Myanmar has issued a shelter-in-place alert for the country's citizens because of "military movements" in Yangon, and has warned about potential "telecommunications interruptions overnight between 1:00 am and 9:00 am", Reuters reported on Sunday.
Hours laters, Myanmar citizens told Reuters that major telecom networks in the country were inaccessible from about 1:00 am.
The top diplomats of Western nations in Myanmar previously called on the military on Sunday to end arrests of politicians, activists and harassment of journalists, warning that "the world is watching."
Myanmar has been swept by protests triggered by a coup d'etat earlier this month.
Tens of thousands of demonstrators took to the streets throughout major Burmese cities, demanding the release of State Counsellor Aung San Suu Kyi and other officials.
People hold placards depicting elected leader Aung San Suu Kyi during a rally to demand her release and protest against the military coup, in Yangon, Myanmar, February 8, 2021
On 1 February, the nation's military imposed a year-long state of emergency and detained Aung San Suu Kyi and members of her government, accusing the ruling party of foul play in the November 2020 vote. Aung San Suu Kyi's detention is set to expire on Monday.
Scores of nations around the world condemned the coup and demanded the immediate release of the detained officials. The United States slapped several people and entities linked to the military with sanctions.
Sourse: sputniknews.com