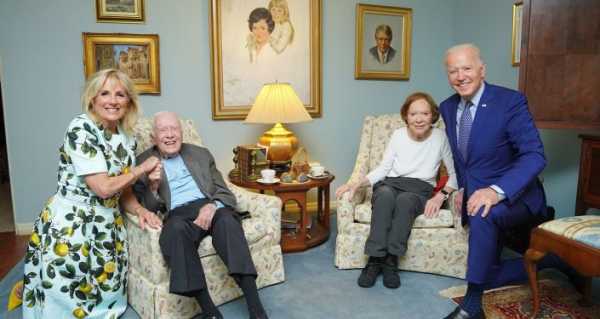 Joe Biden and Jimmy Carter are both elderly, both Democrats and both have served as US presidents, but former US President Donald Trump said there was no other comparison — as his 2020 election rival was far more incompetent.
Donald Trump has said comparisons between US President Joe Biden and former office-holder Jimmy Carter are a burn — to Carter.
Comparisons between the current and former Democrat leaders abounded after Biden and his wife Jill visited Carter and his spouse Rosalynn at their home in Plains, Georgia, in late April.
"First there was the Biden Border Crisis (that he refuses to call a Crisis), then the Biden Economic Crisis, then the Biden Israel Crisis, and now the Biden Gas Crisis," Trump said.
Carter's downfall was the Iranian hostage crisis following the 1979 Islamic Revolution. He lost the 1980 election to Republican Ronald Reagan in the wake of the botched commando raid he ordered in an attempt to free the hostages taken at the US embassy in Tehran.
Sourse: sputniknews.com