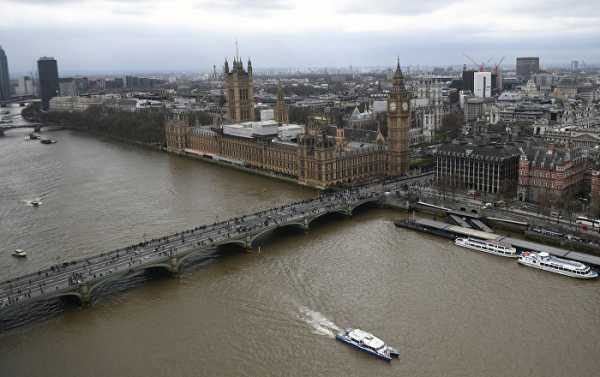 MOSCOW (Sputnik) – The UK House of Commons' Foreign Affairs Committee issued on Monday a report "Moscow's Gold: Russian Corruption in the UK", in which it called on the country's government to boost sanctions against people close to Kremlin as well as those responsible for human rights violations.
"We call on the Government to sanction more Kremlin-connected individuals, including by using the powers outlined in the Sanctions and Anti-Money Laundering Bill, once available, to sanction individuals responsible for gross human rights violations," the report said.
The committee also asks the UK government to work with the United States, the European Union and the G7 countries to tighten the sanctions regime on the Russian sovereign debt.
"We also ask the Government to work with the EU, US and G7 to tighten loopholes in the sanctions regime that allow Russia to issue new sovereign debt with the assistance of sanctioned entities such as VTB Bank," the report said.
The UK House of Commons' committee said that the flotation of Russia's En+ Group on the London Stock Exchange in November 2017 was an example of the contradictions of the UK government policy toward Russia.
"We call on the Government to investigate the gaps in the sanctions regime that allowed a company such as En+ to float on the London Stock Exchange, and to work with the G7, whose markets dominate the financial world, and other international partners, to close those gaps as soon as possible," the report said.
The committee added that the use of London as a "base for the corrupt assets of Kremlin-connected individuals" had implications to the UK national security. Combating alleged Russian corruption schemes in the United Kingdom should be a foreign policy priority for the UK government, according to the report.
The committee's report comes amid extremely straioned relations beween the UK and Russia in the wake of the alleged poisoning of former Russian intelligence officer Sergei Skripal and his daughter Yulia with a deadly nerve agent, who have already been released from hospital. The UK side has blamed Moscow for the so-called "attack," while Russian officials have strongly denied any involvement in the case and demanded access to its materials, including to samples of the nerve gas.
While the request has been denied by Britain, the UK decided to expel Russian diplomats as response measures amid the allegations, with the US and many EU states following the move. Moscow, in turn, slammed the move as unhelpful in the probe into the Skripals' case and expelled the exact number of diplomats from each country involved in a mirror response.
Sourse: sputniknews.com