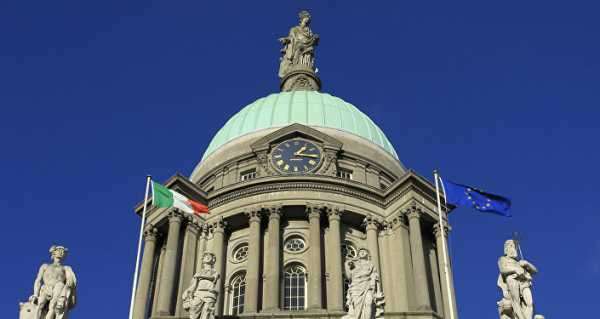 Quite a few Irish nationalists believed a British royal's death was not a reason to lower the nation's tricolour at official state residences, while others suggested there was nothing wrong in feeling compassion for a neighbour.
Ireland's president has sparked fiery reactions online, as he ordered to lower the country's flag to half-mast to mark the funeral of Britain's late Prince Philip on 17 April.
As Philip was buried in a vault at St George's chapel in Windsor Castle, President Michael D. Higgins directed the personnel at his residence at Aras an Uachtarain in Dublin's Phoenix Park to lower the Irish tricolour, thereby infuriating Irish nationalists.
Despite the hundreds of years of British rule in Ireland – from the late 17th century until 1922, when The Republic of Ireland broke free from the UK after a two-and-a-half-year war, quite a few commentators applauded Higgins' move, emphasising the importance of showing respect in such unfortunate circumstances.
Prince Philip was laid to rest on Saturday, on the grounds of Windsor Castle, with the occasion uniting the extended royal family, including Prince Harry, who travelled from the US to the UK for the funeral.
Queen Elizabeth II's husband died on 9 April, aged 99, weeks after a heart surgery and a month-long treatment for an unspecified condition at a hospital.
Sourse: sputniknews.com