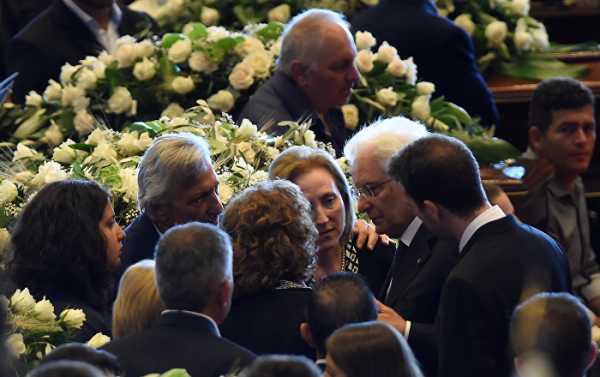 ROME (Sputnik) – The state funeral of 18 people, including a nine-year-old boy, who died as a result of the recent collapse of a section of Morandi motorway bridge in Genoa, began at 11:35 a.m. local time on Saturday (09:35 GMT) in one of the premises of the city's fairgrounds.
A part of Ponte Morandi collapsed on Tuesday, with at least 30 cars plunging hundreds of feet to the ground. According to the latest data, 42 people were killed in the incident, 10 injured remain in hospitals, nine of them in serious condition. Italy declared a national mourning on Saturday.
​National TV channels broadcast live a mourning ceremony, in which President Sergio Mattarrella, Prime Minister Giuseppe Conte, chairmen of both houses of parliament and other leaders of the Italian state were taking part.
​Before the mourning ceremony, Mattarella visited the site of the tragedy and thanked firefighters and rescuers, who had been working non-stop for four days. After that, the head of state went to the hospital, where he visited the injured and talked with their relatives.
​Families of 20 victims preferred to bury their loved ones privately. The father of 29-year-old Giovanni Battiloro, whose funeral was held on Saturday near Naples, bitterly stated that "the state did not protect its citizens." Some other relatives of the victims also slammed the Italian authorities, demanded that those guilty in the bridge collapse be punished and punished severely.
Cardinal Angelo Bagnasco, who is currently leading the funeral mass in Genoa, said on Friday that he understood the feelings of those relatives of the victims who had refused the state funeral.
Sourse: sputniknews.com