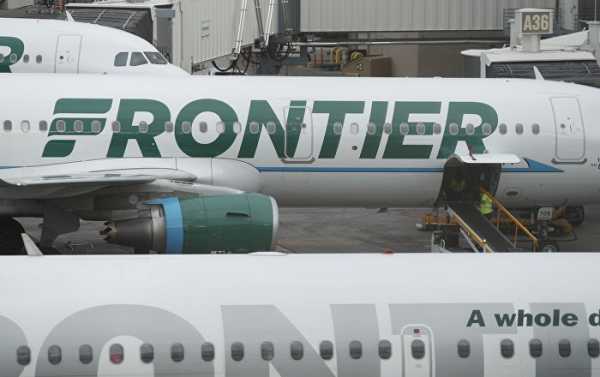 A passenger on a Frontier Airlines flight from Colorado to South Carolina was arrested on Thursday after urinating on the back of a seat and allegedly groping two women on the plane.
According to Emily, a fellow passenger on the flight, issues didn't start on Flight 864 until some two hours after takeoff.
"I got a seat on the back of the plane where I could just lay down and fall asleep," Emily told local station KDVR, before detailing the moments when all hell started to break loose on the plane.
"I hear a woman scream 'If this man f**king touches me one more time, I'll f**king kill him,'" she recalled another passenger yelling out. The woman who'd been groped by the unidentified passenger reportedly told Emily that the drunk passenger had ordered two double shots of vodka.
"He was out of his mind, like, he couldn't speak. He was mumbling," Emily told the outlet. "This man was extremely intoxicated."
The man was later moved to an empty row at the back of the plane after he allegedly asked another woman onboard the flight about her sexual and marital life, CBS Denver reported.
Once the man was redirected to his new seat — in the empty aisle directly across from Emily — flight attendants gave her a heads up about the passenger before returning to their stations.
Seconds after Emily took out her phone to take a commemorative picture of the man, the drunk passenger sunk into his seat and began to urinate on the back of the seat in front of him.
​Shocked, Emily called for the flight crew, who focused more on telling her to keep quiet than addressing the unruly passenger.
"I scream, 'He's f***ing peeing. He's peeing. Oh my god,'" Emily told KDVR. "And the flight attendant doesn't even acknowledge him at first. Acknowledges me and says you need to calm down and stop cursing."
The situation was later remedied after flight crew moved her to the front of the plane, waived her bag fees and even gave her a $200 Frontier voucher. But the goodies weren't enough to really solve the issue, according to Emily.
"I think they handled it extremely poorly," she stressed. "Someone should have sat with him."
According to local media reports, the man was taken into custody once the flight landed in Charleston, South Carolina.
In response to the growing outrage, Frontier Airlines released a statement, saying "the safety and security of our passengers is our top priority" and that the airliner is working with local authorities on the matter.
This incident came just one day after an Alaska Airlines flight was diverted to the Ted Stevens Anchorage International Airport after a passenger decided his birthday suit was best for traveling on the flight.
Sourse: sputniknews.com