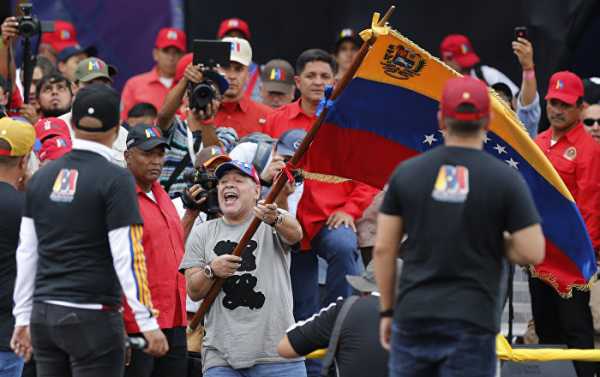 The now-retired Argentine icon made the statement after Venezuelan President Maduro accused the Venezuelan right-wing opposition and some foreign powers of what he called an "assassination attempt."
Argentine football legend Diego Maradona spoke out in support of Venezuela President Nicolas Maduro, who survived an alleged assassination attempt on Saturday.
"An [assassination] attempt against Nicolas Maduro is an attempt against the nation. Venezuela doesn't give up," Maradona said on Instagram.
On Saturday night, an explosion struck Caracas near a military event where Venezuela's President was giving a speech. Maduro rushed to accuse his "ultra-right wing" opponents in Venezuela, in alliance with Colombian government and financiers in Florida. A clandestine group called the Flannel Soldiers has claimed responsibility for the failed attack, allegedly carried out by drones stuffed with C-4. However, there have been suggestions that it was a gas tank that exploded in a residential building close to the presidential event.
Maradona, who currently chairs the Belarusian football club Dinamo Brest, is a vocal supporter of Nicolas Maduro. In August 2017, the 57-year-old said he was ready to fight for "a free Venezuela" and called himself a "soldier" for Maduro. The remark came amid a constitutional crisis in the country, which saw large-scale opposition-led demonstrations protest against Maduro, claiming that he wanted to sidestep the parliament.
Sourse: sputniknews.com