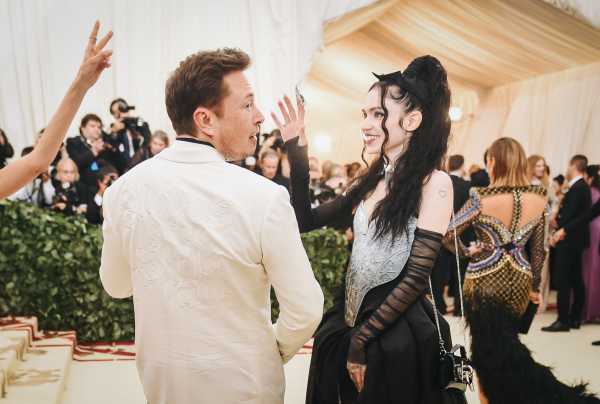 Elon Musk's latest troubles at Tesla — his surprise privatization announcement, potential regulatory probes, the stock's subsequent price decline — have been well documented in recent days.
And now, some Tesla observers appear to be moving on to the next chapter of the narrative: blaming the turmoil on his girlfriend, the musician Grimes, the woman who's supposedly been distracting Musk from his mission. This has led to coverage of Musk apparently unfollowing Grimes on social media (really) because — as the theory goes — if they break up, things will get better.
It really has been a rough month for Tesla: Tesla's stock neared a three-month low on Monday morning as the fallout from Musk's August 7 tweet announcing he was considering taking Tesla private continued. JPMorgan Chase analysts cut their price target on the stock to $195 from $308, a dramatic reduction, and reports emerged that the Saudi Arabian sovereign wealth fund, considered the top candidate to help take Tesla private, might not be so interested after all.
But financial news website Street Insider found a possible silver lining in the ongoing Musk-Tesla drama: The South African-born entrepreneur is no longer following his girlfriend, 30-year-old Canadian musician Grimes, on Instagram and Twitter, so maybe they broke up.
"This, bulls say, could allow Musk to get back on track mentally," the site asserted.
This is part of a literally centuries-old trend of women being blamed for the performance issues of their husbands, boyfriends, and men in general.
Has Musk's relationship with Grimes, like the romantic lives of many public figures, been in the headlines? Yes, including a bizarre story involving rapper Azealia Banks. Is Grimes, whose real name is Claire Boucher, the reason for Tesla's troubles? Of course not.
If you follow that logic, the problem isn't that Tesla's declining cash pile (it has $2.2 billion as of June 30), or reports that the SEC is looking into the substance behind Musk's Tesla tweets and was already probing whether Tesla misled investors about production issues, or Musk's increasingly erratic behavior online. It's that Musk — who still manages to be considered a wunderkind at 47 — has been distracted by a lady.
Amber Heard was supposedly good for Tesla because she's … hot?
It's not clear which Tesla-supporting "bulls" Street Insider is referring to, but you don't have to look far to find other examples of suggestions that how Musk performs at work is tied to the women in his life.
In 2017, when Musk was dating actress Amber Heard, Katerina Ang at blog Moneyish wrote that Musk's relationship was "probably good for Tesla."
Executive coach Debra Benton told Ang it fit a scenario in which the "self-described geeks" get the "prom queen" they couldn't date in high school. "He gets a prize and looks like a winner," she said. "Therefore, the public thinks that his company is a winner, too."
Heard could have been a distraction, the article went on to say, but Musk apparently exerted enough control over the situation to resist her witchy charms: Because Musk revealed the relationship on his own instead of waiting for celebrity gossip media to catch them, "he's taking the wind out of the sails of concerns his executive team or board of directors might have been about him being distracted," Benton said.
But the distraction narrative quickly reared up again when the relationship ended. After Heard and Musk broke up in 2017 (they briefly reconciled and separated again this year), People magazine reported that Musk had ended the relationship because of their busy schedules — principally, his. "Elon is working day and night," a source told the publication. "This is his life and he loves it. He is in no position to be in a relationship right now and ended it."
Months after the split in November 2017, Musk spoke to Rolling Stone about the "severe emotional pain" he felt in the aftermath that made his attendance of a Tesla Model 3 launch event almost unbearable. "It took every ounce of will to be able to do the Model 3 event and not look like the most depressed guy around," Musk told the publication. "For most of the day, I was morbid."
News stories at the time of their separation described Heard as "devastated," "manipulative," and "selfish." After the breakup, one online commenter on the website Quora mused that "it's best if these women don't distract him."
And when Musk and Grimes appeared together at the Met Gala this year, commentators on investment commentary website Seeking Alpha wrote about the implications of the relationship for Tesla and suggested Musk's night out with the woman he was dating was taking away from his focus on the Tesla Model 3.
Some investors and Tesla observers seem to believe that Musk is somehow powerless against these women, and that they may be detrimental to the fortunes of Tesla and his success. (Grimes has actually defended Musk and Tesla's practices on multiple occasions.)
Musk, meanwhile, doesn't appear to think that his romantic life as a distraction — in fact, quite the opposite. In the November 2017 Rolling Stone interview, Musk, who has been married three times, twice to the same person, said he "cannot be happy" if he's not in love and with a "long-term companion."
This is an age-old storyline
This narrative is not a new one: A genius man, destined for greatness, is distracted and thrown off course by an enchanting woman, helpless in the face of her mysterious charms.
There are the sirens luring in sailors in Greek mythology, and Delilah coaxing Samson in the Bible. Yoko Ono was blamed for the breakup of the Beatles. Tony Romo's bad days on the football field were pinned on Jessica Simpson. Researching, I came across a list titled "Kate Upton and 10 other bad luck sports WAGS" — wives and girlfriends.
And the framing doesn't just exist in the realm of celebrity and sports. Teen girls at school are often sent home and told to dress conservatively to avoid distracting boys. In a 2017 British study, a quarter of women reported being cautioned about how they look in the workplace, and among those, a third said they were spoken to because they were considered a "distraction" to their male counterparts.
It's not clear whether Musk and Grimes have broken up or are still together. But for the purposes of Tesla's future, it's safe to say it's silly to pretend it matters.
Or as Thornton McEnery, executive editor at Wall Street humor website Dealbreaker wrote about the coverage: "Let's just take a moment to bask in the beauty of 'serious' investors monitoring the secondary activity on Elon Musk's social media accounts to diving meaning in his dating life," he wrote, "and then laying that data onto their perception of Tesla's future market performance."
Sourse: vox.com