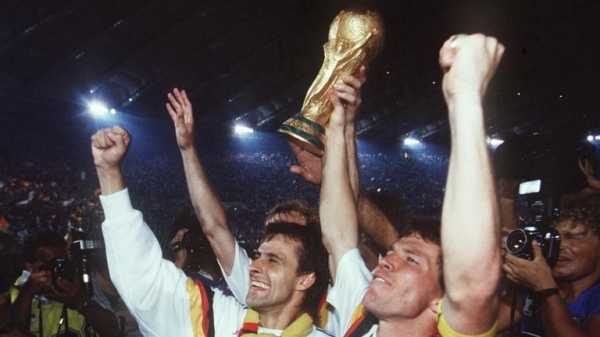 Although West Germany emerged triumphant, the 1990 World Cup will always be remembered for Gazza's tears, writes Mark Fowler.
Gazza's tears highlight an actually poor World Cup
I thought my mind was playing tricks on me.
Despite only being 14 at the time of the 1986 World Cup in Mexico, I can remember much more about it than the 1990 tournament in Italy.
And then it started to come back – Italia '90 was full of exciting moments like the efforts of wide-eyed Italy striker 'Toto' Schillaci, the enchanting play of Cameroon and the ageless Roger Milla in particular, and of course, Gazza's tears and England's game against West Germany.
So it was a cracking World Cup, wasn't it? No it wasn't actually. Only when I looked through the records did it really come back to me why I remembered so little about the event.
It was because, in the main, it was a forgettable tournament with defensive, cynical football to the fore.
The opening game of the tournament saw Argentina take on Cameroon, in what was expected to be an easy game for the 1986 World Cup winners.
But the game was marred by some appalling tackles by Cameroon – especially on Claudio Caniggia – but it worked as Francois Omam Biyick netted a 67th-minute winner to provide the early shock of the tournament.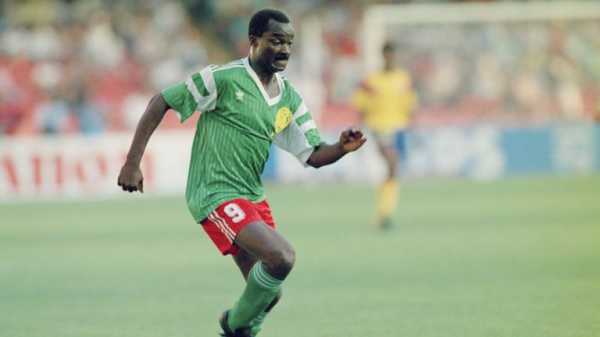 With 24 teams in the World Cup finals the organisers decided on having six groups of four teams, with the top two from each group qualifying.
However, to make the second stage up to 16 teams they then decided the four best-placed teams who came third would also qualify, meaning that we would have 36 games to only reduce the number of teams by eight.
And that produced some turgid games. Group A saw the hosts grouped along with Czechoslovakia, Austria and the USA, and apart from Czechoslovakia's 5-1 win over a USA side that lost all three games there was little excitement.
Italy went through with three wins out of three and didn't concede a goal. In Group B it was Cameroon who were the shock group winners, despite only scoring three goals and conceding five in their three games.
And Argentina were one of the 'lucky' third-placed teams to qualify. Group C saw Brazil qualify, like Italy, with three wins out of three, while Scotland crashed out after somehow losing to Costa Rica, and then beating Sweden before running Brazil close.
West Germany were the most impressive team when they qualified from Group D, and they scored four goals against Yugoslavia before beating the UAE 5-1. With the group games mainly meaningless, Group E saw Spain, Belgium and Uruguay all qualify, with the South Americans going through to the second phase despite only scoring twice in three games.
In a series of dull groups perhaps the dullest was Group F, which involved England, the Republic of Ireland and Holland. Egypt were the bottom team of the group, but there were still only seven goals in the six games, and Holland and the Republic of Ireland both qualified despite failing to win a game.
The second phase was only slightly better. The first big shock came in Turin, where everyone's favourite 'other' team Brazil went down to a late goal by Caniggia for Argentina.
Shootout
And it was also time to party for the Republic of Ireland, with former Leeds United boss David O'Leary stepping up to side-foot home the winning penalty against Romania after, you've guessed it, another 0-0 draw.
England, meanwhile, were also involved in a 0-0 draw at the end of 90 minutes against Belgium, and as extra-time came to a close it looked for all the world like Bobby Robson's men too would be called upon for the dreaded spot-kicks.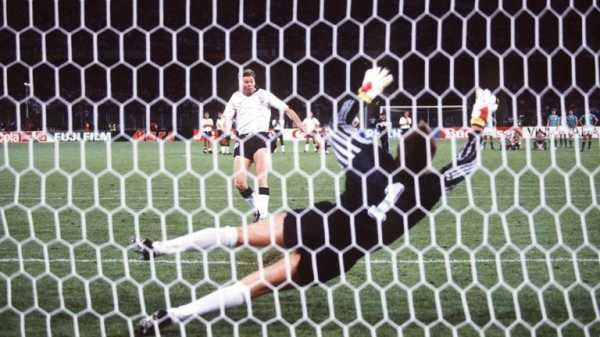 But Paul Gascoigne had other ideas, and his free-kick saw David Platt swivel and volley home a fine goal. It was a goal that would change Platt's career.
After what had been a dull start to the World Cup it was down to the final eight, and hope was that the quarter-finals would give neutral fans something to cheer about.
They were to be disappointed. Italy edged past the Republic of Ireland 1-0 – a blessing for those who were not keen on the long ball system played by Jack Charlton's men – while West Germany defeated Czechoslovakia by the same score.
Argentina continued to progress in the most unimpressive way possible, defeating Yugoslavia on penalties, but with many people feeling their name was on the cup.
For England, they played out a thrilling five-goal affair against Cameroon. Platt and Lineker both scored for England but the Cameroonians sent the game into extra-time, only for Lineker to score his second penalty of the game in Naples.
And so onto the semi-finals. With what had gone on before in the tournament, and given the prize at stake, now was the time where people would have understood the games being dull.
Typically, however, both games were thrillers, even though they were decided on penalties.
To the horror of the home fans, Argentina again went through on penalties, beating Italy after the teams had finished level at 1-1 after extra-time.
But the game that caught the heart of a nation was England's clash against West Germany.
A dull first 45 minutes was soon forgotten when Andreas Brehme's free-kick deflected off QPR defender Paul Parker, and looped over Peter Shilton to put West Germany ahead.
But with around 10 minutes to go Gary Lineker turned sharply to level things, and swing the momentum back England's way. And then came that devastating moment.
Gascoigne was just one yellow card away from missing the next match – in this case the final itself – when he made a needless lunge near the halfway line when England were in no danger.
As the referee inevitably reached for his yellow, card Gascoigne's eyes started to fill with tears – slowly followed by many of the watching fans back in England.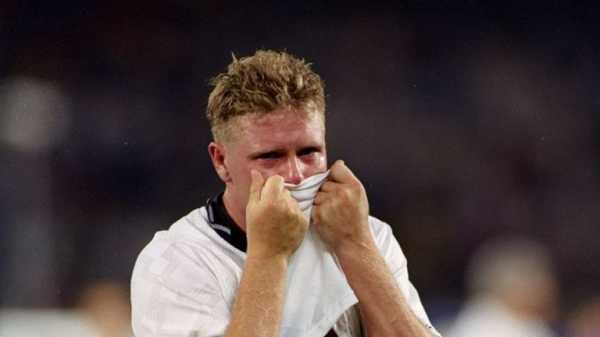 The image that always sticks with me though is not that of a red-faced Gascoigne, looking round for someone to blame (he chose the West German bench if I recall) but that of Lineker walking up to him, turning to the camera and gently signalling that perhaps, please, they could move their sights away from his team-mate.
So the game went on to penalties, and it was the West Germans who came away with victory.
The occasion proved too much for both Stuart Pearce and Chris Waddle, both firing high and wide.
Shilton dived the right way for each of West Germany's penalties, although he never once looked like getting anywhere near close enough to actually saving his team.
And so to the World Cup final – football's showpiece occasion. Surely Argentina would put aside the tactics they used so far and show the world just what they could actually do?
Wrong again. Argentina turned in a disappointing performance, looking as if they were playing for penalties from the first minute, and they had two players sent off before losing to a late Brehme penalty.
In the cold light of day it had to be said Argentina were unlucky to be reduced to nine men.
A supremely-talented team, they won just two games in the whole tournament, both of which were 1-0 wins – and played in a spirit that completely betrayed the world game.
As it was the final in Rome summed up the whole tournament – a lack of goals, a cynical approach and little excitement.
Player of the tournament: Lothar Matthaus
Forget the ageing sweeper we saw being wheeled out for Germany in recent years – in 1990 Matthaus was the complete midfielder, and he surged forward to score some wonderful goals in a team that really impressed.
The Germans had most of the outstanding players in Andreas Brehme, Jurgen Klinsmann and Matthaus, while Gascoigne and Milla provided some rare highlights in an otherwise dull tournament.
Goal of the tournament: Roberto Baggio
Baggio provided a moment of genuine brilliance in his side's Group A clash against Czechoslovakia. Leading 1-0 with 12 minutes remaining, Baggio picked the ball up on the halfway line, and started running. And after playing a one-two he kept running, gliding past defenders before slotting the ball past the goalkeeper. All that in front of his own fans too.
Match of the tournament: West Germany v England
It wasn't a classic by any means, especially the first half, but the second half and subsequent drama more than made up for it. Gazza's tears are one of the memories of not only the World Cup but 1990 as a whole.
As much as you cheered England on it seemed unfair that Gascoigne would miss out on a final he had done so much to help propel England towards, and the one consolation in defeat was that he wasn't forced to sit out what would have been the biggest game of his career.
Home nations
England ended up as runners-up in qualifying Group 2, with Sweden topping the standings by a point. England did enough to secure first place in Group F, although they started the tournament slowly.
First they were denied a win over Republic of Ireland after Kevin Sheedy cancelled out Gary Lineker's opener. Then they were held to a 0-0 stalemate versus Holland before edging out Egypt thanks to Mark Wright's goal.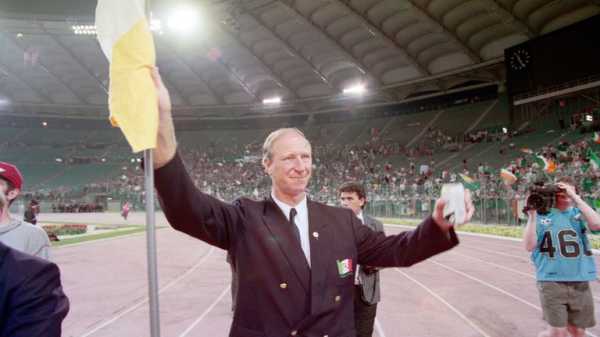 England then advanced from the last-16 stage with another 1-0 win, this time against Belgium with David Platt on target. And a 3-2 success over Cameroon, after the game had gone to extra-time, booked their place in the semi-finals.
But their journey ended there when they faced rivals West Germany who held their nerve in the penalty shootout as Stuart Pearce and Chris Waddle missed for the English.
Northern Ireland endured a disappointing qualifying campaign as they only managed two wins from eight outings. Spain and neighbours Republic of Ireland advanced at their expense.
Wales finished bottom of a testing qualifying group, having been drawn against Holland, West Germany and Finland. The Welsh failed to win any of their matches.
Scotland advanced to the 1990 World Cup after finishing second in Group 5. A draw against Norway in their final outing was enough to deny the French.
The Scots then faced a stern test alongside Brazil, Costa Rica and Sweden in Group C at the World Cup. They got off to a losing start versus Costa Rica.
They did, however, rally for their second fixture versus Sweden as they triumphed 2-1. This meant they needed a positive result against giants Brazil coupled with a slip-up for Costa Rica.
But it was not to be, despite a valiant effort versus the Brazilians as they lost 1-0 and Costa Rica beat Sweden.
Also See:
World Cup latest
World Cup fixtures
World Cup group tables
World Cup profiles
Every World Cup squad
Sourse: skysports.com