In one of the best-ever Monday Night Football games, Nicolas Jackson scored three second-half goals to inflict first Premier League defeat of the season on Tottenham; Cristian Romero and Destiny Udogie were both sent off; five goals were ruled out by VAR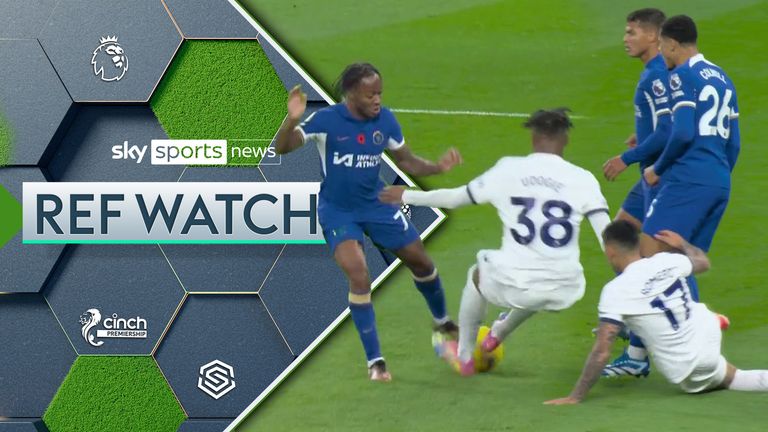 Dermot Gallagher believes that Destiny Udogie and Cristian Romero's first half yellow cards against Chelsea were the right decisions and not deserving of a red
After a chaotic Monday Night Football, Dermot Gallagher takes a look back at some of the big decisions in a special edition of Ref Watch.
Tottenham 1-4 Chelsea – Report & Highlights
'I don't like it' | Ange Postecoglou against 'forensic study' of every referee decision
'Why the PL is the best' | Spurs-Chelsea delivers wildest first half in PL history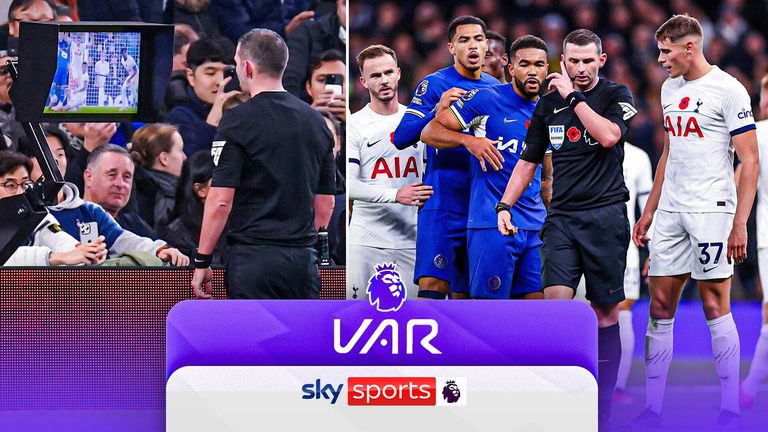 Five? Eight? Ten? We look at all VAR checks made in the game between Tottenham and Chelsea.
'Right decision reached for Udogie yellow card'
INCIDENT: Destiny Udogie was yellow-carded for a rash challenge on Raheem Sterling. A VAR review did not upgrade it to a red card.
DERMOT SAYS: "I think the right decision was reached. It's not a nice tackle, there's no doubt about that, but he's clearly missed the opponent.
"He goes in, gets some of the ball, which doesn't make it right, but he's not caught him with both feet. You see Sterling evades it, and that's what saves Udogie.
"If he hadn't done that, it would've been a red card. It's a lot about where the contact is, how it's made, the intensity, the distance he's come from."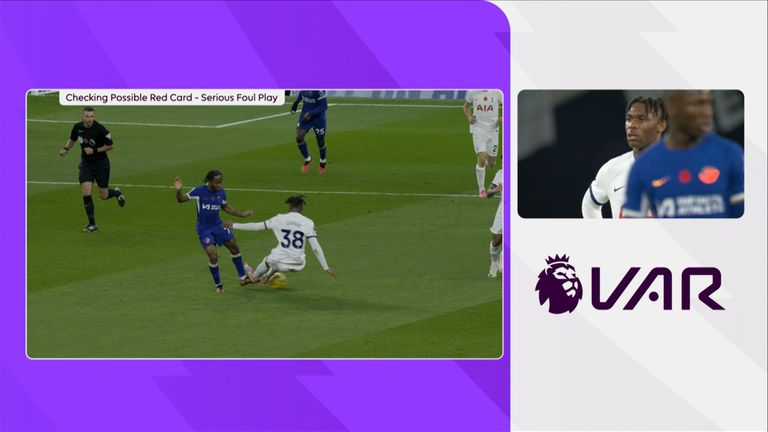 VAR stuck with a yellow for Destiny Udogie after a lunging tackle on Raheem Sterling
Romero kick on Sterling: 'A difference between petulance and violence'
INCIDENT: Cristian Romero kicks out at Levi Colwill off the ball in the build-up to Sterling's goal. Sterling drives into the box and shoots at goal, the ball hits Pedro Porro and then the hand of the Chelsea winger, before going on to score. Goal is later disallowed for handball.
DERMOT ON ROMERO'S KICK: "I think this is a dilemma for VAR, because it went unspotted by the referee.
"It's petulant, there's no doubt about that, it's unnecessary. It's not violent. It's almost shin against calf, it's not like he's caught him with a stud or really kicked out at home.
"I think the referee sees it and it's a yellow, but when the VAR sees it all he can say to the referee is that it's not an act of violent conduct.
"There's a difference between petulance and violence."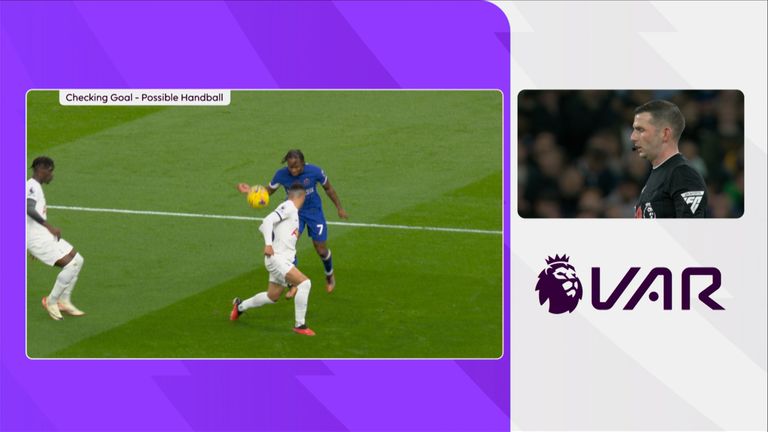 Raheem Sterling goal was disallowed for handball after a VAR review
DERMOT ON STERLING'S DISALLOWED GOAL: "It's unfortunate, but it bounces up off him and he can't do anything about it. That's the new directive – it's struck his hand, rebounds straight to him and he scores. It's got to be disallowed.
"He has no idea it's coming back. He moves his arm forward, but that's instinctive. But it does strike his hand, it does fall to him and he does score… that's a handball."
Would Romero have been sent off even if Caicedo goal had been given?
Ref Watch has confirmed that Romero's wild tackle on Fernandez would have been investigated even if Caicedo's 'goal' hadn't been ruled out for offside.
It is an "act of serious foul play and that will always be punished," explains Gallagher. "It's a red card offence and you can't overlook a red card offence unless there's an offside."
'Credit to Brooks for spotting Romero red in crowded area'
INCIDENT: Moises Caicedo scores from outside the box but goal disallowed with Nicolas Jackson in Guglielmo Vicario's eyeline while standing in an offside position.
Romero was then sent off after VAR review for tackle on Enzo Fernandez in the build-up to the goal. Cole Palmer scores from resulting penalty.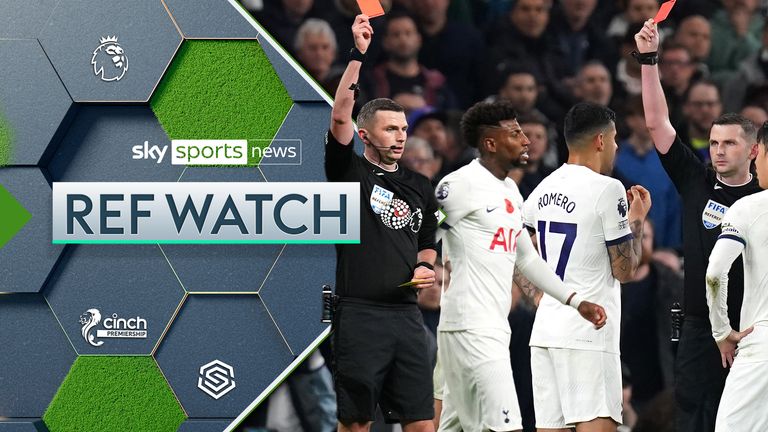 Former Premier League referee Dermot Gallagher praises the VAR decisions that saw Destiny Udogie and Cristian Romero sent off for Tottenham against Chelsea
DERMOT ON ROMERO SENDING OFF: "He's gone with force, he's gone with intensity, the point of contact is well above the ankle. It's with the studs, it ticks every box.
"Looking at the two incidents, there's no comparison. [VAR] John Brooks, I think, has done fantastically to spot that in a crowded penalty area.
"He's led [referee] Michael Oliver through the process, taken him to the screen and he's seen it's a red card. Between them it's a fantastic spot."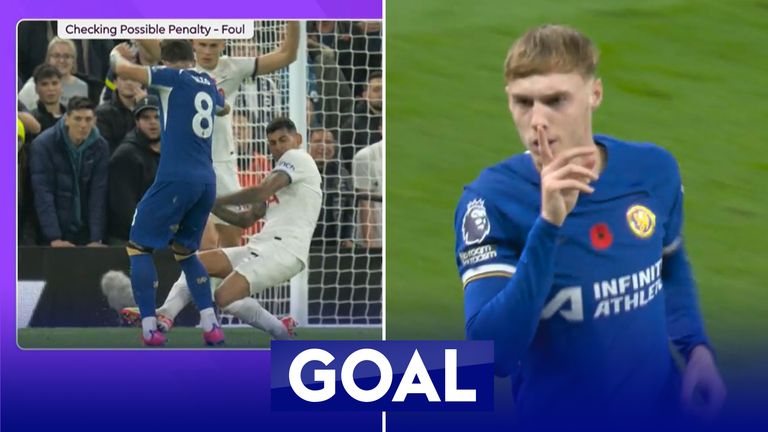 Cole Palmer scored from spot after chaos as goal disallowed and Cristian Romero was sent off!
DERMOT ON CAICEDO DISALLOWED GOAL: "Jackson's in his eyeline, he steps over the ball. What's really good here is that it was given on-field, which is really difficult.
"Stuart Birch has seen Jackson's offside, Michael Oliver can see where he is in relation to the goalkeeper. It would've been fed through that he was offside and in line with the goalkeeper, and the flag goes up."
Premier League table | Watch free Premier League highlights
Get Sky Sports | Stream the biggest moments on NOW
'Udogie so unwise for second yellow card'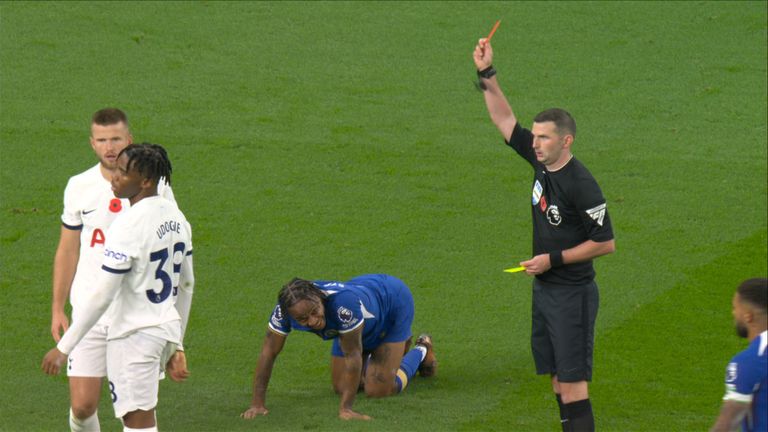 Spurs went down to nine men after Destiny Udogie was shown a second yellow card
INCIDENT: Having survived a VAR check during the first half for his two-footed tackle, Udogie is dismissed just before the hour mark for a second bookable offence when he brings down Sterling.
DERMOT SAYS: "You shouldn't make these challenges anyway, but if you're on a yellow card… you just cannot.
"It's so unwise. He wipes him out. It's a yellow card every day of the week. The ball's gone, you're always going to get a yellow card for it.
"The manager's reaction says it all. I thought it was so skilful how Michael Oliver went through this game. He picked out the right times to stay out of it, when to get involved.
"It made it a spectacle and he's been presented with that challenge and had to take it."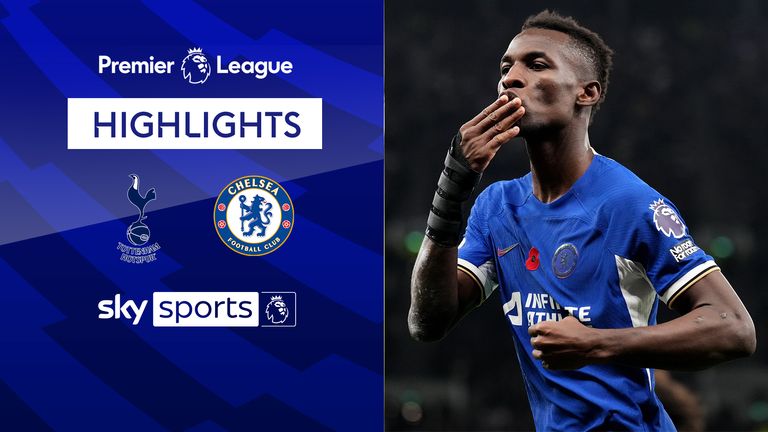 FREE TO WATCH: Highlights from the Premier League match between Tottenham Hotspur and Chelsea
'James on Udogie not an act of violence'
INCIDENT: Reece James led with his elbow when jumping for a header with Udogie, and caught him in the face. VAR has a look – but does not recommend a red card.
DERMOT SAYS: "He's always looking at the ball and using his arm as a lever to get up. He hasn't thrown it back as a weapon.
"It's looked at, you can understand why it's looked at, but you can see there wasn't an act of violence in it."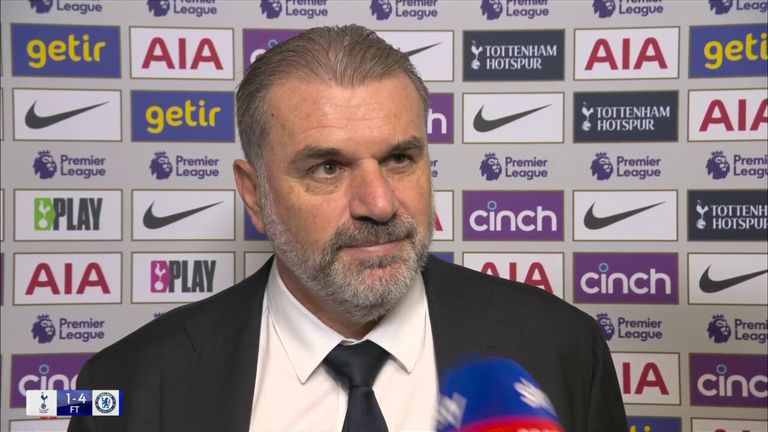 Tottenham head coach Ange Postecoglou discusses his side's 4-1 loss to Chelsea and his views on the officiating decisions throughout the match
'Oliver dealt with Colwill correctly'
INCIDENT: Colwill tangled with Pape Sarr and Emerson Royal in added time as tempered continue to fray, with Royal arguably saving the Chelsea defender from a potential dismissal by holding him off.
DERMOT SAYS: "This is the quality of Michael Oliver, his international background.
"He just stands back, watches, takes everything in and is calm. Because he deals with it so calmly, it diffuses things.
"That's what he has in his armoury, diffusing things very quickly, and bringing it down to the level he wants."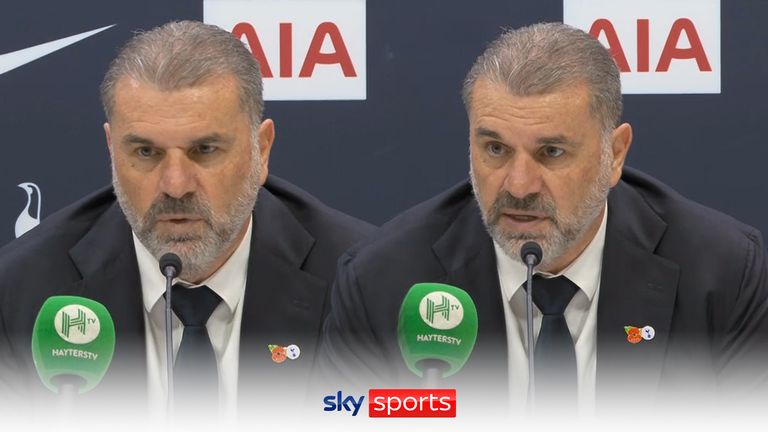 After Tottenham's 4-1 loss to Chelsea, Spurs head coach Ange Postecoglou shares his feelings on the VAR system
As for the flurry of other disallowed goals…
Gallagher: On-field officials right with every disallowed goal
Dermot Gallagher praised the officiating team for their work last night – specifically for their track record on the five goals which ended up being disallowed.
He said on Ref Watch: "There's five disallowed goals, three offside – all tight – and the on-field officials have been right every time.
"The whole team played their part in a spectacle everyone enjoyed."
"These three guys [the referee and linespeople] were under so much scrutiny for over two hours, including stoppage time. They produced a great performance.
"There was lots of redemption for referees at that level and VAR because it really produced when it needed to."
INCIDENT: Heung-Min Son thought he has scored a second goal for Tottenham, but the offside flag was raised. This was confirmed after a VAR check.
DERMOT SAYS: "It is tight, but [linesman] Dan Cook has done it in real time. It's gone in the net and he's raised his flag."
INCIDENT: In the first half, Nicolas Jackson had the ball in the net, but Sterling was flagged offside in the build-up.
DERMOT SAYS: "It is easier to spot, but they're all easy if you get them right. It's a bit like doing a crossword – if you know the answer, they're easy."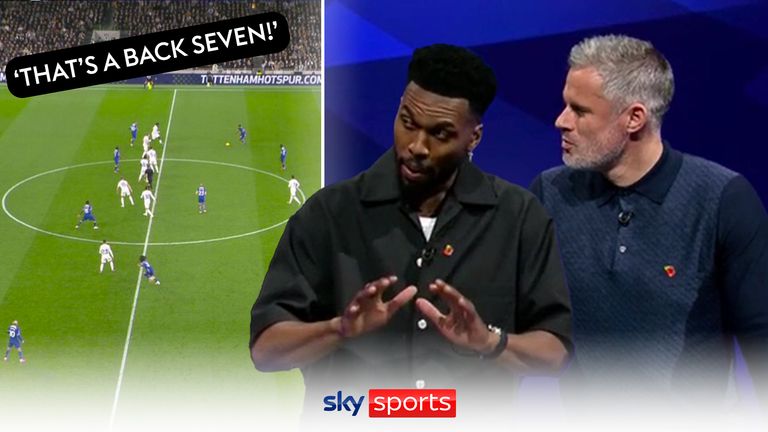 Jamie Carragher and Daniel Sturridge analyse the high defensive line Tottenham persisted with after going down to nine men and what this meant for the Chelsea forwards
INCIDENT: At 2-1, Eric Dier thought he had equalised for Tottenham with a fine volley. However, he was also flagged for offside.
DERMOT SAYS: "Again, spotted by [linesman] Stuart Burt on the field. It wasn't a VAR overturn, it's actually spotted on field. It's tight, it comes off a header in the middle. Not only has he got to look where Dier's start position is, he's got to look at where it's played on.
"That really is quality. when you're looking at it on the pitch with the speed the ball is coming in, the change of direction of the ball when's it's flicked on, who flicked it on – all those things have to be taken into account."
Sourse: skysports.com