Ever seen anything like it? In one of the Premier League's most bonkers games, there were five goals, another five chalked off, two red cards, the potential for several more, nine VAR checks… And, eventually, three points for Chelsea in a 4-1 win at Tottenham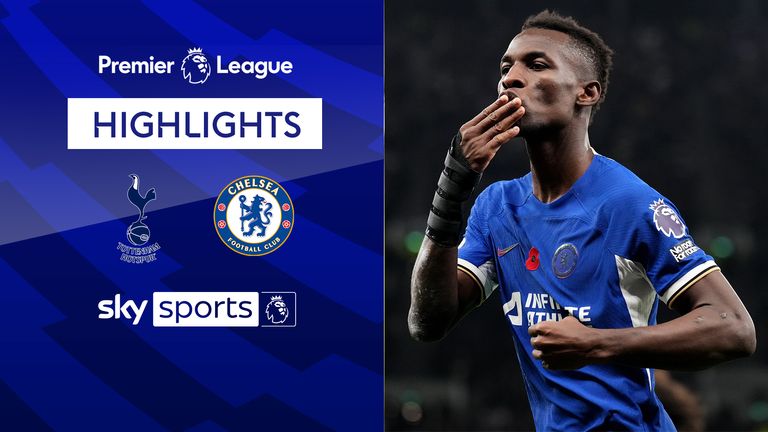 FREE TO WATCH: Highlights from the Premier League match between Tottenham Hotspur and Chelsea
Nine-player Spurs' 4-1 loss to Chelsea had everything – goals, red cards, controversy, aggro, offsides and moments of class in one of the Premier League's wildest games.
Though five goals were scored at the Tottenham Hotspur Stadium, that barely told half the story with another five ruled out by VAR, as well as those two red cards – not to mention there could have been several more – and nine VAR checks across an unforgettable 90 minutes.
Or closer to 110 when you include the added time it all racked up too.
Tottenham 1-4 Chelsea – Match report and highlights
Hits and misses: Spurs lose their heads, Nicolas Jackson keeps his
Relive the North London mayhem as it happened
Twitter Due to your consent preferences, you're not able to view this. Open Privacy Options
18 mins: Udogie yellow carded for two-footed tackle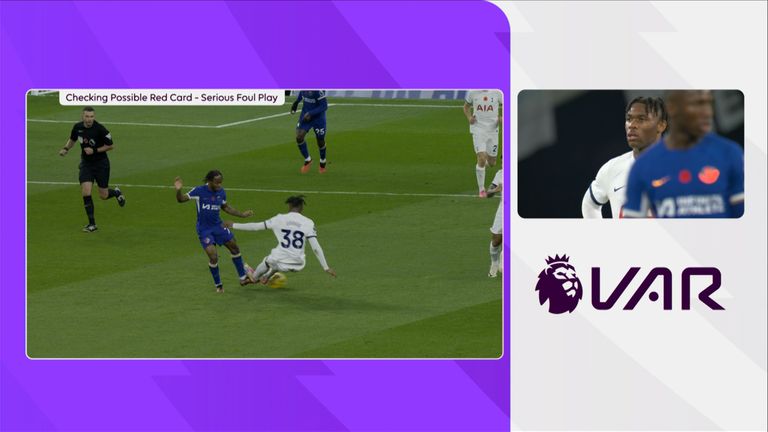 VAR sticks with yellow for Udogie after lunging tackle on Sterling
INCIDENT: Destiny Udogie is yellow carded for a rash challenge on Raheem Sterling.
Gary Neville: "He gets the ball but it looks like a classic two-footed tackle. It looks like a classic red card. It's the challenge footballers hate.
"He's a lucky boy because that is a challenge that is universally hated. He would have snapped Sterling's leg had the Chelsea player not pulled it away."
Stream the Premier League and more with NOW
Premier League table | Fixtures | Results
Watch Premier League highlights for free on Sky Sports
Get Sky Sports | Download the Sky Sports App
Jamie Carragher: "Very close to being dangerous. The difference between reckless and dangerous is whether there's impact."
Daniel Sturridge: "Intent was to go for the ball. It looked like a nasty challenge. He didn't make any connection so I think the decision not to send him off is correct."
Ange Postecoglu: "I didn't think there was anything in that tackle that was anything worse than a few others I saw. It went unpunished but that's the nature of these kind of games, some will get punished, some won't. I don't think that was the trigger for what went after that."
21 mins: Romero kick in Sterling disallowed goal build-up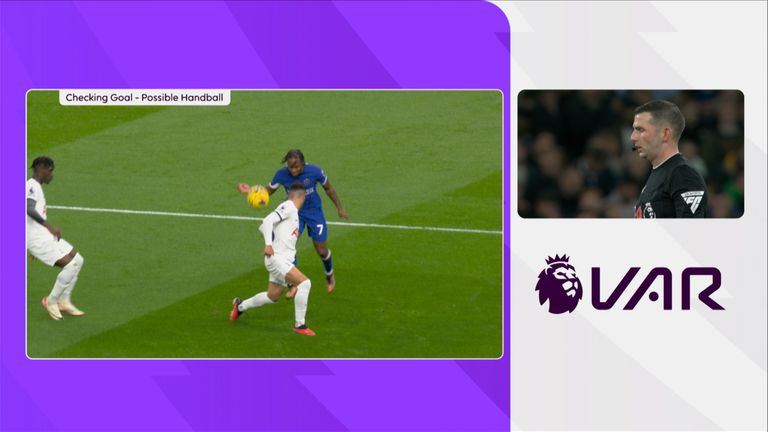 Raheem Sterling goal disallowed for handball after VAR review
INCIDENT: Cristian Romero kicks out at Levi Colwill off the ball in the build-up to Sterling's goal. Sterling drives into the box and shoots at goal, the ball hits Pedro Porro and then the hand of the Chelsea winger, before going on to score. Goal is later disallowed for handball.
Gary Neville: "Romero is a lucky boy."
Jamie Carragher: "I agree [it was petulant not violent]. He's stupid at times. It's daft but I don't think it's a red card."
30 mins: Romero sent off for foul in build-up to Moises Caicedo's disallowed goal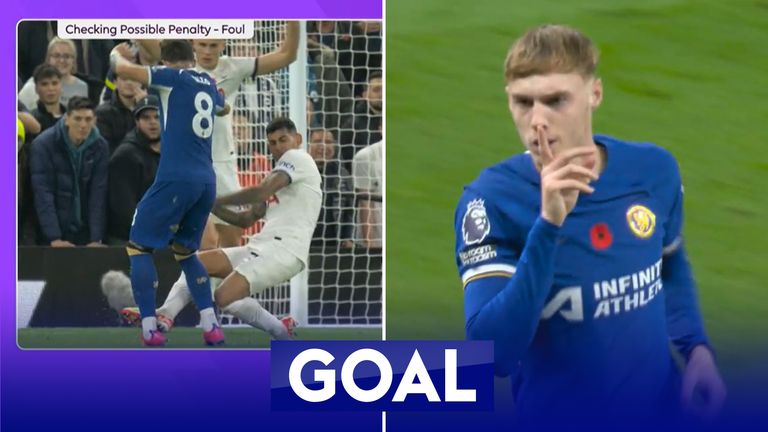 Cole Palmer scores from spot after chaos as goal disallowed and Romero sent off!
INCIDENT: Moises Caicedo scores from outside the box but goal disallowed with Nicolas Jackson in Guglielmo Vicario's eyeline while standing in an offside position. Romero then sent off after VAR review for tackle on Enzo Fernandez in the build-up to the goal. Cole Palmer scores from resulting penalty.
Gary Neville: "It's a mad challenge by Romero. For me, it's a penalty. It's not a natural follow through. It's definitely a penalty but for me. He could have gone earlier [Colwill incident]. They showed a replay on screen and the fans were not happy."
Jamie Carragher: "Absolutely ridiculous to put a challenge in like that in the box. He was out of control, excessive force, definite red card! There's so much I admire about him but he's got to cut that out from his game.
Ange Postecoglu: "They had a good look at it and gave it so I have to accept it. The red card affected the game, I felt like I was standing around waiting for things to happen most of the game, with VAR intervention. It felt like a lot of standing around."
Daniel Sturridge: "The goal should have stood in the first place! I don't think Jackson is in his eyeline!"
What else happened in a frantic first half?
Dejan Kulusevski gave Spurs an early lead…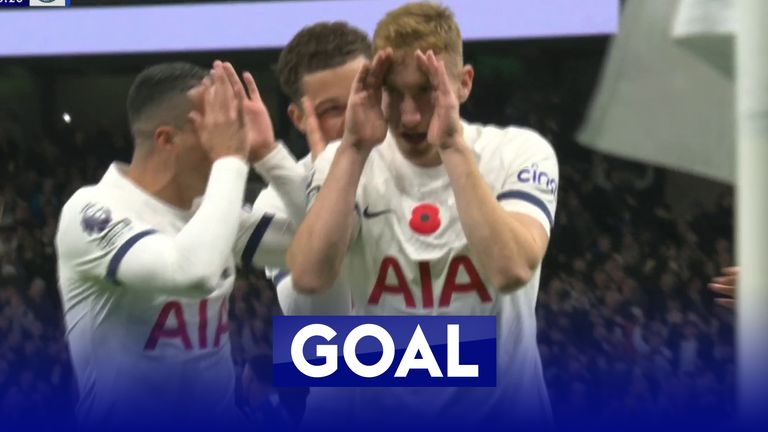 Dejan Kulusevski's deflected effort gives Spurs an early lead against Chelsea
Heung-Min Son was given offside by VAR shortly after: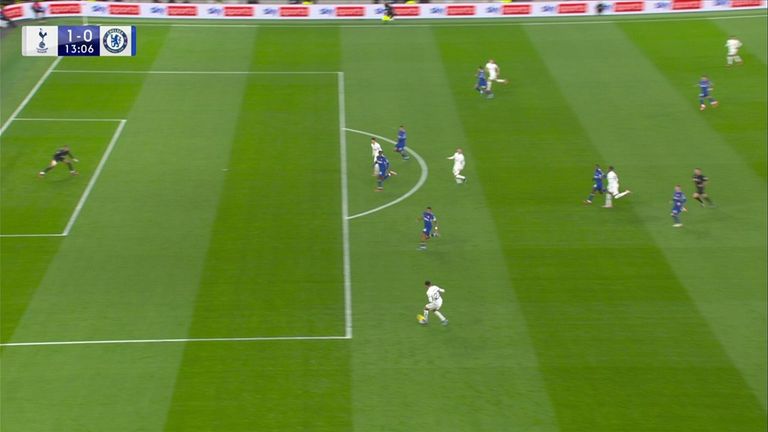 Image: VAR was unable to draw lines from this initial angle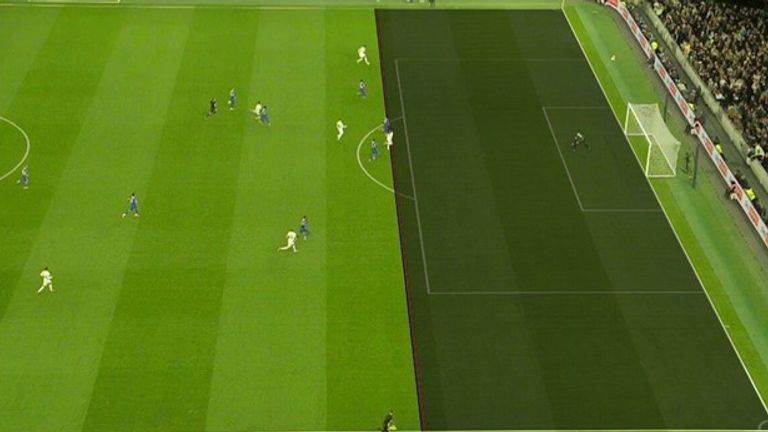 Image: VAR ruled Heung-Min Son offside from an alternate angle
Micky van de Ven hobbled off badly with an apparent hamstring injury, while James Maddison was substituted after hurting his ankle unchallenged.
Colwill tangled with Pape Sarr and Emerson Royal in added time as tempered continued to fray, with Royal arguably saving the Chelsea defender from a potential dismissal by holding him off. "They should have let him go for it and get himself sent off," Sky Sports' Gary Neville said on commentary.
On the stroke of half-time, Reece James struck Udogie with his elbow during an aerial challenge. Neville added: "Reece James knows. What is Reece James doing? What are Chelsea doing?"
55 mins: Udogie sent off at start of the second half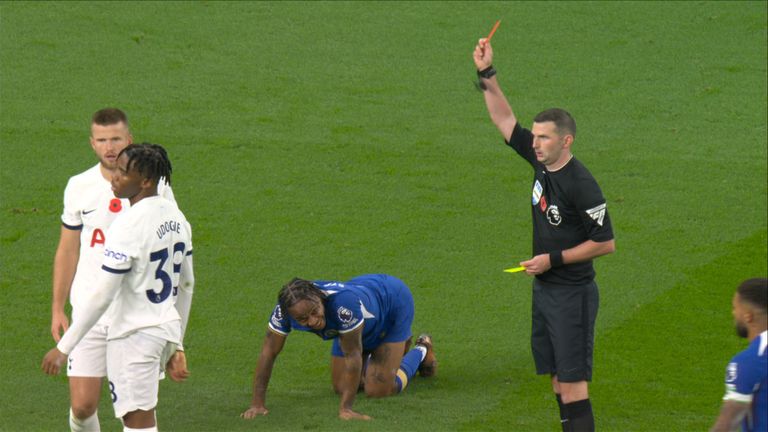 Spurs down to nine after Udogie shown second yellow
INCIDENT: Having survived a VAR check during the first half for his two-footed tackle, Udogie is dismissed just before the hour mark for a second bookable offence when he brings down Sterling.
Peter Drury: "Having shown so much bravery one man light, goodness knows what the gameplan is now they're two down."
Gary Neville: "It's just stupid from Udogie. Postecoglou won't believe the madness that he is watching from his own eyes. He knows he's on a booking, Sterling's going away from goal and wide."
56 mins: Jackson misses sitter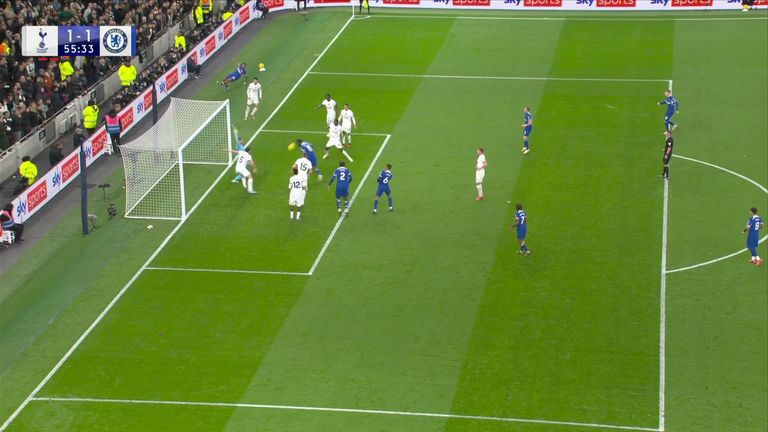 INCIDENT: With Spurs still at sixes and sevens in the wake of Udogie's dismissal, Jackson is given the freedom of London at the free-kick that follows to nod James' cross past Vicario – but his weak header is cleared off the line by Pierre-Emile Hojbjerg when he simply had to score.
Gary Neville: "How has he missed that? He's sort of headed it into the ground. It was such a simple chance, what's he doing? That's really poor from Jackson, You have to score, simple as that."
Peter Drury: "Not much of what is happening here is making sense."
Continuously: Spurs' incredible high line – 'it's a back seven!'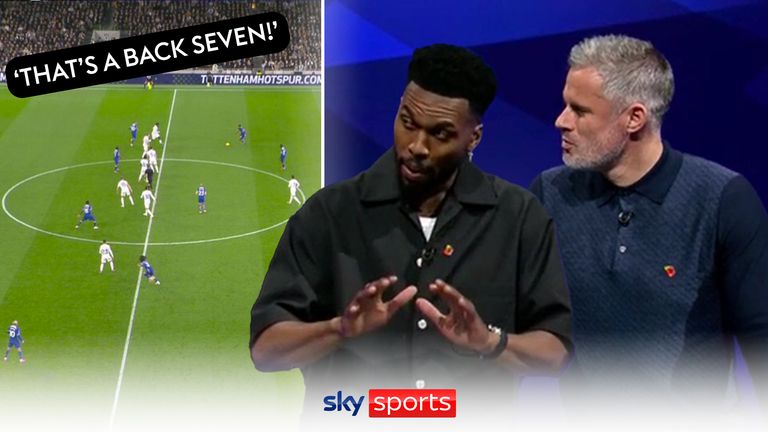 Jamie Carragher and Daniel Sturridge analyse the high defensive line Tottenham persisted with after going down to nine men and what this meant for the Chelsea forwards
INCIDENT: Despite going down to nine men, Tottenham continued to look to catch Chelsea out with a high line, which would ultimately cost them three goals on the counter attack scored by Jackson.
Jamie Carragher: "You see lots of teams do this, Liverpool or Aston Villa. But they didn't do it at Tottenham with nine men. It's a back seven! You've only got nine men. You never play against a line like that."
Daniel Sturridge: "There was a lot of space there, and Chelsea were trying to work out how to break it down. As players, you have to be patient to play against it to find the perfect pass."
Datawrapper Due to your consent preferences, you're not able to view this. Open Privacy Options
75 mins: Jackson finally gives Chelsea lead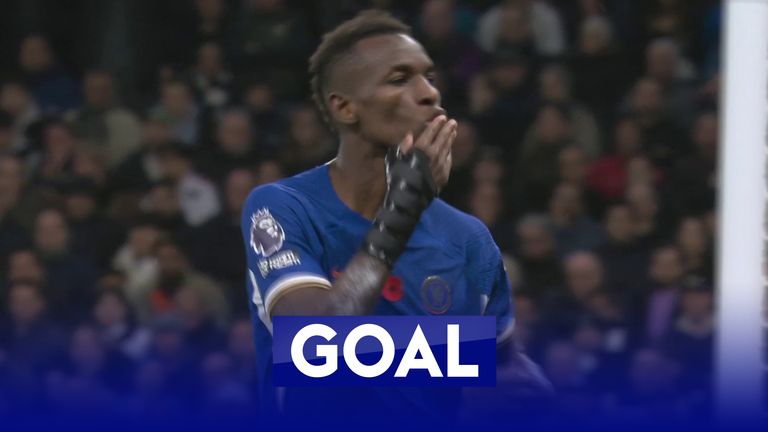 Jackson scores as Chelsea finally make breakthrough!
INCIDENT: Having denied Chelsea four times since half-time, Vicario is finally beaten as the Blues break through Spurs' offside trap. Sterling finds James whose low cross is pinpoint for Jackson to sweep home.
Peter Drury: "Chelsea laboured against nine – but in the event, Spurs could not turn back the tide eternally."
Gary Neville: "It's the first time Chelsea have played a few passes in and around that halfway line, shown some patience and composure. And once they did, it drew them out and became natural when to play it in behind."
78, 86, 90+4 mins: Spurs go close to snatching unlikely equaliser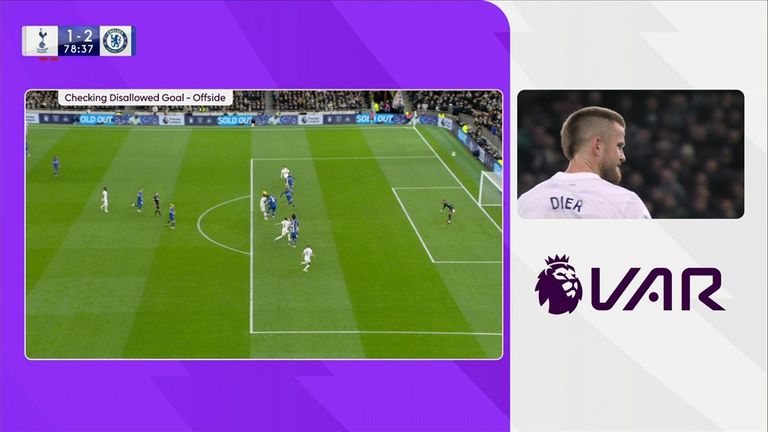 INCIDENT: Despite their significant numerical disadvantage, Tottenham keep pushing against the odds at 2-1 down – and even think they've found an equaliser at one stage.
Eric Dier's super volley from a free-kick after 78 minutes sends the stadium into momentary delirium until an offside flag is backed up by VAR to deny him the most unlikely of levellers.
Gary Neville: "It wasn't off at the first one, I was watching him go round the back. It must be from the flick-on."
Peter Drury: "That was a sumptuous finish anyway."
INCIDENT: After Malo Gusto gives away a silly free-kick, Rodrigo Bentancur is then inches away from meeting Pedro Porro's cross but even at full stretch, cannot quite make any connection to force the ball past Robert Sanchez.
Gary Neville: "It's in between a header and a shot with his foot. What a chance. Gusto nearly paid a heavy price."
INCIDENT: Oliver Skipp feeds Heung-Min Son on the counter-attack before the Tottenham captain sidesteps Axel Disasi, but on his left foot drags an effort which is easy enough for Sanchez to keep out.
Gary Neville: "What an effort this is from Spurs. They're still getting chances, and good chances – Son looks to the heavens and thinks I should have put it in the bottom corner."
What else happened as Chelsea finally, finally sealed victory?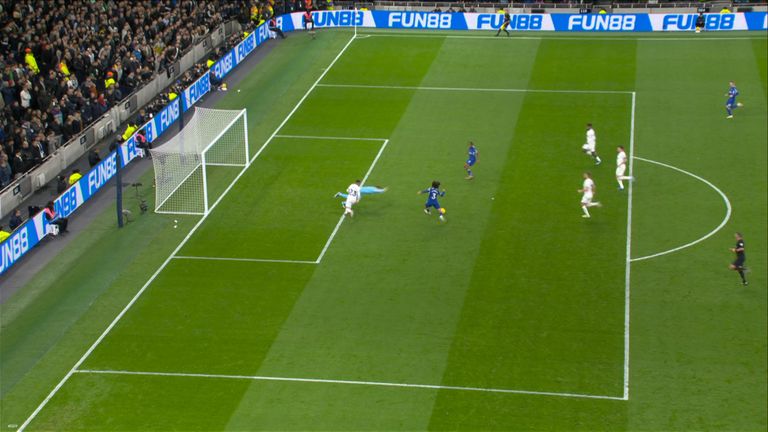 Vicario makes big stop after Cucurella breaks through high Spurs line
Take a bow Vicario. The big Italian has been making a name for himself in the Premier League since he arrived, but few keepers would emerge with such acclaim after shipping four goals to one of their biggest rivals.
The 27-year-old was at his best to deny Jackson and Cole Palmer in a huge double save just after half-time, before clawing another ball away from Jackson and making an excellent stop with his legs from Marc Cucurella.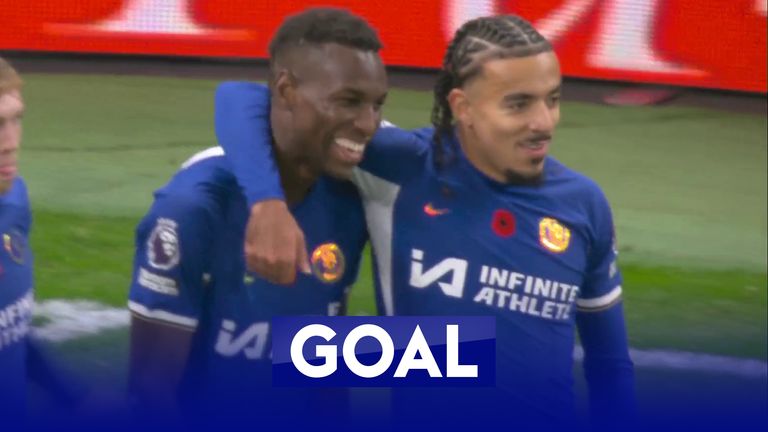 Jackson rounds keeper to complete hat-trick!
But he was left horribly, inevitably exposed as Chelsea finally played their way through Spurs' high line to allow Jackson to net a 22-minute hat-trick, with the forward's second and third goals in added time.
Carra: Box office MNF proves PL is best in the world!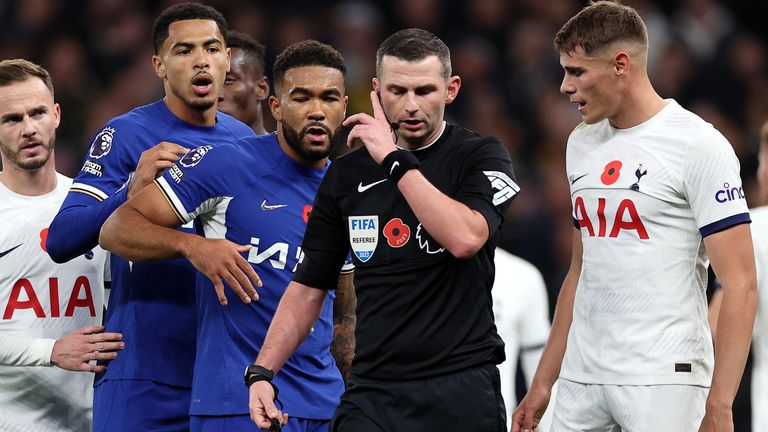 Sky Sports' Jamie Carragher:
"I've been watching football for almost 40 years and certainly as a neutral, I would say that was one of the most enjoyable games I've seen for so many different reasons.
"It was absolutely box office and that is why the Premier League is the best league in the world by a country mile!"
Sourse: skysports.com