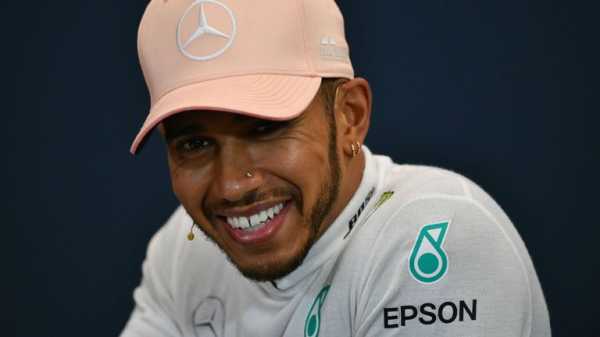 Lewis Hamilton has pleaded with the Monaco GP to be updated so that F1's most prestigious event delivers a race to match.
Hamilton finished a frustrated third in a largely processional race at the Principality on Sunday, happy with the "damage limitation" to his world championship prospects.
But he was alarmed by the nature of a race in which the field consistently lapped over five seconds off Daniel Ricciardo's pole position time, in order to save their tyres at a circuit where track position is everything.
"We were just cruising around from lap six," said Hamilton immediately after the race. "It wasn't really racing. Ultimately we were turned down and just cruising around to make sure we got to the end."
Ricciardo limps to stunning Monaco win
Title battle wide open after Monaco?
Ricciardo enjoys Monaco redemption
Wolff 'disturbed' by FIA disclosure
But in a passionate eulogy about the race considered to be F1's showpiece event, Hamilton spoke eloquently later on Sunday evening about why he is so keen for Monaco to change.
"Monaco has the biggest build-up and is the most special race of the season and it is just a shame that the race isn't as exciting as the whole spectacle and the track actually is. In qualifying it is epic and through practice there is no place like it, but in the race we just weren't ever pushing.
"It was insane how little l was pushing – the least l can ever remember. There was a point where l was ten seconds behind and l was conflicted because in my heart l was 'I still want to win the race' and they were like 'no, just bring it home'. I just love racing.
"So what can we do to make this one better?"
Hamilton had an answer to his own question.
"I spoke to Prince Albert the other day and said maybe we should make it longer. There are more roads so maybe we can change this great track and make it even better.
"Or maybe the format should change. You shouldn't be able to do a one-stop race here. There has to be some mixed-up things. Maybe we need two races.
"But that was the longest 78 laps ever!"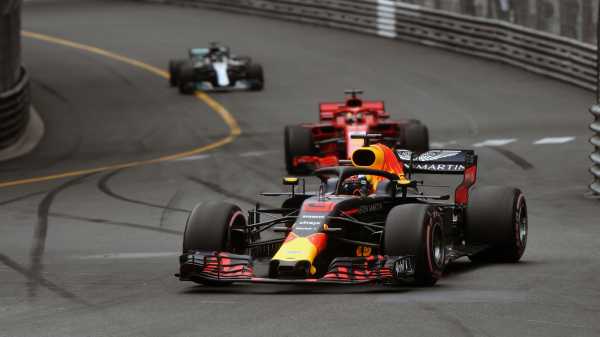 A quick look back at the Monaco GP after Ricciardo claimed victory in Monaco ahead of Vettel and Hamilton.
Successful damage limitation for Hamilton in the title race
The relief for Hamilton and Mercedes, meanwhile, was that his lead of the world championship was only trimmed by three points in a race likely to be the Silver Arrows' weakest in 2018.
Hamilton, like the rest of the field, had no answer to the dominant form of Daniel Ricciardo and admitted: "Nobody could match them this weekend but hopefully our best race Is elsewhere. We know that here and Singapore will be our toughest race but hopefully our car will be better at the majority of races.
"You can't win them all, l know that. I only lost three points and l am grateful for that. Would l like to have won the Monaco GP? Hell yes. Would l like to win the world championship? Hell yes, more than anything."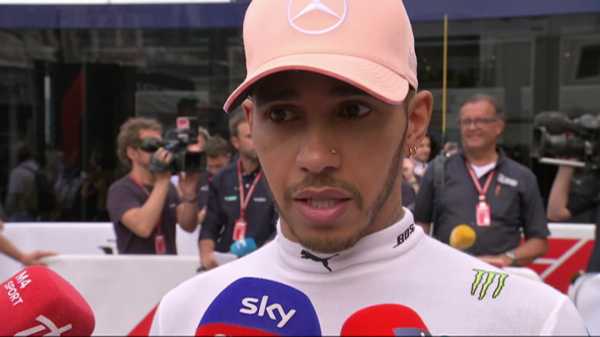 Mercedes driver Lewis Hamilton is grateful to lead the championship by 14 points ahead of Sebastian Vettel.
After six races in 2018, Hamilton, Vettel and Ricciardo have each won two races apiece, but the Englishman will arrive in Canada in two weeks' time with a 14-point advantage over the Ferrari driver with Ricciardo a further 24 points behind.
"It is definitely a three-way fight," Hamilton said.
"Sebastian and Ferrari are still the strongest. Their car was quick here and their car has worked well all season so far. But it is a three-way battle and Red Bull potentially should have an engine upgrade at the next race and it will be interesting to see their performance – they will continue to get stronger through the year.
"I am telling you, we are doing everything we can to win. [Sometimes] we win, then Ferrari win, then Red Bull win. I personally love it and it is challenging me more than I can express. It is the biggest challenge I have had."
Sky Sports F1 is the only place to watch every Formula 1 Grand Prix, qualifying and practice session live in 2018. Get Sky Sports F1.
Comment below to get involved in the debate, but please adhere to our House Rules. If you wish to report any comment, simply click on the down arrow next to the offending comment and click 'Report'.
Also See:
Ricciardo limps to stunning Monaco win
Title battle wide open after Monaco?
Find out more about Sky F1
F1 in 2018: How to watch with Sky F1
Sourse: skysports.com