The women's giant slalom has been postponed as high winds affected the Winter Olympics for a second day.
After the men's downhill and women's slopestyle events were postponed on Sunday, strong gusts caused further rescheduling on day three of the Games.
Organisers said: "Due to high winds and the weather forecast, the ladies' giant slalom schedule for today (Monday) at Yongpyong Alpine Centre, has been postponed until another day.
"More details will be provided in due course."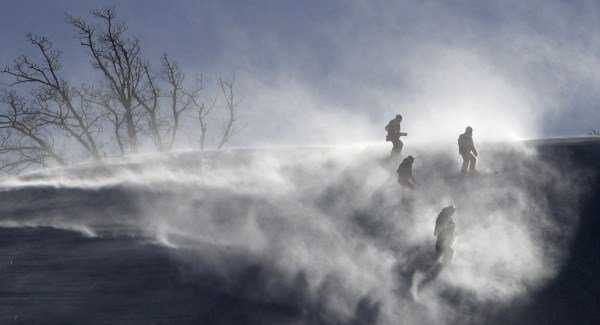 Course crew are shrouded in snow as they slip slide to the finish after the women's giant slalom was postponed due to high winds at the 2018 Winter Olympics at the Yongpyong Alpine Center, Pyeongchang, South Korea.
The International Olympic Committee insisted athlete safety was the priority and pointed to the numerous contingency days available for rescheduling events.
IOC spokesman Mark Adams said the FIS, skiing and snowboarding's world governing body, was relaxed about the weather necessitating changes to the schedule.
Adams said: "The competition is run by the International Ski Federation. They know their athletes and they know the conditions they work in.
"The safety of the athletes is the number one priority for us. We have time. There are reserve days. There is plenty of time to get all the competition in."
Adams was asked about the women's snowboard slopestyle final, which was ongoing as he was speaking at the day's daily briefing. The majority of athletes appeared to be struggling with the conditions, but again Adams deferred to FIS.
"We would bow on technical issues to the federations always," Adams added. "(But) we would never take a decision that would put in jeopardy the safety of the athletes."
Sung Baik You, spokesman for local organising committee POCOG, said it was difficult to forecast the wind. He suggested the women's giant slalom would take place on February 15, but that was still to be confirmed.
"We're sure that we will have this competition, but when we look at the forecast they're only able to forecast the wind three days in advance, that's why we're rescheduling to a couple of days later."
– PA
Sourse: breakingnews.ie