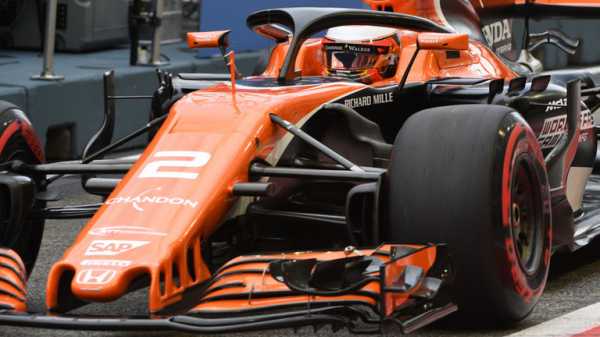 Every year is big in Formula 1 but some are bigger than others.
Just ask the McLaren team, now partnered by Renault, on the eve of the launch of their 2018 car and a season in which the 20-time world champions will have nowhere to hide and everything to prove after three miserable seasons in partnership with Honda.
This week, the team invited the F1 media press corps to their Woking headquarters to deliver an update on their 2018 car, new alliance with Renault, and expectations for the new season…
McLaren expect a big step forward in 2018
They're not predicting wins – at least not overtly – and they're certainly not talking about potential title challenges. But McLaren are assuming Renault power means their days of struggling at the wrong of the grid must be over.
"We are trying not to make any predictions. But I do think we should be the team which has the biggest difference in grid position this year over last year," said boss Zak Brown.
"We want to be competitive, which we haven't been for the last three years. And being competitive means racing at the front, qualifying at the front, getting on the podium, but we haven't set a target what success looks like. I think we will all know when we watch the season [back] whether McLaren was competitive."
It's inevitable McLaren will move up the Constructors' table – after all, they were only second-from-last in 2017 – but by how many places? Podiums – something which eluded the McLaren-Honda partnership during the three seasons of their partnership – are a minimum.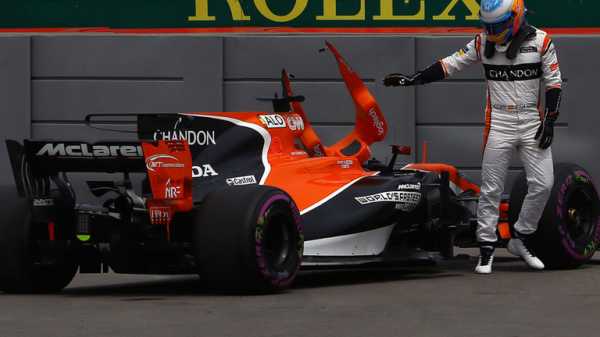 Fernando Alonso, who never really went away, is back
The mouthwatering subtext of McLaren's improved performance is that Fernando Alonso will, once again and after three years of Honda misery, be able to show his quality in a decent car.
That is, if he's not too worn out from driving in the World Endurance Championship at the same time as contesting the longest-ever Formula 1 World Championship.
Brown confirmed that Alonso was strictly 'on loan' to Toyota and will not be participating in time-and-energy draining things like testing or sponsor events for his Le Mans-challenging team. He'll just fly in, drive at the races and go home. Brown insists this schedule won't tire Fernando out and this isn't the first sign of Alonso's slow slide out of F1.
Brown said: "He races or drives every weekend, he just wants to be in race cars. Fernando is very well prepared, knows what it takes to be successful and he wouldn't have taken on the additional commitment if he didn't think he could do both at the highest level.
"Definitely, it is no other agenda than he wants to race and he wants to win."
McLaren have quickly caught up on changing engines
Confirmation of McLaren's switch to Renault occurred several weeks after the team's self-imposed 'deadline' for a decision on their engine plans had elapsed, which meant designers were placing key bits of the car (oil tanks, radiators, cooling ducts) anywhere they thought was best with no idea where the engine layout actually needed them to be.
But the team are satisfied they are now back on track – and have been for several months. "We played catch up for the two weeks to get back on a normal programme," reported chief technical officer Tim Goss.
But while McLaren may have surprised themselves at the speed at which they put the MCL33 design on a more sensible footing, the complexity of the change from Honda to Renault ought not to be underestimated.
"Architecturally, the engines are very different," explained Goss. "There are two families of engines in Formula 1 at present: the Mercedes and Honda approach with the turbocharger split across the engine and then the Renault-Ferrari approach with the turbocharger at the back and the MGUH in the 'V' of the engine."
And the split from one family to the other has necessitated some 'minor changes' to the MCL33 but little in the way of fundamental alterations to the chassis design. The Renault engine's layout also allows McLaren to retain their beloved, aerodynamically advantageous, 'size-zero' rear bodywork.
"The major challenge has been dealing with the architecture in a packaging sense internally rather than changing our aerodynamic philosophy," said aerodynamics chief Peter Prodromou. "Very little in terms of the car concept has had to be compromised."
Expect a striking new livery
Rumours have swirled for several weeks McLaren are preparing to reveal their 2018 car in a fresh livery, likely to be the 'papaya' orange colours which featured predominantly through McLaren's very early years.
"It's almost done," said Brown of the new look. "Outside of Sauber, although I'm not sure what they are planning with Alfa Romeo, I think we will look more different on the grid than anybody else coming out of last year."
So it's a case of wait and see for February 23 when the McLaren-Renault will be revealed.
…And an evolutionary car – at first
McLaren's conviction that their car, in terms of pure chassis performance, was a frontrunner in 2017 is well known. So it stands to reason that, avoiding the mistake of 2012/13 when they ripped up a winning design for a dud, their 2018 car will carry over plenty of its predecessor.
"Expect to see something quite evolutionary conceptually at launch," advised Prodromou.
But by the season start in Australia, the MCL33 will look different. "In truth, we have spent the last two or three months focusing on a race one upgrade," added the former Red Bull designer.
It seems that the onus during winter testing will be centred on evaluating the Renault engine and its compatibility with the MCL33's packaging, before all the new aero bits arrive for Melbourne.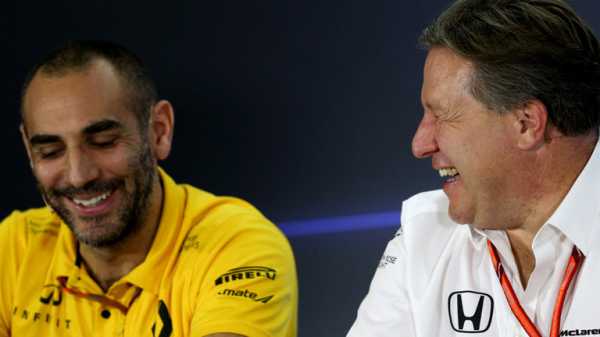 McLaren are planning long term with Renault
Far from shying away from Renault's turbulent recent history with their engine customers – including a very public fall-out with Toro Rosso in Brazil and an anticipated divorce from Red Bull – McLaren are opening their hearts, minds, arms and everything else to Renault.
Yes, they remain a customer team – something the technical managers repeatedly pointed out – but they are sure they'll be getting identical power unit hardware (if not software) as the works team and Red Bull Racing.
McLaren clearly hold an ambition to be Renault's number one team outside of their own works outfit in the near future.
"Obviously the Red Bull relationship is, for whatever reason, not healthy, but it's good we have a very healthy relationship," said Brown. "Look at the last time they had big success with another team, Williams, they were absolutely dominant. We are set for long-term success with each other."
In an early sign of the partnership's harmony, McLaren are already in discussions with Renault about potential improvements to their 2019 power unit and how they can bend it round to what Woking wants.
McLaren have very high hopes for the Renault 2018-spec engine
Ultimately, the strength of the Renault-McLaren relationship will be determined by the strength of their package and, in particular, a Renault power unit which was considered to be several steps behind those of Mercedes and Ferrari in 2017. But while keen to play down their own prospects of success in 2018, McLaren were notably bullish about their expectations for the Renault power unit this year.
"I know there is a big debate about which is the first, second and third best engine," Brown said. "In reality they are pretty close."
The proof will soon be delivered when winter testing begins in two weeks' time but it is clear McLaren's expectations are high.
"They have developed the engine, they have improved it and it will be more powerful," predicted Goss.
Brown added: "In terms of power and reliability, they are happy with where they are at. Specifically, they think they are on top of the reliability. Last year they had the power but it's when they turned it up that the reliability issues kicked in. So we are feeling good."
McLaren: It's show time in 2018
The car will be fit for testing
Another piece of good news for the nascent partnership is that the MCL33 has already passed all of the mandatory crash tests. In an ordinary year, that piece of information scarcely counts as a meaningful update. But for 2018, the introduction of the Halo device means the cars are required to withstand the weight – in Mercedes' words – "of a double-decker bus".
Some teams have seen their monocoques crack under the 15-tonne test and have had to redesign the halo mounting points at the steering wheel position and at the two bases either side of the drivers' head.
McLaren themselves described the test as "scary" with palpable relief the hurdle had already been cleared. "It will be interesting to see if anyone does have any problems with the test," said engineering head Matt Morris. "Hopefully they won't because we want everyone at winter testing."
McLaren are planning on going long at winter testing
And something else to keep in mind when testing begins in two weeks' time: McLaren intend to run 500km a day in Barcelona.
That works out at over 100 laps a day and a target of double the number of laps (425) they set over the eight ruinous days in Spain a year ago which set in motion their divorce from Honda. Ambitious…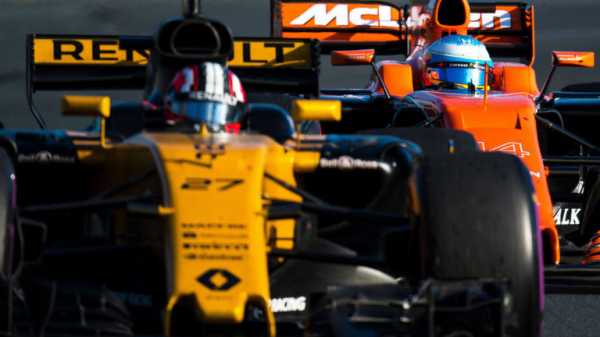 The McLaren name won't be diluted by a title sponsor
While this could be interpreted as an excuse for Brown and his commercial team not being able to find a company to give them £75m for 'their name above the door', McLaren confirmed there wouldn't be a title sponsor this year. Brown's explanation was that it isn't really worth it. "People call Mercedes, Mercedes, not Petronas", said the McLaren chief, perhaps not unreasonably, although if a company did come along offering that kind of money McLaren would surely consider anything…
But there isn't, at the moment, anything to consider so there won't be a title sponsor for the team this year. But as Brown immediately clarified: "We don't want a title sponsor but we do want a principal partner, which is title-level branding."
Which means the name isn't changing to something like Vodafone McLaren, or West McLaren as in the past. "I want to keep McLaren as 'McLaren'," added Brown. "We are McLaren."
It's going to get domestic
Like an F1 driver whose most important battle in every season is against his team-mate, McLaren-Renault know their first battle in 2018 will be against Red Bull-Renault and Renault-Renault. "If we are 0.9 seconds off Red Bull, that won't look good," conceded Brown wryly.
Because of their exclusive deal with Honda, McLaren have been bereft of a direct yardstick since 2012. But in 2018, there will be no hiding place. "We are excited," said Morris. "It has been difficult for the last three years not having someone to measure ourselves up against so it's a very positive thing that we have two first-class teams to measure ourselves against. That's a very strong motivating factor."
Very soon, it's game on.
2018 car unveilings and launch dates
| | | |
| --- | --- | --- |
| Team | Date | Location |
| Renault | February 20 | Online |
| Sauber | February 20 | Online |
| Mercedes | February 22 | Silverstone |
| Ferrari | February 22 | Online |
| McLaren | February 23 | TBC |
| Toro Rosso | February 26 | Barcelona |
| Red Bull | To be confirmed | |
| Williams | To be confirmed | |
| Force India | To be confirmed | |
| Haas | To be confirmed | |
Sky Sports F1 is the only place to watch every Formula 1 Grand Prix, qualifying and practice session live in 2018. Get Sky Sports F1.
Also See:
McLaren drop 2018 livery hint
The Formula 1 Gossip Column
F1 2018: Schedule and test dates
Every Grand Prix live on Sky F1
Sourse: skysports.com