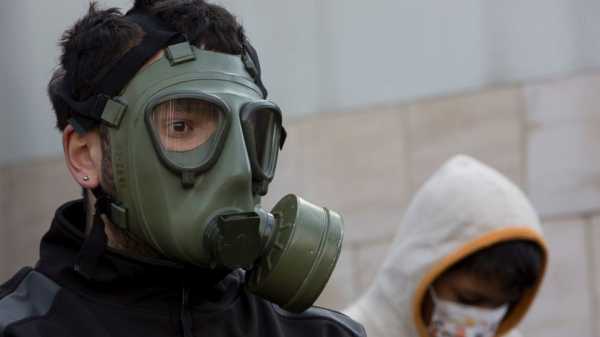 Hundreds of people staged a protest Wednesday in Kosovo's capital Pristina, urging the government to fight extremely high pollution.
Protesters blamed the government and local authorities for allowing hazardous levels of fine particulate matter, an air pollutant called PM2.5.
Even the policemen following the protest joined in the cause by wearing face masks.
An air quality monitor installed in the United States embassy in Pristina measured pollution in the capital's air as "very unhealthy." Pristina has severe air pollution problems due to the outdated power plants using coal, smoke from wood-burning stoves and exhaust fumes from old cars.
Local authorities decided to ban vehicles but emergency, public cars and taxis Wednesday from driving in central Pristina, offering parking areas in the outskirts and free public transport for most of the day Wednesday. Sale of coal used for house heating has been banned indefinitely.
Protesters asked for a long-term regeneration plan, lower public transport fares and more green areas.
President Hashim Thaci supported the protest and urged the government to work toward eliminating pollution causes.
Sourse: abcnews.go.com