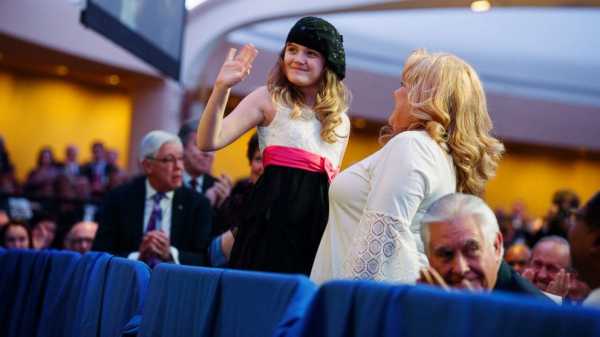 "You may only be 9 years old, but you are already a hero to all of us in this room, and all over the world," Trump said today at the National Prayer Breakfast.
"Heroes like Sophia come from all across our country, and from every different background, but they all share one thing in common: Through their love, their courage, their sacrifice, we glimpse the grace of Almighty God," he said.
This isn't the first time that the Brownfield, Texas, native has received praise from the White House.
Trump defends religious liberty at home and abroad at National Prayer Breakfast
Press secretary Sarah Sanders shared Sophia's story during a daily press briefing on Jan. 23, detailing how the child suffers from "a rare disease that causes the blood vessels in her brain to narrow and close" and has had a number of strokes as a result.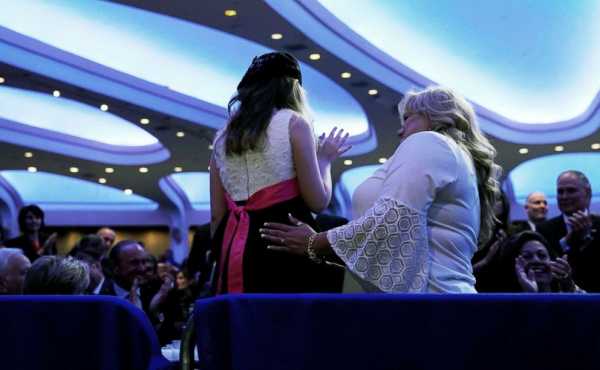 Jonathan Ernst/ReutersSophia Marie Campa-Peters, is acknowledged at the National Prayer Breakfast in Washington, D.C., Feb. 8, 2018.
Local paper The Brownfield News reported in January that she suffers from an unknown genetic vasculopathy.
Sanders said that Sophia was told by doctors at one point that she would never walk again, but was undeterred by the warning, saying Sophia replied, "If you're only going to talk about what I can't do, then I don't want to hear it…. Just let me try."
Sophia proved the doctors wrong and was able to walk again. Sanders said that her family realized not only how her faith in God helped her but how it helped others as well, and ahead of another surgery in December, Sophia asked for more prayers.
"She has asked the entire world come together and pray for her on the day of her surgery. In her amazing, 9-year-old mind, that meant creating a goal of just reaching 10,000 people," Sanders said at the briefing. "We want to make sure she gets that and far exceeds it. So today, Sophia, I'm here to tell you that millions of people from every corner of the world will be praying for you."
During his speech this morning, Trump repeated portions of Sophia's story for the assembled crowd, which included the girl herself.
He thanked Sophia and her mother, going on share how Sophia had told him that "I have a great mom."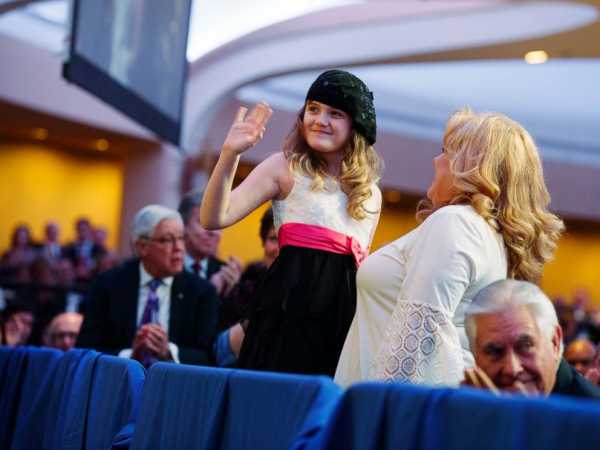 Evan Vucci/APSophia Marie Campa-Peters, a nine-year-old girl from Brownfield, Texas who suffers from a rare disease that causes her to have strokes, waves to President Donald Trump during the National Prayer Breakfast, Feb. 8, 2018, in Washington, D.C.
The moment was apparently also appreciated by Sophia's dad, Scott Andy Peters, as he wrote a message of thanks on Facebook.
"I didn't know I could feel humbled and proud at the same time. Mr. President, your are [sic] absolutely right Sir; Karyn Campa-Peters IS a GREAT mom, and Sophia Is a hero. What a joy and privilege it is to be husband and father to these beautiful ladies!" he wrote.
On Wednesday, the day before the prayer breakfast, Sophia's dad posted on Facebook that she was excited about attending.
He wrote that she shared that excitement with an Uber driver, reportedly saying, "I'm going to be talking about God and eating bacon. The only thing better is talking about God and eating PIZZA!"
Sourse: abcnews.go.com