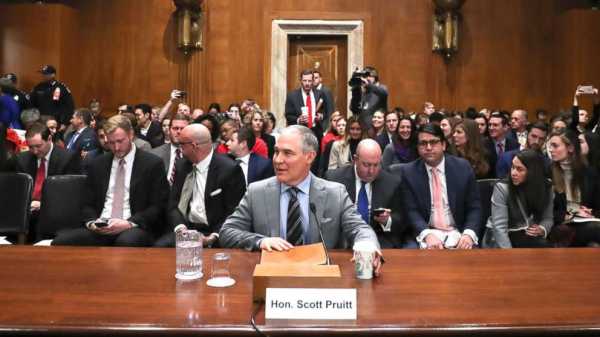 In the interview Pruitt says he is not a fan of Trump, adding that Trump would be a "blunt instrument" to the Constitution if he became president.
"I believe that Donald Trump in the White House would be more abusive to the Constitution than Barack Obama – and that's saying a lot," Pruitt said in the interview.
Later in the interview he said Trump would take "unapologetic steps to use executive power to confront Congress in a way that is truly unconstitutional."
At the time Pruitt held a national role with Jeb Bush's presidential campaign, according to the Tulsa World. Bush ended his campaign later that month.
Democratic Sen. Sheldon Whitehouse asked Pruitt about this report in a hearing Tuesday but Pruitt said he did not recall the interview.
"I don't echo that today at all," he said.
Pruitt put out another statement after the hearing.
""After meeting him, and now having the honor of working for him, it is abundantly clear that President Trump is the most consequential leader of our time. No one has done more to advance the rule of law than President Trump. The President has liberated our country from the political class and given America back to the people," Pruitt said in the statement.
The audio was posted by a watchdog group called Documented that "investigates how corporations manipulate public policy that harms our environment, communities, and democracy," according to its website. Documented was created in December, its co-director is also a fellow for another watchdog group called the Center for Media and Democracy.
Sourse: abcnews.go.com