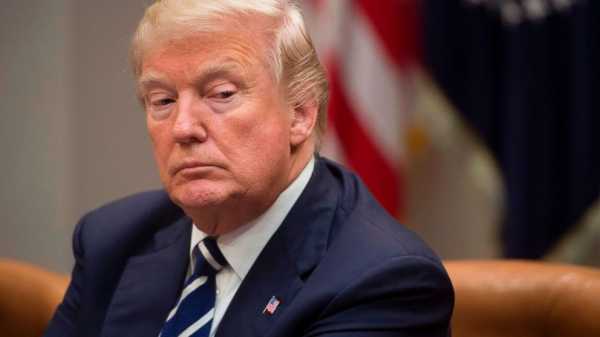 As we move past midnight tonight, the Trump presidency turns one year old. It may also make history, with the government shutting down for the first time while Washington is under full control of the Republican Party.
Maybe the latest crisis will be averted, with Congress finding the votes for another temporary spending bill that delays the tough choices – the same tough choices that have been put off for a year already – for a few more weeks.
Recent days will still have revealed the accumulation of failures of management and governance that have defined President Donald Trump's time in office. The crises Republicans are warning about – the expiration of the Children's Health Insurance Program, the possibility of military spending cuts – only exist because of Congress' failure to act earlier.
Then there are the president's confusing and contradictory messaging on immigration priorities and a spending bill. (Would the shutdown be happening without the "s—hole" comment? Without the president's tweeted insistence: "If there is no Wall, there is no Deal!"?)
This week had the White House doctor declare President Donald Trump, finally and unequivocally, "fit for duty."
Able to govern? That's another story.
The RUNDOWN with MaryAlice Parks
If it happens, it may be remembered as the shutdown that never should have been.
(Obviously, 11th hours were invented to avert crises like these, and all this could still be avoided).
That is particularly surprising this go-around, not only because Republicans control both chambers of Congress and the White House, but because the topics at hand do not seem all that controversial. Surely, not enough partisan enough to warrant this.
Take each of the issues at the center of this: military spending, a long-term solution for the so-called Dreamers and the children's health insurance program. Each one of those issues has wide-ranging, bipartisan support. In fact, perhaps more support across both sides of the aisle than most other issues.
If standalone bills on each of these policies were brought to the floor, they would, by most accounts, pass—with margins to spare.
Have representatives stopping representing?
The TIP with Molly Nagle
The Illinois' Gubernatorial race is heating up—thanks to the reemergence of convicted former Governor Rod Blagojevich.
Incumbent Gov. Bruce Rauner, a Republican, released an attack ad last week against his leading Democratic opponent, the Hyatt hotel heir, JB Pritzker.
The minute-long ad plays audio from the FBI wiretap of then-Gov. Blagojevich, and plays a call between Pritzker and Blagojevich, where Blagojevich floats a possible plan for President Obama's open Senate seat in 2008. The deal would have promoted Illinois Attorney General Lisa Madigan to Obama's Senate seat, leaving the AG position open for Blagojevich to appoint Pritzker.
Pritzker's camp hit back saying that Pritzker was never accused of any wrongdoing, and the tapes were selectively edited.
So now Rauner is buying 14 minutes worth of airtime in every major media market in Illinois to play the FBI wiretap audio in its entirety. The ad is set to air Saturday and Sunday.
WHAT YOU NEED TO KNOW TODAY
The Senate is expected to resume debate over a stopgap spending bill as a midnight deadline for a government shutdown approaches.
Today, the annual March for Life protest against abortion takes place in Washington, D.C. The president will broadcast a message to protesters on the Mall from the White House Rose Garden.
On Saturday, Washington will see another large protest: the 2018 Women's March.
This evening, Vice President Mike Pence leaves for a Mideast tour through Egypt, Israel and Jordan. The trip, originally scheduled for December, was previously delayed so Pence could be on hand for the tax bill vote. Now, Pence will head into a region still grappling with President Trump's decision to move the U.S. Embassy from Tel Aviv to Jerusalem.
Secretary of Defense James Mattis today will announce the 2018 National Defense Strategy at the Johns Hopkins School of Advanced International Studies.
This Week on 'This Week': The Powerhouse Roundtable debates the week in politics, with ABC News political analyst Matthew Dowd, Democratic strategist and former Clinton campaign spokesperson Karen Finney, former press secretary to Vice President Pence Marc Lotter, co-host of "The View"Meghan McCain, and Associated Press Washington bureau chief Julie Pace.
QUOTE OF THE DAY
"This is like giving you a bowl of doggie doo, put a cherry on top and call it a chocolate sundae," Nancy Pelosi said of the GOP short-term spending bill. "This is nothing."
NEED TO READ
House passes stopgap spending bill, Senate fate uncertain. The House a cleared a must-pass bill Thursday night to fund the government through Feb. 16, sending the measure to the Senate as lawmakers scramble to avoid a government shutdown amid a fight over the fate of young undocumented immigrants known as Dreamers. The measure passed by a 230-197 vote, with a handful of Republicans joining Democrats in voting against the measure. (Mary Bruce, Benjamin Siegel, John Parkinson and Ali Rogin) https://abcn.ws/2DnKE4Q
Justice Department asks Supreme Court to allow administration to end DACA. The Justice Department on Thursday night asked the U.S. Supreme Court to hear the Deferred Action for Childhood Arrivals (DACA) case and resolve the dispute this term — in an effort to move forward with the termination of the program. An "immediate review is warranted," by the Supreme Court, reads the DOJ petition. (Geneva Sands and Audrey Taylor) https://abcn.ws/2FS0DG1
Trump ends first year without hosting any State Dinners. Pageantry and politics mix at the White House at those most festive of evenings when the president rolls out the red carpet to host a foreign head of state at the presidential mansion for an official state dinner. But in a break with precedent, the Trump White House has yet to utilize the power of the Oval Office to its full social and diplomatic advantage by feting a foreign leader with the honor of a state dinner. (Jordyn Phelps) https://abcn.ws/2mV2aTL
Pelosi will 'werk' as a guest judge on 'RuPaul's Drag Race All Stars'. Nancy Pelosi is being put to "werk." The House Democratic Leader is a guest judge on the drag queen competition show "RuPaul's Drag Race All Stars" during the upcoming season, which kicks off on VH1 on Jan. 25. Pelosi has already taped her appearance. (David Caplan) https://abcn.ws/2mUwH49
Bannon tells Congress he called Trump Tower meeting 'unpatriotic': Sources. Former White House chief strategist Steve Bannon told congressional investigators that the controversial June 2016 Trump Tower meeting between Trump campaign officials and a Russian lawyer promising dirt on Hillary Clinton was "unpatriotic," an acknowledgement of comments he's tried to publicly distance himself from, according to sources familiar with his closed-door testimony before the House Intelligence Committee earlier this week. (Benjamin Siegel) https://abcn.ws/2rnJ3Xn
Shirtless Vladimir Putin takes dip in icy Russian lake for the Epiphany. Another outdoor excursion in Russian's vast wilderness, another series of shirtless Vladimir Putin photos. (David Caplan) https://abcn.ws/2FViPib
Trump touts Pennsylvania GOP candidate Saccone as a 'great guy' as special election looms. In a sign that he is eager to involve himself in the coming 2018 midterm elections, President Donald Trump spoke today in southwestern Pennsylvania in the midst of a special election that could test his support in the same working class areas that propelled him to the presidency. (John Verhovek) https://abcn.ws/2DloDUi
Trump sums up his workout routine: 'I walk, I this, I that.' "I run over to a building next door," Trump, 71, told Reuters. "I get more exercise than people think." (Meghan Keneally) https://abcn.ws/2mSxOkY
Trump businesses see ups and downs a year into the presidency. With his first year in office coming to a close, President Donald Trump recently asked a rally crowd in Pensacola, Florida to consider what he gave up as a businessman in order to pursue the presidency. (Alexander Mallin) https://abcn.ws/2DqbVD4
Under Trump, US leadership approval drops to new lows abroad: Poll. The global poll from Gallup found that on average only 30 percent of the world approves of U.S. leadership during President Donald Trump's first year in office, down from 48 percent in the last year of President Barack Obama's administration in 2016. (Meridith McGraw) https://abcn.ws/2rguLaR
Trump administration announces new 'conscience and religious freedom' division at HHS. Critics say the move could hurt civil rights protections for lesbian, gay and transgender people, and hurt patient care. (Meridith McGraw) https://abcn.ws/2FNwjw9
'The system failed us,' says wife of man deported to Mexico after 30 years in US. "He was deported because he came into the country at 10 years old illegally," his wife, Cindy Garcia, said. "We tried to fix the status and the system failed us. It's a broken immigration system, and it needs to be fixed." (Allie Yang) https://abcn.ws/2mSLdt8
The Wall Street Journal reports that Trump's lawyer used a private Delaware company to pay a former adult-film star $130,000 in return for her agreeing to not publicly discuss an alleged sexual encounter with Mr. Trump. https://on.wsj.com/2rnmqC6
Politico reports on the way Trump's use of the birther conspiracy theory against Obama has given way to a girther conspiracy theory about his health. https://politi.co/2Dn7lGu
Sourse: abcnews.go.com