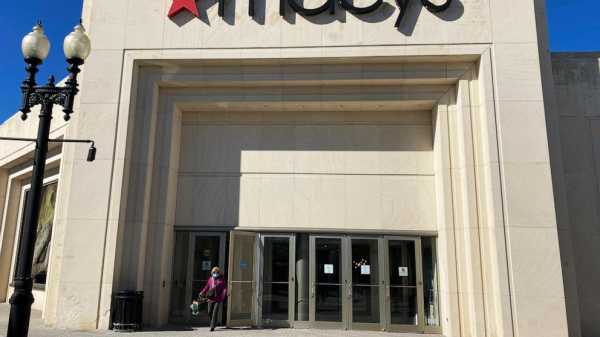 NEW YORK — Macy's heavily discounted spring goods to make room for fresh fall and holiday merchandise amid customers' cautious spending, but adjusted profits and sales for the second quarter still beat Wall Street expectations.
Macy's, which also operates upscale Bloomingdale's as well as Blue Mercury beauty stores, reaffirmed on Tuesday its annual sales and profits forecasts, noting uncertainty about the economy in the second half. Shares were down just over 1% in premarket trading Tuesday.
Macy's is one of the last remaining retailers to report second-quarter results in an earnings season that shows how still high inflation, despite some easing, is forcing shoppers to continue to cut back on discretionary items like clothing in order to afford their larger grocery bills.
Target reported its first quarterly sales decline in six years last week, dragged down by cautious spending in addition to backlash by some customers to its Pride merchandise.
Home Depot, the nation's largest home improvement retailer, said last week that sales continue to decline, with a fall-off in big-ticket items like appliances and other things that often require financing. That's become a problem with interest rates rising rapidly over the past year, making credit cards a much bigger burden for consumers.
But Walmart racked up another strong quarterly sales gain as its low-prices continue to attract budget conscious consumers looking for deals in a tough economic environment. The nation's largest retailer boosted its annual outlook last week after reporting better-than expected second-quarter results sending shares higher.
Macy's reported a loss of $22 million, or 8 cents per share, in the quarter ended July 29. That compares with a profit of $275 million, or 99 cents per share, in the year-ago period.
The loss includes a non-cash settlement charge related to the transfer of pension obligations for certain retirees and beneficiaries under the company's pension plan. Adjusted earnings for the latest quarter were 26 cents per share.
Revenue fell to $5.28 billion from $5.83 billion from a year ago.
Analysts had expected a profit of 14 cents on sales of $5.06 billion.
Comparable sales — those from stores and digital channels opened at least a year — were down 8.2% in the quarter. The figure excluded licensed owned businesses like cosmetics.
In a separate announcement, Macy's said it would open new small format stores in the West and Northeast in a bid to increase customer visits and attract new shoppers.
_____
Follow Anne D'Innocenzio: http://twitter.com/ADInnocenzio
Sourse: abcnews.go.com