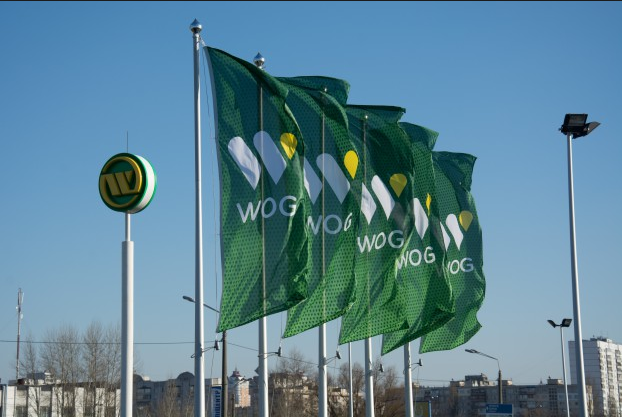 In June 2019 WOG company launched a new service at the gas filling complexes – now everybody can pay for fuel by using IBox terminals.
The new way of payment is especially convenient for the drivers who prefer to pay in cash but do not want to stand in a queue at the cashier desk.
'Taking care about our customers' comfort we are adding one more way to pay for the fuel. Since now, if you are in a hurry and only want to fill the car with no using PRIDE application to pay for the fuel, you can use another off-cashier desk self-service payment option such as IBox terminals', Oleg Kushil, WOG IT Director, says.
The first thing you need to do to pay for fuel by using the terminal is to select 'WOG' logo icon on the touch screen and enter the phone number your PRIDE card is attached to. The next step is to select the column number and the fuel type, enter the number of liters or the amount of money you want to fill the car. An SMS with a confirmation code will be sent to your phone number. This is the code you should enter in the field on the terminal screen. After paying the car filling starts.
If the tank cannot be filled with the indicated number of liters, the rest of fuel will be added to the customer's balance. The same system works with the amount of money – if a customer pays more in cash than he put before, the rest of the money is converted into liters and remains on the balance of the customer's PRIDE card.
It should also be noted that while paying for petrol by using IBox terminal PRIDE loyalty card personal conditions are applied and no commission is charged for using the terminal.
Reference
WOG network of gas filling complexes numbers about 450 objects in all regions of Ukraine. WOG WOG is Ukraine's largest monobrand network of gas filling stations on the domestic market of petroleum products. All petroleum products in WOG's network are exclusively imported and comply with Euro-5 standard. The deliveries are made from the most modern refineries of Romania, Israel, Greece, Lithuania, Poland, Belarus and other countries. The company actively develops related activities and services, including WOG CAFE and WOG Market network.