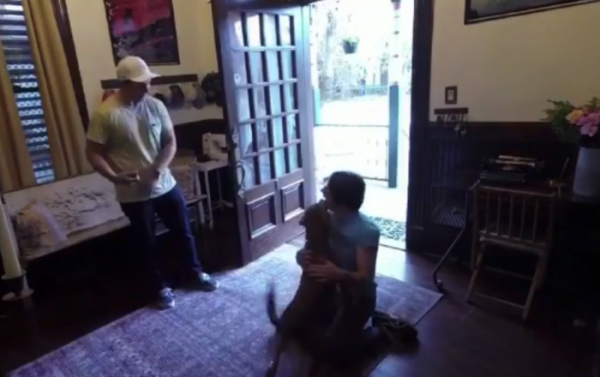 Being out in the cosmos and spending an extraordinary amount of time there is impressive, to say the least. So what is one of the first things a spacewalker does after coming back down to Earth? They reunite with their best animal friend, of course.
Christina Koch, an American astronaut from Houston, Texas, came back last week from a record-breaking space mission. Koch spent 328 days in outer space, the longest spaceflight in history by a woman. 
With her tail in rapid movement, the ecstatic pooch barks and jumps with joy while greeting her much-missed owner. 
"Not sure who was more excited. Glad she remembers me after a year!" Koch wrote on the tear-jerking post, describing her sweet pup in the caption as "Sadie Lou, our LBD (little brown dog). Best breed for a best friend." 
According to NASA, Koch's space mission concentrated mainly on biology, technology development and the quest for evidence of dark matter. 
While at the International Space Station, Koch conducted six spacewalks and spent more than 42 hours in space outside of the station. This makes her unprecedented mission the second-longest spaceflight in NASA history. According to the Huffington Post, her time in space was just 12 days shy of the American spaceflight record, held by astronaut Scott Kelly. 
A year certainly is a long time to wait, but it's even longer in dog years. Now that is a loving and devoted pooch! 
Sourse: sputniknews.com