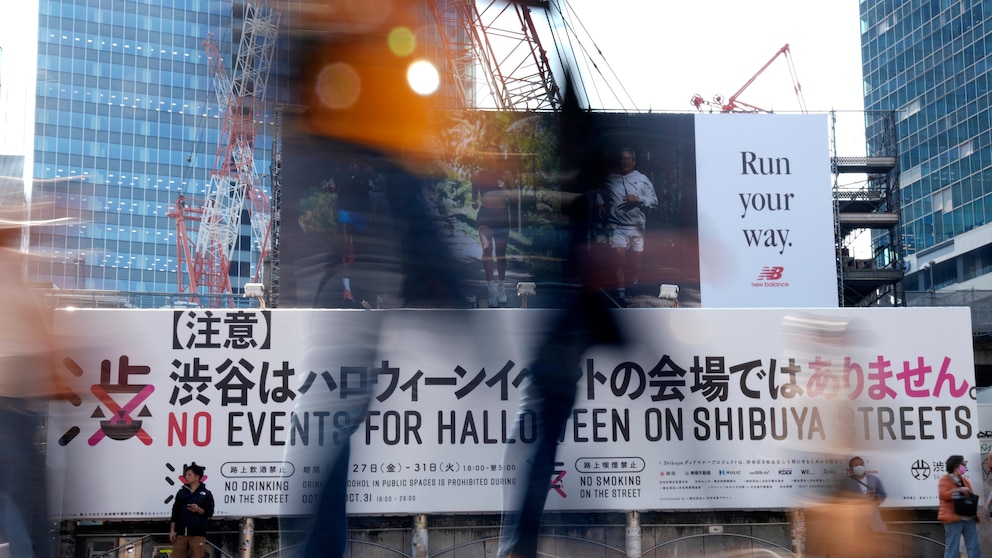 TOKYO — Tokyo's busy shopping, business and entertainment district of Shibuya is trying hard to keep visitors at bay during this year's Halloween weekend.
Banners across town say no drinking and no Halloween events on the street, and town officials are cordoning off the famed statue of Hachi — an unceasingly loyal dog — behind protective walls.
"Shibuya streets are not party venues for Halloween," Mayor Ken Hasebe said in an interview Friday with the Associated Press. "Anyone who is thinking about visiting Shibuya for Halloween, please be aware that the situation has changed this year … security will be tighter and it won't be enjoyable."
Hasebe, a native of Shibuya, says his 91-year-old town — founded by people from around Japan — prides itself as an inclusive, innovative and diverse place open to visitors, but there should be a fine balance between freedom to enjoy the public space and the residents' right to live peacefully.
"We just want to stress, as a rule of our town and morale of this country, that street drinking can cause trouble and should be avoided," Hasebe said. "It's time to reconsider partying on public streets for Halloween."
Fear has run high that a large number of partygoers and tourists across Japan and the world following the COVID-19 pandemic could cause a disaster similar to last year's fatal crowd crush in South Korea's capital, Seoul.
The intersection by Shibuya's train station, which is known as "scramble crossing" due to the large number of pedestrians typically attempting to cross, has become a popular destination for residents and tourists on Halloween, drawing tens of thousands of costumed young people every year.
Halloween in Shibuya started out as a peaceful, happy event in the 2010s when revelers gathered in costumes and took photos. The city provided toilets and changing booths for the visitors, and a team of volunteers cleaned up everything on the morning of Nov. 1.
That started changing when the crowd size grew, clogging back streets and triggering safety concerns. Hasebe said he started worrying about a disaster long before the fatal crush in the Itaewon area of Seoul last year that killed about 160 people.
In recent years, the majority of the people in Shibuya during Halloween were gathering just for drinking and partying on the street, triggering vandalism, massive littering and noise.
During COVID-19, when restaurants and bars were closed, young Japanese started drinking alcohol on the street, a practice that continued after pandemic restrictions were removed.
That sent a wrong message to foreign tourists, Hasebe says. With the number of tourists rapidly growing this year, some back streets near the Shibuya station area "look like (outdoor) pubs," he said.
About 40,000 people gathered in the area in 2019, just before the COVID-19 pandemic. The number decreased during the pandemic, but Shibuya's streets were packed again on Halloween last year, and city authorities fear this year's turnout could be higher, with a significant increase of foreign tourists adding to the crowd.
After seeing South Korea's crush, Hasebe earlier this year consulted with police about stepping up security measures starting from the weekend prior to Halloween.
A city ordinance bans alcohol consumption in the district near the station between Oct. 27 and Oct. 31., and Shibuya is beefing up the number of security guards and officials to enforce it. During that period, many shops and eateries are closing early and convenience stores are requested to restrain nighttime alcohol sales. Traffic restrictions will also be in place in the night and early morning hours.
Natsuki Mori, 18, a student at a university in Shibuya, says she has classes on Oct. 31 but is determined to go straight home to celebrate Halloween there after seeing the crowd in Shibuya and what happened in Seoul last year.
"I don't feel safe to be here on Halloween," Mori said. "I think it's good that the mayor is saying 'Don't come to Shibuya.'"
Sourse: abcnews.go.com