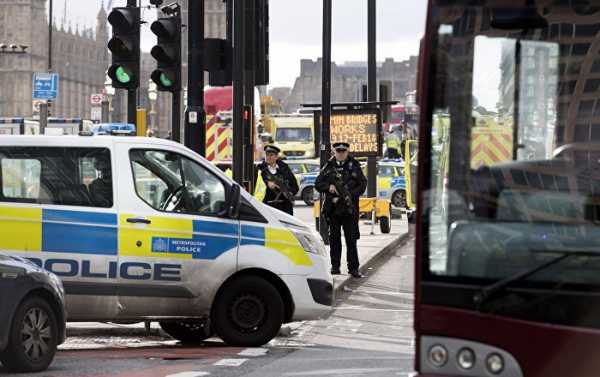 British investigators reportedly suggested earlier that there was nothing to suspect that Salih Khater, 29, the Sudanese man who rammed a car into the Houses of Parliament in London on Tuesday was radicalized.
Sources familiar with the matter told The Independent earlier that the UK investigators were coming to the view that the ramming incident was related to the man's personal circumstances.
According to the London's Metropolitan Police, Khater will appear at Westminster Magistrates' Court on Monday charged with the attempted murders of members of the public and of police officers.
UK Schools on Lockdown Over Ramming Threats — Local Police
On Tuesday, a Ford Fiesta collided with several cyclists and pedestrians before crashing at high speed into a security fence outside the Houses of Parliament. Three people were injured in the incident. The driver, Sudanese-born Salih Khater, was detained shortly after the incident, which UK investigators have earlier classified as a terrorist attack.
"A 29-year-old man has been charged with two counts of attempted murder today (Saturday, 18 August) following an incident in Westminster on Tuesday, 14 August … Salih Khater (26.1.89) of Highgate Street, Birmingham, a Sudanese born UK national, will appear in custody at Westminster Magistrates' Court on Monday, 20 August," the statement read.
UK Police also reportedly took into consideration testimony by Khater's friends and neighbors who said he had showed no interest in extremist ideology or fanatical ideas, but instead appeared to be under stress.
In wake of a recent car-ramming incident, UK Met Police Commissioner Cressida Dick said Wednesday that the UK authorities would discuss pedestrianizing the square in front of the parliament building in London.
Over the past few years, the terror threat in the United Kingdom has remained high against the backdrop of numerous deadly terrorist acts, such as the attack on London Bridge, Manchester Arena, Finsbury Park Mosque, and Westminster Bridge, where a British national drove his car into pedestrians before smashing into the fence surrounding the Houses of Parliament.
According to Europol, 36 people died in terror acts in the United Kingdom last year, which was more than in any other European country.
Sourse: sputniknews.com