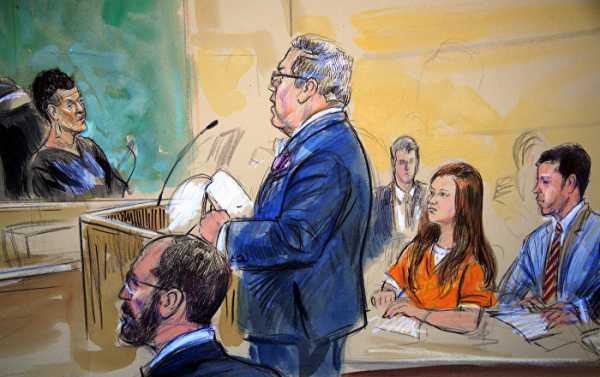 Russian Foreign Ministry spokeswoman Maria Zakharova has alleged that Russian national Mariia Butina, charged with conspiracy to act as a foreign agent in the United States, is being discriminated against in the US prison, having her cell searched, being strip searched herself and denied medical assistance.
Russian diplomats last visited the detained 29-year-old on Thursday. After talking to Butina, they said they would file a complaint with the US State Department, warning that the "psychological pressure and humiliation must stop."
The Russian Embassy in the US said in a statement that the US prison authorities had resumed their practice of checking on Butina every 15 minutes at night. "This monitoring takes place when an inmate is deemed suicidal. Mariia has not given a reason for such concerns. It's a blatant attempt to break her spirit."
The litany of irregularities discovered by embassy staff also include strip checks that are carried out after every single visit by her attorneys, diplomats or friends, sometimes as often as three times a day.
She has also been denied adequate medical assistance after complaining about a worsening case of arthritis. "Her leg has swollen in the chilly cell and the condition is progressing. Despite this, Mariia has only been given painkillers. She has started to limp."
Butina is a student from Russia who has recently graduated from American University in Washington DC with a master's degree in international relations. She was arrested in Washington, DC, on July 15 on charges of conspiracy and acting as a foreign agent. Butina, who has denied the accusations, was denied bail and remains in custody. She faces up to 15 years in jail.
Russia has strongly criticized the US government for detaining Butina and characterized the charges against her as "clearly groundless."
Stranger Tries to File Court Motion in Butina Case on Her Behalf — Lawyer
Sourse: sputniknews.com