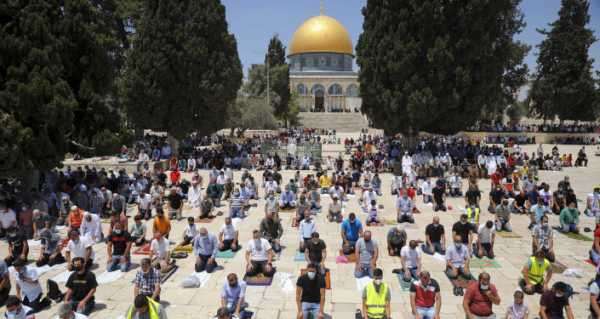 Saturday night is Laylat al-Qadr or the 'Night of Destiny', the most sacred of the month of Ramadan. Believers will gather for nighttime prayers at the Al-Aqsa Mosque complex in Jerusalem's Old City.
Live from the Al-Aqsa Mosque on Jerusalem's Temple Mount as Muslims gather to celebrate Laylat al-Qadr.
At least 205 Palestinians and 17 officers were injured in Friday night clashes at the mosque and around Jerusalem when thousands of Palestinians faced off against several hundred Israeli riot police,  Reuters reports, quoting Palestinian medics and Israeli police.
The Al-Aqsa mosque complex is considered the third holiest site in Islam.
Sourse: sputniknews.com