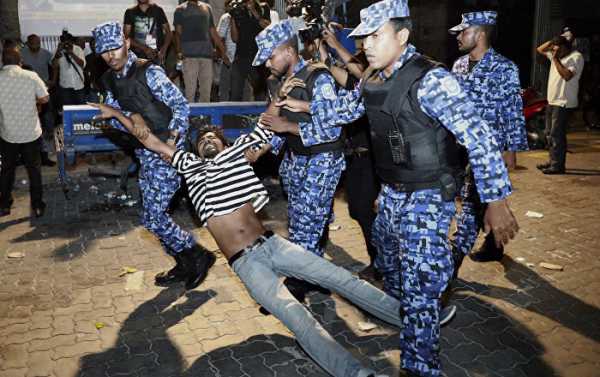 With the situation in the Maldives remaining tense, China is ready to offer moral support to the country's President Abdulla Yameen amid the current political crisis, a Moscow-based foreign relations expert Alexei Kupriyanov has told Sputnik.
President Abdulla Yameen is dispatching a special representative to China, Pakistan, Saudi Arabia and other friendly countries with a mission to bring their leaders up to speed on the situation in his country, Reuters reported.
India is notably missing from the list of the countries the Maldivian envoy is going to visit, however, after New Delhi joined the US in demanding the state of emergency declared by President Yameen be lifted.
In an interview with Sputnik, Alexei Kupriyanov said that former President and opposition leader Mohamed Nasheed is asking India to interfere in the Maldives crisis. He is being joined by a number of senior Indian politicians, which is presenting India's Prime Minister Narendra Modi with a hard and unpleasant dilemma.
"India has no win-win strategy here. It could either resort to military force and alienate regional neighbors Sri Lanka, Bangladesh and Nepal and face an international backlash, or it could try to seek a peaceful deal with Yameen and then try to get rid of him during the next elections. In either case, India's image would suffer," Kupriyanov noted.
China, for its part, is ramping up its economic presence in the Maldives and wants to make sure that oil tankers from the Gulf pass unhindered across the Indian Ocean. Therefore, it would prefer to see Yameen stay in power for another term to ensure stability, he added.
Besides, with China and India now vying for influence in Asia and the Pacific, New Delhi views Beijing's growing clout as a threat to its positions in the region.
"The US, meanwhile, wants to turn India into an ally in its current standoff with China while, at the very same time, stoking tensions between the two regional powers. The Americans will be prodding New Delhi to intervene in the Maldives, thus keeping China's hands tied with the ongoing conflict there," Alexei Kupriyanov said.
Professor Dai Yonghong at Sichuan University's Center of South Asian Studies dismissed Indian politicians' criticism of Beijing's policy in the Maldives as irrelevant.
"What is going on in the Maldives is an internal affair of that country. China and India should accept greater responsibility for what is going on, but they should stay away from any direct interference and respect the country's government effort to find a mutually-acceptable solution to the crisis," Professor Dai said.
"The Maldives are a sovereign state. A Chinese foreign ministry spokesman said that what is going on there is an internal affair which the conflicting parties should resolve through negotiations and consultations. China has multiple interests in the Maldives which deal with the zone of free trade and cooperation as part of the Silk Road project. Beneficial as they are for the Maldives, these projects are by no means aimed at hampering the interests of India, Nepal, Sri Lanka, Bangladesh or Pakistan," he added.
The UN Security Council met on Friday to discuss the political crisis in the Maldives sparked by President Abdulla Yameen's decision to arrest judges who had ordered the release of his political opponents, including the country's former President and opposition leader Mohamed Nasheed.
UN Assistant Secretary General Miroslav Jenca told the top UN body that while there were no reports of violent clashes, "the situation in the Maldives is tense and may deteriorate even further."
Sourse: sputniknews.com