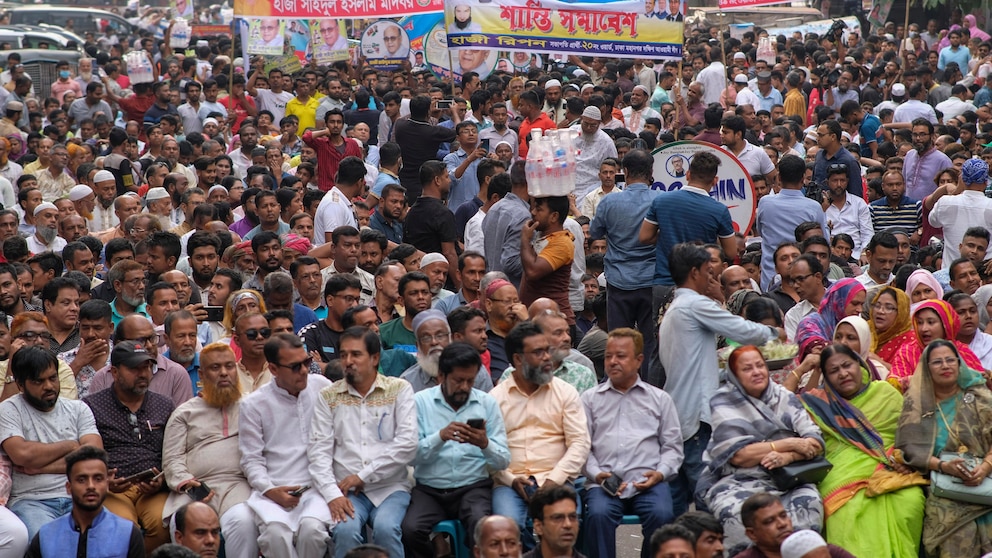 DHAKA, Bangladesh — Thousands of supporters of Bangladesh's ruling Awami League party held a rally in the capital, Dhaka, Monday to denounce what they called violence by the main opposition party as tensions soar ahead of the elections expected in January.
Since Saturday, at least four people — including a policeman — were killed and hundreds injured after clashes erupted during anti-government protests.
At least 1,000 people were arrested — among them, Mirza Fakhrul Islam Alamgir, a key opposition figure from the Bangladesh Nationalist Party led by former Prime Minister Khaleda Zia which called for Saturday's rally. Protesters called for the resignation of Prime Minister Sheikh Hasina and the transfer of power to a non-partisan caretaker government to oversee the general elections.
Zia's party called for a nationwide strike Sunday and later called for three days of road and transportation blockades starting Tuesday across the country to protest police action and arrests of their supporters.
Ruhul Kabir Rizvi, a senior leader in the Bangladesh Nationalist Party, said in an online press conference Monday that the blockade was to protest mass arrests and also to isolate Dhaka from the rest of the country so the opposition's demands were met.
Leaders of the ruling party criticized the call for a blockade, saying their supporters would also be on the streets.
"They (Bangladesh Nationalist Party) don't believe in Bangladesh and the constitution, and they don't obey the law and justice system," Quamrul Islam, a presidium member of the ruling party, told the rally. "There can be no compromise or dialogue with them."
Also on Monday, the Election Commission held a meeting with top officials from various security agencies.
"Intelligence reports and the heads of law enforcement agencies said in the meeting that there are no big obstacles to organizing the coming elections," Jahangir Alam, secretary of the commission, told reporters after the meeting in Dhaka.
Bangladesh's politics has been dominated by two major dynastic parties led by Hasina and Zia. The country is a parliamentary democracy with a history of violence, especially ahead of elections.
Hasina seeks to return to power for a fourth consecutive term as she pursues an agenda of development by implementing many mega projects. But critics accuse her administration of corruption and failure to uphold human rights.
The rivalry between Hasina and Zia has been ongoing for decades. Hasina's government has been under pressure for months as the opposition has held largely peaceful anti-government demonstrations.
Hasina says the election should be held under her government's supervision as specified in the constitution. The opposition says the election won't be free and fair, despite Hasina's pledges.
The prime minister recently told parliament that the U.S. wants to remove her from power at any cost. The U.S. has threatened to deny visas to those it says were obstructing the election process. They include members of law enforcement agencies as well as the ruling and opposition parties.
Sourse: abcnews.go.com