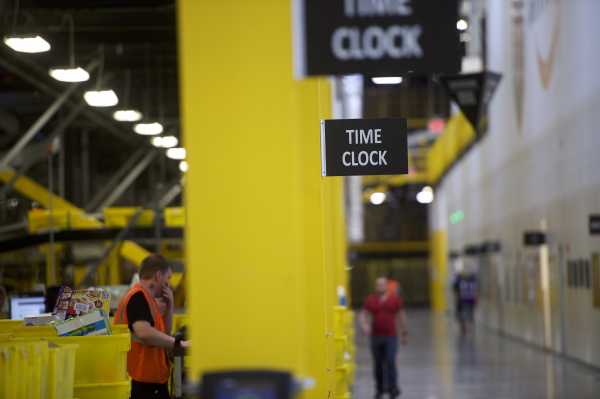 This story is part of a group of stories called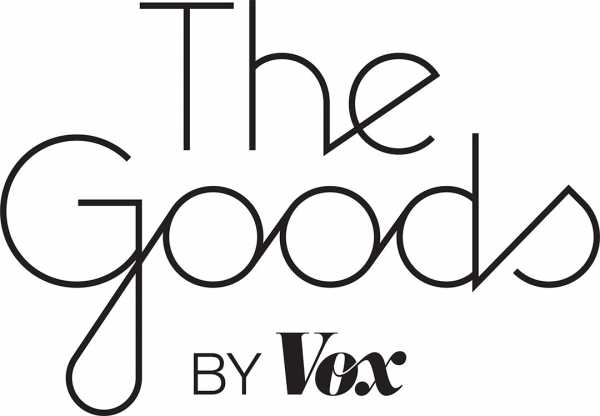 Heike Geissler wrote her 2018 memoir of working in an Amazon distribution center in Leipzig, Germany, as a novel. This is probably partly for legal reasons, but mainly to give her space to make the story feel more universal, as much of it is written in the second person. "You," the reader, are the one being scolded by your manager for pausing to read the back of a book you're supposed to be passing from box to box.
"You don't quite understand how a fortune could be made out of these things on either side of you and out of books and data carriers and a program and a website, a fortune that's still growing," Geissler writes in Seasonal Associate. "Nor do you understand why that fortune is not allowed to have a reverse effect on the hall, to add a little comfort or shine. It's not as if you don't realize the fact that the fortune is deliberately prevented from flowing back toward the employees; you simply don't understand it, and of course it can't be understood."
"You spend 10 hours on foot, there's no windows in the place, and you're not allowed to talk to people — there's no interactions allowed," former Amazon warehouse employee Seth King told Vox last summer. "I got a sense in no time at all that they work people to death, or until they get too tired to keep working. I felt I couldn't work there and maintain a healthy state of mind."
Last November, Chavie Lieber reported for Vox on what the holiday season is like in an Amazon fulfillment center, quoting another employee who said "everyone works six days a week. The associates work 10 hours a day, the managers 14 to 18. It's mandatory overtime, the hours are not voluntary, and they are all on your feet." In March, a Staten Island warehouse employee was fired for a minor safety violation and filed a lawsuit against Amazon, claiming that his real infraction was attempting to lead a unionization effort the month prior.
"Tour one of our fulfillment centers and see first-hand how we deliver to you." There is, this suggests, nothing to hide.
And though outrage about the conditions in Amazon facilities has escalated in the past few years, hideous accounts go back to at least 2011, when the daily newspaper in Allentown, Pennsylvania, reported that the heat index in its local warehouse had reached 102 degrees, workers were collapsing, and those who left because of the heat were receiving disciplinary points. The managers called 911 so many times that, rather than shutting down operations until the heat wave passed, Amazon ended up just paying for a fleet of ambulances to remain stationed outside.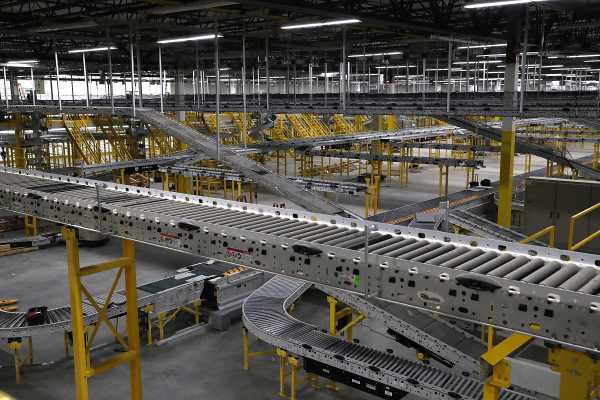 It's with all this looming large in the public mind that this year, Amazon started offering tours twice a day at 46 of more than 250 sites worldwide. (Previously they were offered only a few times a month at five sites.) Anybody can sign up online, as I did, without signing a non
So last Thursday morning, I drove to the Amazon fulfillment center in West Deptford, New Jersey — named ACY1 because of its proximity to the Atlantic City airport, though it is also only about 20 minutes from Philadelphia.
The town website's homepage boasts about business opportunity — great infrastructure, low property taxes, the presence of NuStar Energy. It's a generically prosperous enough town, with a population of slightly more than 20,000 mostly white, middle-class Barack Obama and Chris Christie voters, nearly half registered as independents. It hosts the Senior Little League Baseball Eastern Regional Tournament every year, its main claim to fame, and is in the midst of refurbishing and repurposing its historic port on the Delaware River.
The Amazon facility is set back in the woods off the town's interstate exit, in a row with a solar farm, a construction company, and a behavioral health compound. It has a several-hundred-car parking lot and is about the size of a megaplex movie theater. ACY1 employs 2,000 people, out of 17,500 employed by Amazon in the state of New Jersey. The company employs more than 647,000 people around the world, 125,000 of those at American fulfillment centers like the one I visited.
What does this work look like at its public-facing best, when everything is as pleasant as it can possibly be made to seem?
Since I know what Amazon's typical line is on the matter, I'll say now: This is, obviously, a fraction of the 1.5 million people Walmart employs in the US (2.2 million globally), and I am not arguing that the way Walmart has and does define the American worker is anything less than extremely important, probably more important than Amazon's definition at this moment in time. But since Amazon would also like us to believe that it is the future, and big-box retail is the past, it bears a lot of consideration: What does this work look like at its public-facing best, when everything is as pleasant as it can possibly be made to seem?
My tour included a grandmother escorting two girls and one boy between the ages of about 6 and 10, one older man who was alone, seven businessmen who later told me they run the third-party Amazon fulfillment business Paragon Trading Post (and also told me, unprompted, that they made $5 million last year), and me — identified quickly as a reporter by my tour guide, who suggested that the tour was off the record, though it was not, but I'm going to refrain from directly quoting anything he said out of respect for this clear confusion.
He led us through a row of blue and orange subway turnstiles, past ID-activated vending machines full of safety gear and Tylenol packets and about a dozen paper signs offering "Amazonians" career support, day care advice, mental health assistance, and other nice things. All this was underscored by a tour script that focused — before we had even exited the first stairwell — on the $15 hourly wage in the facility, as well as its 50 percent 401(k) matching, robust health benefits, and free community college classes.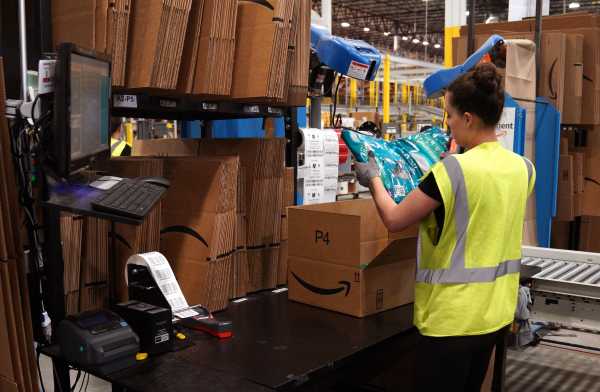 We listened to him through headsets because the general hum of the building made it too loud to speak normally. His narration was funny and warm; he never sounded overly careful or guarded, and when he couldn't answer questions, it never seemed as though it was because the answers were secrets.
Still, what he showed us of the building made me feel like my brain had been dropped in a vat of Alka-Seltzer.
I assume you are familiar with Lee Ann Womack's twice-platinum 1999 graduation slideshow classic "I Hope You Dance," which includes the entreaty "I hope you still feel small when you stand beside the ocean." In 1999, this lyric was about the ocean. In 2019, this lyric is about the inside of an Amazon fulfillment center. It is too much to be understood, even in panorama view.
At any one moment, I could see and comprehend the presence of about 30 of the moving, four-sided, enormous bookshelf-like robots dancing around, covered in stuff, called back and forth by the QR codes on the floor. But there were thousands in the building, stretching past where I could see them. Standing on a narrow bridge overlooking the ground floor, I could see a row of open doors on the edge of the building, on and on, again past my line of vision, steadily fed by conveyor belts covered in individual Amazon packages. I could not exactly understand that each conveyor belt led into the back of a tractor-trailer truck, despite being told this was the case.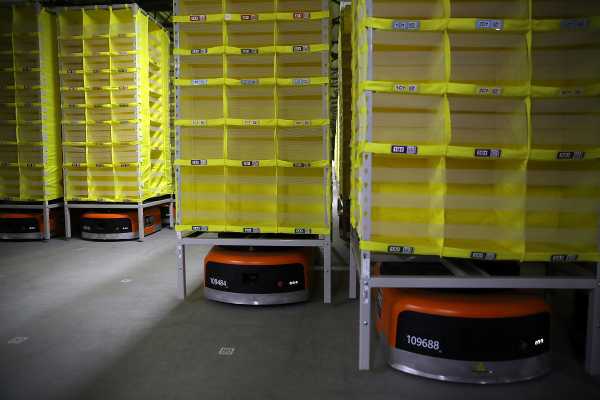 At one point, the grandmother on the tour bent over and pointed the younger girl's attention toward one of the moving towers just as it spun away from us, saying, "Ooh, did you see the Aveeno lotion?" As if recognizing a product was akin to seeing a celebrity.
I took note of the celebrities I saw: soccer ball, laundry detergent, Fancy Feast, Pop-Tarts, kombucha starter kit, protein powder, paper plates, maxi pads. I realized at a certain point that I was holding my breath, hoping not to see anything I had ever ordered, as if that would be the first moment at which I would have to acknowledge my personal involvement. (Never mind that during my two-hour drive, I had swiped away a text message from Amazon announcing that my Tigi hairspray would be arriving later in the day.)
"Ooh, did you see the Aveeno lotion?"
When things fall off the bookshelf robots, we were told, specialists have to shut off the QR codes for the parts of the floor surrounding the dropped item, then organize a special operation to go out and retrieve it without getting clocked by a tower that doesn't know they're there. They are called the "floor health team," and that's their job at ACY1.
But there are two main tasks related to these robots: picking and stowing. Employees stand at individual, half-enclosed stations at least 15 feet apart and either "pick" things off the robots, scanning them and then dropping them into a yellow plastic bin called a "tote," or they take things out of the totes, scan them, and "stow" them in the robots. They are connective tissue, bending and scanning and placing, then bending and scanning and placing. There's no music, no possible way of speaking out loud to another person, and no decisions to be made.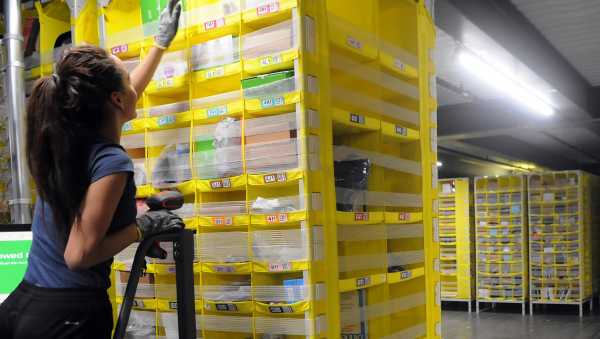 Back on the ground floor — though we did not talk to any employees — we met a robotic arm named Trudy, which sits in the middle of the huge space lifting heavy totes. Trudy is surrounded by rows and rows of packing stations, where employees are told by a computer which size box to use for the items sorted for them by the computer, before a computer spits out a piece of tape the exact right length to close it. Watching the shipping labels get stamped on by a different robot, the older girl on the tour asked if Prime orders are handled differently than regular orders. She was assured that all orders are processed the same way no matter who is placing them, that everything is valuable to someone — and though she nodded in response to this policy of egalitarianism in purchasing, I could tell she was chewing on it, maybe a little unsure about the notes it struck.
"Is this all a matter of life and death? I'll say no for the moment and come back to the question later," Geissler writes at the beginning of Seasonal Associate. "At that point I'll say: Not directly, but in a way yes. It's a matter of how far death is allowed into our lives. Or the fatal, that which kills us." Later, she does come back to it, and adds, "I can't prove that the work kills anyone. … They're all standing upright and working well[.]"
Afterward, we were thanked for our time and presented with instructions about an online survey, as well as new water bottles that read "Amazon FC Tours," then escorted back through a lobby, exposed only then to the backside of the entryway, which read "Work Hard. Have Fun. Make History."
Sign up for The Goods' newsletter. Twice a week, we'll send you the best Goods stories exploring what we buy, why we buy it, and why it matters.
Sourse: vox.com