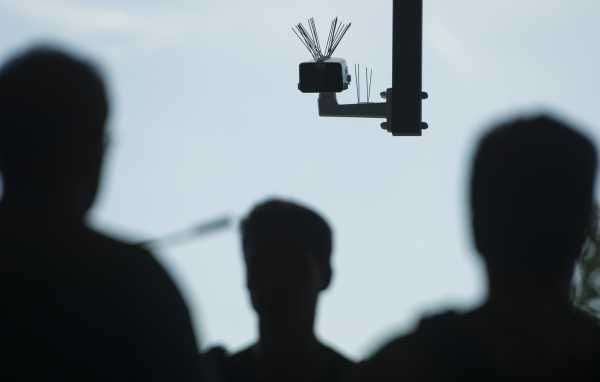 Amazon released a blog post today proposing ethical guidelines around the use of facial recognition technology and called for national legislation on the topic.
The company's own facial recognition software, called Rekognition, has been mired in controversy since its public debut two years ago. Rekognition can track people in photos or video and run those images against databases of millions of images in real time. The tool is currently used by at least one US law enforcement agency to help identify criminals. Dozens of civil rights groups and several lawmakers have expressed concern that the tool could be used for more widespread government surveillance — but Congress has yet to introduce legislation on the topic.
The debate about Amazon's use of the technology in particular has intensified because of evidence of racial bias and errors with the tool, such as when the ACLU ran a test on the software and found that it misidentified 28 members of Congress as matching with criminal mugshots — disproportionately mismatching members of color. (In today's blog post, Amazon wrote that the "service was not used properly" in such cases.) The company has also come under fire for pitching its software to ICE, according to documents obtained by the Project on Government Oversight. Critics such as the ACLU worry that ICE could use the software to unjustly target immigrants with greater efficiency.
There have been calls both from civil rights organizations and Amazon's own rank-and-file employees to stop selling the product to government agencies.
Today's note, penned by Amazon VP of Global Public Policy Michael Punke, is in direct response to some of those concerns.
"New technology should not be banned or condemned because of its potential misuse," Punke wrote in a blog post on Amazon's website on February 7. "Instead, there should be open, honest, and earnest dialogue among all parties involved to ensure that the technology is applied appropriately and is continuously enhanced."
This isn't the first time a major tech company has called for self-regulating facial recognition software. Just a few weeks ago, Microsoft CEO Satya Nadella said the company would welcome regulation in the field to prevent the market from becoming a "race to the bottom" that could lead to "even more heavy-handed regulatory regimes." In December, Google promised not to sell facial recognition software until it works through "important technology and policy questions."
Amazon's proposals include some suggestions that are already a given ("Facial recognition should always be in accordance with the law"), but also some stronger ones. For instance, when law enforcement agencies find a suspected criminal match, they should have a real human being review the case before making an arrest. Another proposal called for law enforcement agencies to provide regular transparency reports to the public on how they're using the software, and to notify the public with written signage when they're being surveilled with facial recognition technology.
Critics of the software say that Amazon's proposals don't go far enough — and that the company's actions contradict its statements.
For example, despite Amazon's calls for transparency, the company itself has been accused by lawmakers of withholding relevant information about its work with police.
"Amazon's framework rings woefully hollow," wrote ACLU Senior Legislative Counsel Neema Singh Guliani in email, adding that it "underscores the company's refusal to properly address the dangers of its technology in government hands and reinforces the urgent need for Amazon to get out of the surveillance business altogether."
Sourse: vox.com