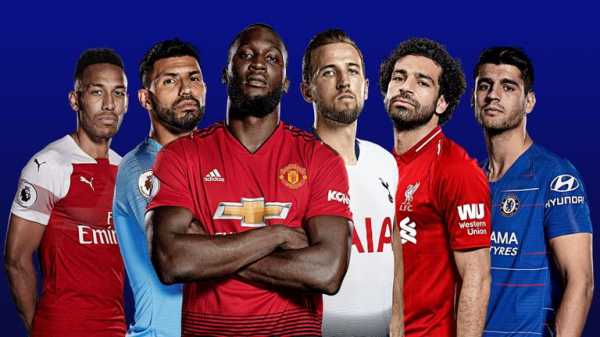 Romelu Lukaku and Harry Kane go head to head when Manchester United host Tottenham live on Sky Sports this Monday – but who is the best finisher and how do they compare with other Premier League strikers?
Kane scored almost double Lukaku's tally in the league last term, hitting 30 compared with the Belgian's 16 from a similar number of minutes on the pitch.
But which player is more clinical in front of goal when chances arise? We compared the two strikers against every forward who scored 10 goals or more in the top flight last season to find out…
Goals
The raw numbers suggest Liverpool's Mohamed Salah is the Premier League's top finisher right now – having scored a league-topping 32 goals last season – with Kane finishing two shy of the Egyptian.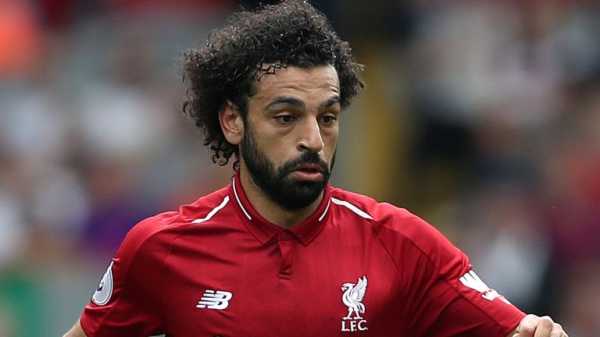 Indeed, Salah also topped the chart for goals per 90 minutes with 0.99, followed by Manchester City's Sergio Aguero, whose 21 goals came at 0.96 per 90, with the Argentina international playing more than 10 games fewer than Salah and Kane.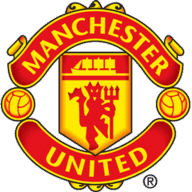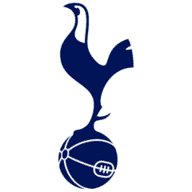 Man Utd vs Tottenham
August 27, 2018, 7:00pm
Live on
Get Sky Sports Get a Sky Sports pass
Pierre–Emerick Aubameyang hit the ground running after his January switch from Borussia Dortmund to Arsenal with a 0.85 ratio – scoring 10 goals in just 1,058 minutes.
In terms of adaptability in front of goal, Kane recorded a diverse split of right-footed (13), left-footed (10) and headed (six) goals – while Salah scored 25 of his 32 goals with his favoured left boot.
Like Liverpool's talisman, Lukaku also tends to finish with his left, hitting 11 of his 16 goals – or 69 per cent – with his preferred foot.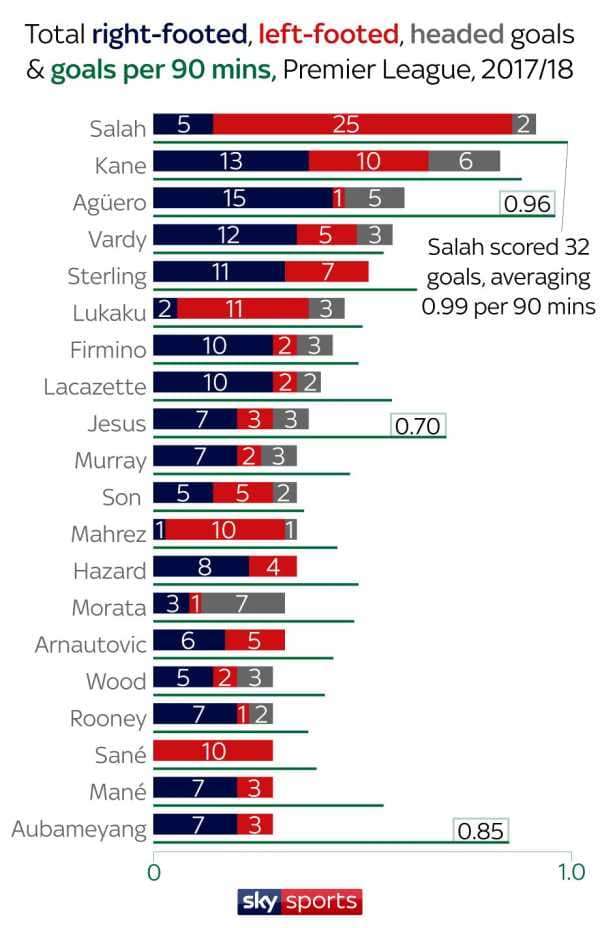 Expected goals (xG)
Expected Goals (xG) measures the likelihood of a shot ending in a goal based on a range of variables, such as assist type, shot angle and distance from goal, whether it was a headed shot and so on.
Expected Goals (xG) in a nutshell
A shot from 8 yards has a higher xG value than a shot from 18 yards
A shot directly in front of goal has a higher xG value than a shot from a tight angle
A shot taken by the foot has a higher xG value than a header
According to this Opta data, Salah topped the chart again, scoring seven goals more than expected, followed by new Man City recruit Riyad Mahrez, Kane and Aguero (each +5).
This suggests that all those players are fine finishers, hitting the net on several occasions when the majority of shots historically taken from those positions would not be scored.
Only three players recorded negative figures, with Chelsea's Alvaro Morata the chief offender, finishing the season with two goals fewer than expected. Manchester City's Gabriel Jesus and Liverpool's Sadio Mane both finished around one goal below their xG.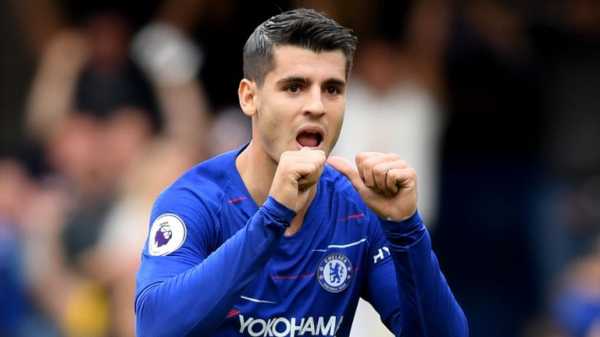 This metric suggests Mahrez scored 84 per cent more goals than expected, a statistic boosted by his four goals from outside the box – only new team-mate Kevin De Bruyne and former Stoke attacker Xherdan Shaqiri scored more long-range efforts (five).
According to Opta, Kane and Lukaku both exceeded expectations in front of goal – with the England international scoring five more than expected (+21 per cent) and Lukaku with three more (+19 per cent).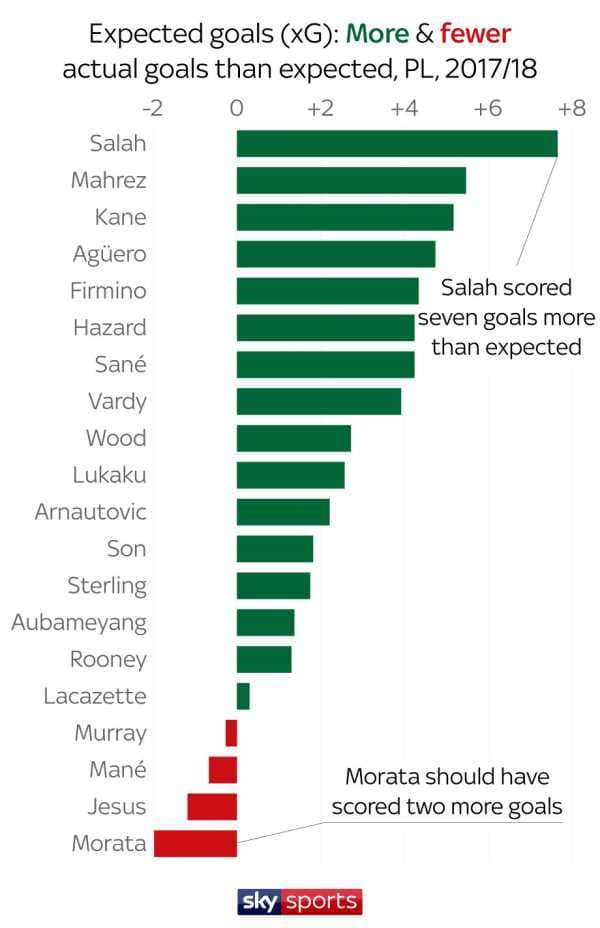 Accuracy
Shooting accuracy is defined as an unblocked shot on target – but the results can be misleading.
A tame shot that reaches the goalmouth can boost a striker's ratio of hitting the target, while a thunderous strike from range that grazes the crossbar does not count.
However, the statistic does help establish which strikers hit the target more consistently when lots of shots are aggregated.
In terms of shot frequency, Kane topped the chart with 133 unblocked shots last season – 23 per cent more than any other player – but only 56 per cent of those attempts hit the target, which ranked him 14th out of 20.
Arsenal's Aubameyang led the division with a 79 per cent shooting accuracy – although this ratio was potentially skewed from only taking 24 unblocked shots in total.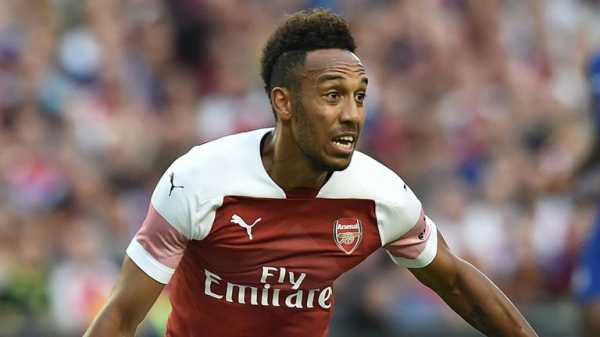 In terms of players that attempted a higher number of shots, Lukaku, Liverpool's Roberto Firmino (both 63 per cent) and Salah (60 per cent) ranked highly.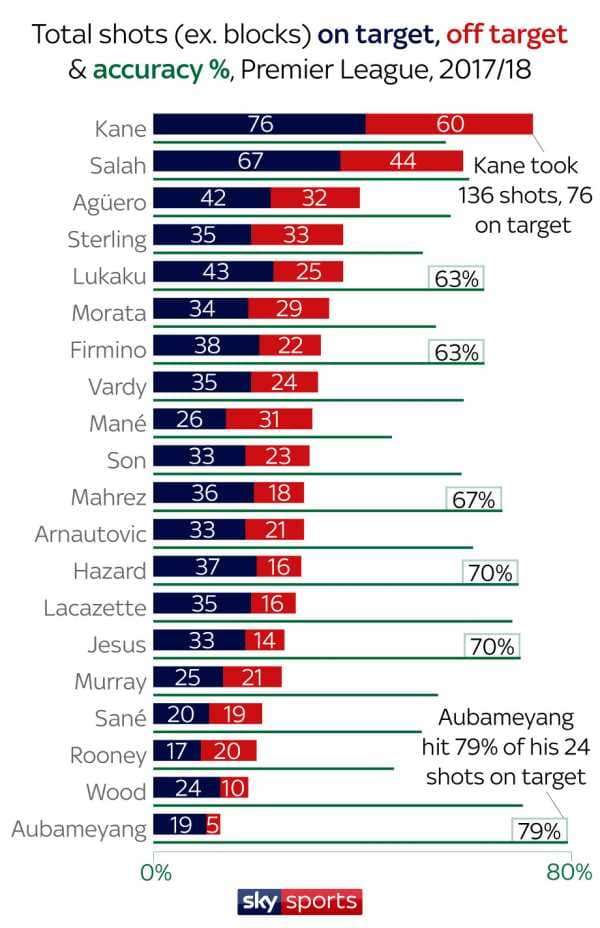 Conversion
In contrast to shooting accuracy, shot conversion includes blocked attempts. Kane led the way again for shot frequency with 184 attempts, including 51 blocked efforts – resulting in a 16 per cent goal ratio (17th out of 20).
Meanwhile, Lukaku attempted fewer than half of Kane's attempts with just 86 shots and converted 19 per cent of those into goals (11th out of 20).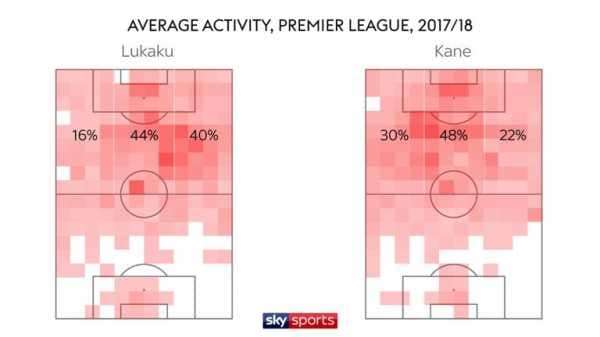 Kane's habit of shooting from any angle or range reduced both his accuracy and conversion rates, as the graphic below clearly shows.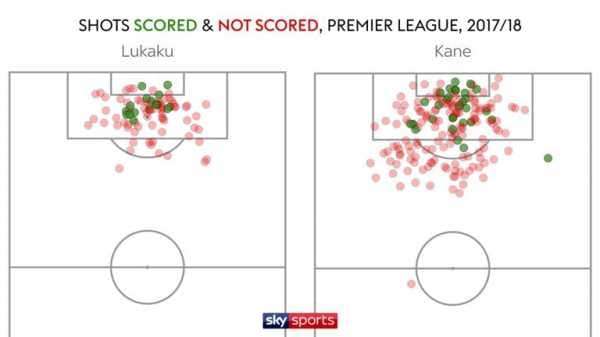 Leicester's Jamie Vardy appeared to be the most clinical of strikers in this metric, netting 28 per cent of his 71 efforts on goal – while Aubameyang's 32 per cent is skewed from having taken just 31 shots.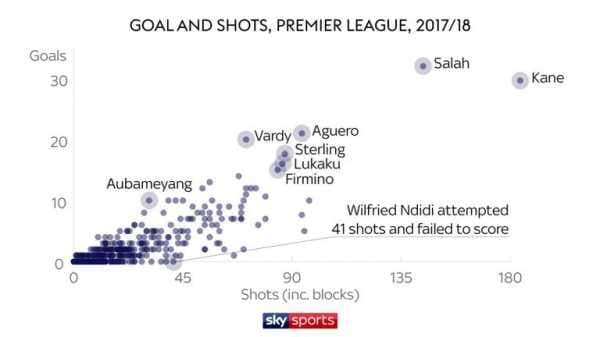 Other notable strikers with high shot frequencies and high conversion rates included Salah, Aguero (both 22 per cent) and Raheem Sterling (21 per cent) – despite the latter being frequently accused of being a poor finisher.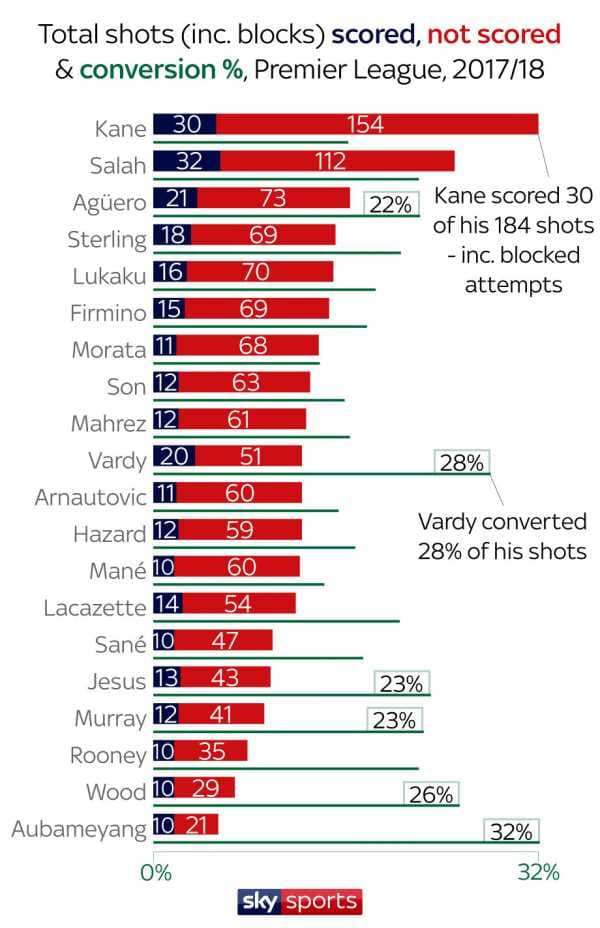 Big chances
Sterling's main criticism typically arises from failing to convert clear-cut opportuinities. Opta record this metric as 'big chances'.
However, the England forward once again contradicts criticism with an above-average 54 per cent conversion rate, compared with a chart-low 37 per cent from Liverpool winger Sadio Mane.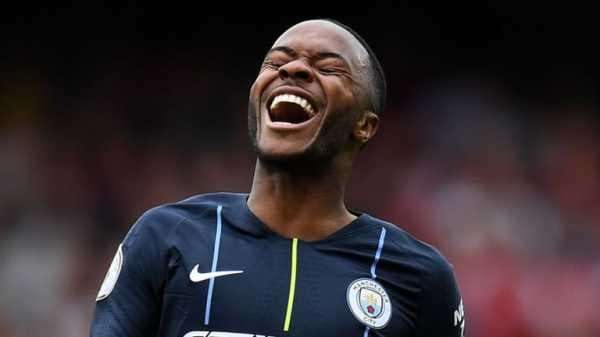 Indeed, Golden Boot winner Salah only managed 47 per cent – missing 23 of his 43 big chances in front of goal.
Kane fares slightly better than the Liverpool forward, equalling Sterling on 54 per cent, while Lukaku is close behind on 50 per cent.
Vardy was reliable when faced with a golden opportunity, scoring 14 of his 21 chances on goal – a league-topping 70 per cent conversion rate.
Burnley's Chris Wood (69 per cent) is boosted thanks to having relatively few big chances.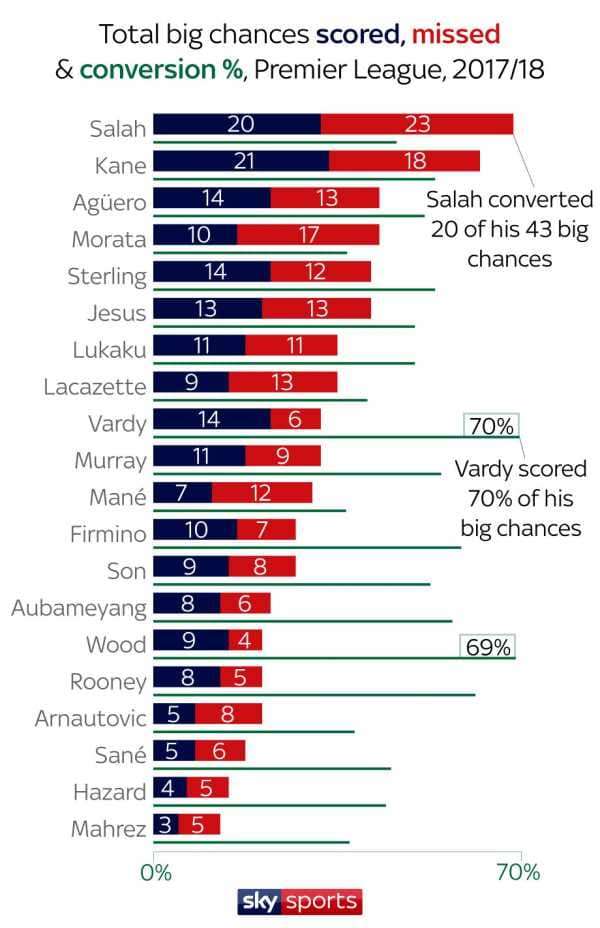 Conclusion
With all the above metrics factored, Salah, the Premier League golden boot winner, appears to have a strong case for being considered the top flight's top finisher right now. He benefited from playing in a side which created a lot of chances, but his impressive xG, shooting accuracy and conversion rates stand out.
Injuries may have hampered Aguero's hopes of finishing top scorer last season but he excelled across a raft of per-90 stats and remains one of the Premier League's top finishers – as his hat-trick against Huddersfield underlined.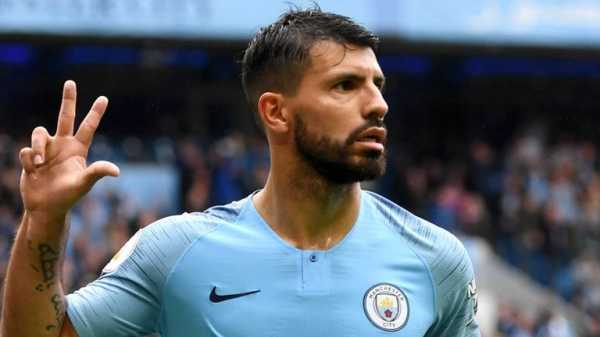 Aubameyang's per 90 and percentage stats are somewhat skewed from joining the Gunners in January and recording fewer shots but is clearly a talented striker, while Opta data suggests Mahrez has a habit of scoring stunners but may miss the easier chance or two for City this season.
Statistically, Vardy appears to be the most clinical at finishing clear-cut chances.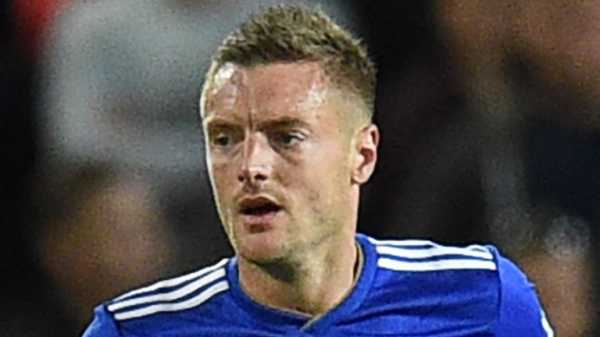 However, when it comes to Monday night's showdown between Kane and Lukaku, it is the Tottenham striker who the stats shine brightest for. Kane is more than twice as likely to shoot than Lukaku – but also almost twice as likely to score.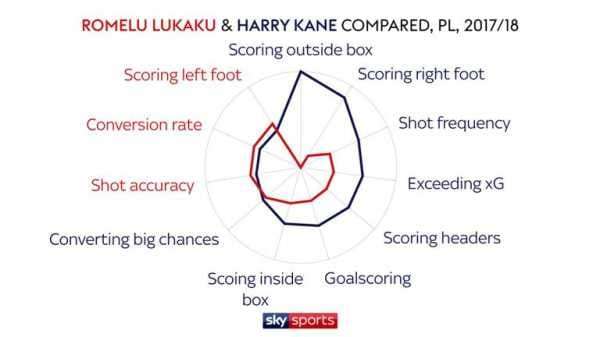 Which striker will come out on top on Monday? Watch Manchester United v Tottenham live on Sky Sports Premier League from 7pm on Sky Sports Premier League.
Comment below to get involved in the debate, but please adhere to our House Rules. If you wish to report any comment, simply click on the down arrow next to the offending comment and click 'Report'.
Also See:
Transfer Centre
Latest transfer news
Transfer betting
Paper Talk
Sourse: skysports.com