The village of Rathmullan in County Donegal didn't take long to get over the disappointment of Ireland failing to qualify for the World Cup.
A chat outside mass one Sunday morning between parish priest Fr Martin Collum and Rathmullan Celtic Chairman, Cormac Fagan, has lead to the small community adopting Peru as their home nation.
However, it is the fact that they have decided to produce t-shirts for it that has lead to a funny, bizarre twist to the story.
Fr Martin explained why they adopted the country, saying he worked in Peru for 14 years.
He is a great supporter of Allianza Lima – the oldest team in the Peruvian first division – and his hero is Allianza Lima and Peru's greatest-ever player, Teofila Cubillas.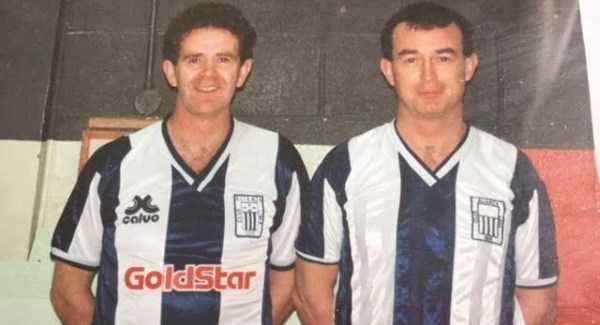 Fr Martin (right) in an Allianza Lima top during his time in Peru.
Dubbed the 'Pele of Peru', Cubillas starred in three World Cups, scoring a total of 10 goals. He's also Peru's top scorer, with 26 goals for his country.
Fr Martin said: "When Cormac asked me where I would be watching the Peru matches, and I said I'd no plans, he suggested that I join a few of the lads to watch the match.
They have invited four VIPs from the Peruvian Embassy in Dublin to Rathmullan on Saturday to raise the Peruvian flag in a World Cup opening ceremony at the village putting green.
After the playing of the Peruvian national anthem, 'Arriba Peru' will ring out, and then they will watch Peru's opening match against Denmark in the Beachcomber Bar on the banks of Lough Swilly.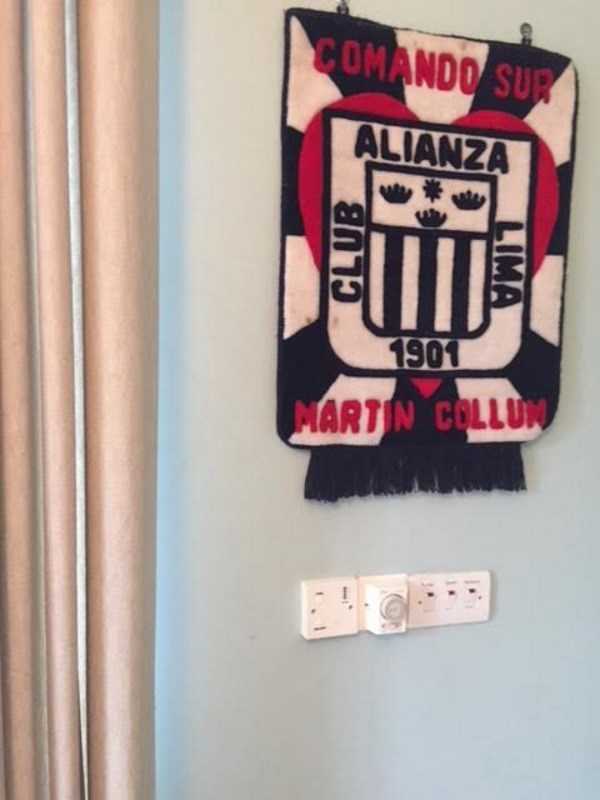 An Allianza Lima flag in Father Martin's parochial house in Rathmullan.
Fr Martin said: "Saturday's going to be great craic, and it's a real honour that Alberto Gonzalez 'Deputy Head of Mission' his son Javier, and his colleagues Loreto and Juanlu, are joining us for the match.
"It's 36 years since Peru last qualified for the World Cup, so it's fantastic for them."
Cormac Fagan added: 'We approached Joe McHugh's office, and he contacted the Peruvian Embassy on our behalf, and they were delighted to accept our invitation. The whole village is looking forward to Saturday.
"Rathmullan will become a sea of red and white, with bunting and Peruvian flags in the streets, and everyone wearing their Peru t-shirts. Rathmullan will become Peruvian territory during the matches."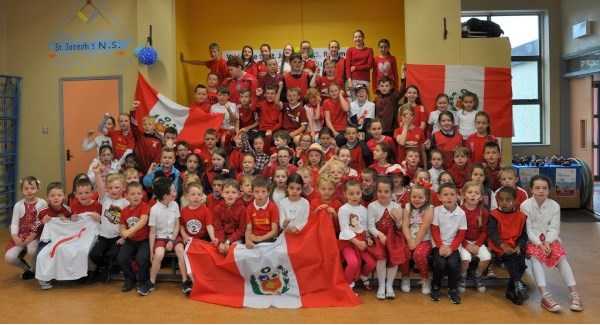 However, it is the t-shirts they decided to get printed for the big match that is providing the cherry on top of the celebrations.
A consultant on the t-shirts just happens to be Alan Rough, the Scotland goalkeeper who was at the mercy of two Cubillas wonder goals in the 1978 World Cup.
It was Alan that suggested that the t-shirts should carry Cubillas' name, and his number 10 on the back, in testament to the man who broke Scottish hearts in Argentina in 1978.
Alan said: "My friend lives in Rathmullan, and she asked me if I knew of a Peru legend to put on the back of the shirts, and unfortunately I'd had first-hand knowledge of Cubillas in Argentina.
"Even though Cubillas' most famous World Cup goal, was a free kick that flew past me, fair play to him. There was only one name that should be on the back of those shirts.
"I've been to Rathmullan, it's a beautiful place, and I'm happy to get behind Peru too."
So, if you're a Peruvian, living in Ireland, then make your way along the Wild Atlantic Way to Rathmullan to join in the celebrations on Saturday.
After Peru's opening match against Denmark in the Beachcomber Bar on Saturday, the White Harte and Big Paddy's will be the venues for Peru's other two first-round matches.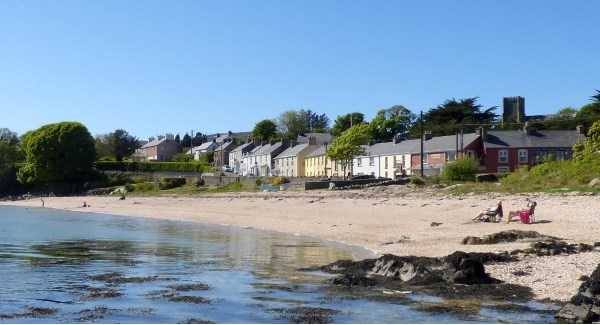 Rathmullan Main street.
The raising of Peruvian flag at Rathmullan's Putting Green will performed by Peruvian Deputy Head of Mission and Fr Martin Collum, Chairman of the Rathmullan Peru Supporters Club at 3pm.
The match kicks off at 5pm.
Sourse: breakingnews.ie