Luis Diaz's parents kidnapped in Barrancas, Colombia; president Gustavo Petro has deployed the army in search for Diaz's dad, who is still missing; his mother has been rescued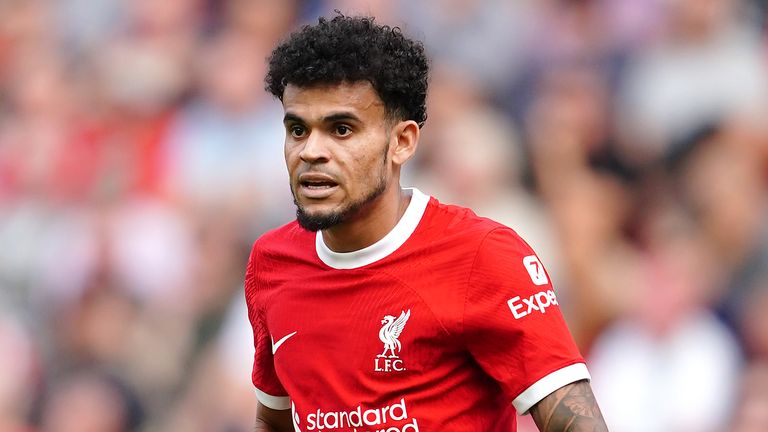 Image: Liverpool midfielder Luis Diaz's parents were kidnapped in Colombia
Liverpool midfielder Luis Diaz's parents were kidnapped in Colombia after being stopped by gunmen on motorbikes.
His mother was later rescued but his father remains missing.
Cilenis Marulanda was rescued by police in the city of Barrancas, Colombia's President Gustavo Petro said.
"In a padlock operation in Barrancas, Luis Diaz's mother has been rescued, we continue the search for the father," the President tweeted.
Meanwhile, the country's police director, General William Salamanca, said he is using every agent to find Diaz's father.
The 26-year-old Colombian international's parents were reportedly kidnapped as they drove to their home.
Early reports suggest they were at a petrol station aboard a truck when they were approached by armed men travelling on motorbikes.
Army resources have been deployed along with the police.
Colombia's soccer federation said the kidnapping was regrettable – and urged authorities to rescue the father.
"The Colombian Football Federation rejects the security situation that the parents of our player Luis Díaz are going through," a statement said.
"From the FCF, we express our solidarity with him and his entire family, and we call for the relevant authorities to act as quickly as possible to resolve the situation."
The Colombian attorney General's office also said in a statement: "From the moment when Colombia's General Prosecutor's Office learned of the kidnapping of the parents of Colombian player Luis Díaz in the Barrancas area of La Guajira, a specialist team of prosecutors, CTI (Technical Investigation Team) officials and investigators from the police and military have been taking urgent action to locate these individuals, clarify the chain of events and identify the culprits."
Diaz was not in the match-day squad for Liverpool's Premier League clash with Nottingham Forest on Sunday.
A Liverpool statement said: "It is our fervent hope that the matter is resolved safely and at the earliest possible opportunity. In the meantime, the player's welfare will continue to be our immediate priority."
Sourse: skysports.com