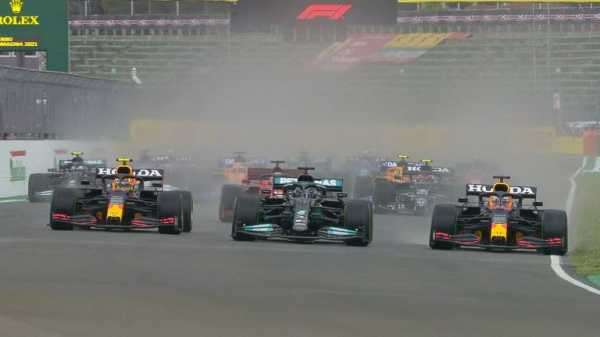 Watch as Max Verstappen and Lewis Hamilton collide into Turn One during the Emilia-Romagna GP
The end result, and what was said
Told of the contact after the race, which Verstappen went on to win ahead of Hamilton, the Dutchman said he was not aware they even touched – although Hamilton had certainly noted his rival's move.
"Max got a better start than me and then I think I was slightly ahead going into turn two but I was basically avoiding us coming together," said Hamilton. "Max was just coming and coming and coming across.
"Of course, we had that touch and I had to use the exit, take those big kerbs but I'm grateful I just got it through it."
Spanish GP: 'Aggressive' Max wrestles lead off Lewis again
Setting the scene, and the incident
Hamilton and Verstappen continued their streak of wheel-to-wheel battles to start the season at the Portuguese GP, before F1 2021 sped on to Spain, where the championship rivals were together on the front row once again.
This time, they appeared to have equally good starts – although Verstappen quickly moved his Red Bull from the right of the track to the left to gain a slipstream from Hamilton's pole-sitting Mercedes.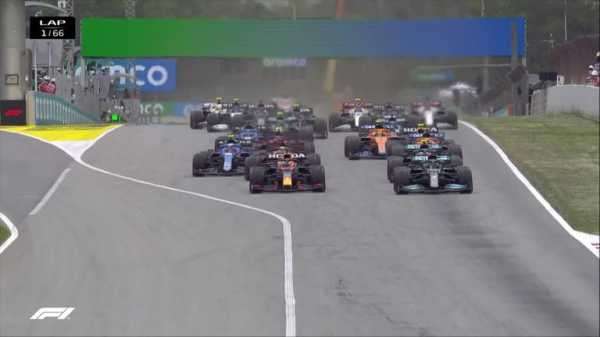 Max Verstappen was the early race leader in the Spanish Grand Prix after out-manoeuvring Lewis Hamilton on the first corner
Hamilton, still technically ahead, did not pull out either and probably expected his rival to, just as he himself had on the first lap at Monza when they battled at the second chicane. There was very little space for two cars to fit, and from there, there was only going to be one outcome: another crash between Verstappen and Hamilton, as the Red Bull went clattering into the Mercedes.
This time, both drivers were sent out of the race and there was also a dangerous end to this clash despite the slower speeds compared to Silverstone. Verstappen's car bounced over the sausage kerbs before his right rear tyre clipped Hamilton's rear left and flung into the air, rotating slightly before landing on top of Hamilton's. Thankfully, Hamilton's halo protection device absorbed the impact, remaining intact as the underside of the Red Bull crumpled upon making contact with it.
The end result, and what was said
In the immediate aftermath, Red Bull, this time the accused rather than the accusers, stressed their belief that this crash was a "racing incident", while Mercedes boss Toto Wolff said he felt Verstappen had committed a "tactical foul" as Hamilton was ahead of him on track and had a chance of taking back his title lead.
The stewards deliberated long and hard about this collision – with a time penalty no longer an option as both drivers were out of the race – and decided on punishing Verstappen. It was a similar verdict to Silverstone, and a similar penalty in the circumstances. Verstappen was "predominantly to blame", and handed a three-place grid penalty for the next F1 race, this weekend's Russian GP.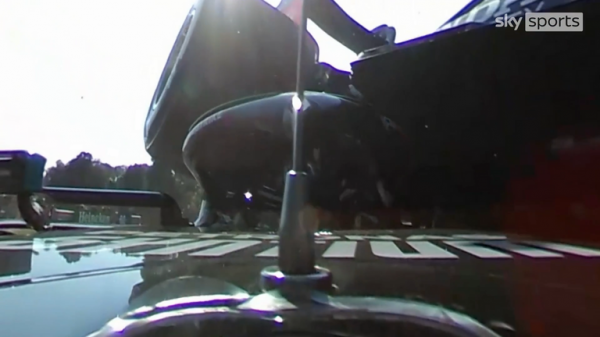 Dramatic new footage has been released of the potentially season-defining moment when Max Verstappen and Lewis Hamilton collided at the Italian Grand Prix Dramatic new footage has been released of the potentially season-defining moment when Max Verstappen and Lewis Hamilton collided at the Italian Grand Prix
"He just didn't want to give way today," said Hamilton, who struggled with neck pain after being clipped by one of Verstappen's tyres in the incident. "He knew when he was going into Turn 2 what was going to happen, he knew he was going over the kerb but still did it."
Verstappen protested: "I didn't expect him to just keep on squeezing, squeezing, squeezing, because he didn't even need to. He just kept on pushing me wider and wider and at one point there was nowhere to go.
"You need two people to work together to make a corner."
Since then, Hamilton and indeed much of the paddock have predicted the pair may well collide again before their fierce title battle is over.
There are eight races left in the season, starting with this weekend's Russian GP. Let battle, recommence.
Sourse: skysports.com