GAA medical chiefs have warned players and coaches of the potential side-effects of several new training techniques, writes Colm O'Connor
The GAA's Medical, Scientific and Welfare (MSW) and National Games Development (NGD) Committee today issued a document outlining guidelines for appropriate and safe training for Gaelic games.
A number of trends and areas of concern are highlighted in the report including the growing usage, by GAA teams and individuals, of Bikram Yoga, military-style team building activities, cryotherapy and hypoxic (altitude) training.
The warning relating to hypoxic (altitude) training is especially stark.
"The GAA's Medical, Scientific and Welfare Committee does not recommend teams of any level pursue this activity as part of their preparation as this activity does involve a significant financial outlay for clubs and counties which could be more efficiently spent on other sports medicine or preparation supports.
"It is the view of the GAA's Medical, Scientific and Welfare Committee that the weight of evidence on Hypoxic (Altitude) Training has not yet scientifically proven the practice to be beneficial to on-pitch performance in Gaelic Games and can potentially endanger the health and welfare of players, if not monitored and supervised correctly."
The report also noted that: "Bikram Yoga or Hot Yoga has been shown to cause dramatic increases in heart rate and core temperature in participants (which could potentially cause heat exhaustion, heat stroke and in extreme cases heart-related complications if there is a previously unidentified underlying condition).
The MSW Committee recommends yoga/pilates as an alternative as it provides the same benefits as Bikram yoga and is a safer option for players."
It also highlighted concerns over extreme military-style team building activities that some sides may be engaging in.
"In the event of more extreme activities such as overnight camping, sleep deprivation, activities in cold water, nocturnal endurance training etc; there are risks to players such as exhaustion, pneumonia and potential heart complications if there is a previously unidentified underlying condition.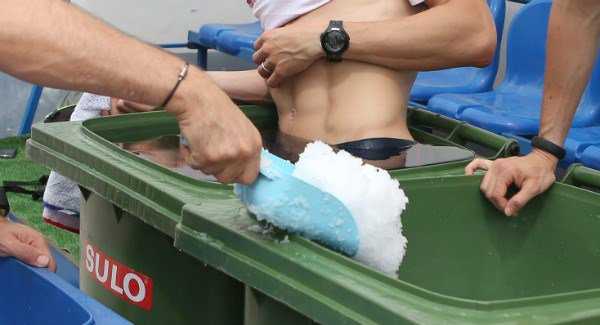 "Clubs should secure the written consent of players and/or parents/guardians (for U18s) if pursuing such activities."
The authors also poured cold water on the use of ice baths, noting that "there is insufficient evidence available at present to support the use of whole-body cryotherapy (WBC) and cold water immersion (ice-baths)".
Arising from research carried out in UCD via the GAA National Injury Surveillance Database, it has been discovered that the majority of injuries in Gaelic Games are non-contact injuries with the vast majority of these being lower limb injuries. Hamstring injuries are the most common injury, followed by ankle, knee, and groin injuries.
Almost a quarter of all injuries are recurrent (a player suffering a second or further recurrence of a previous injury).
Recurrent injuries are most likely to occur when a player returns to training or fixtures without fully recovering from the previous injury or playing while injured. A player will be more vulnerable to injury when they have a very high activity level between training and matches and this risk is increased if playing across a number of teams, codes or sports.
Additionally, players are similarly at increased risk of injury when returning to training from a lay off either due to injury, holidays, off-season etc.
Flexibility and appropriate resistance training should be built into training programmes to allow players to train at an appropriate load and allow for these factors.
Queries or requests for further advice/information in relation to the above or other training/recovery methods can be e-mailed to playerwelfare@gaa.ie
– Irish Examiner
Sourse: breakingnews.ie