Travis Head was named Player Of The Match after he produced a sublime 137 to lead Australia to a record-extending sixth Cricket World Cup title; Two months ago he broke his left hand in an ODI match against South Africa and had been doubt for tournament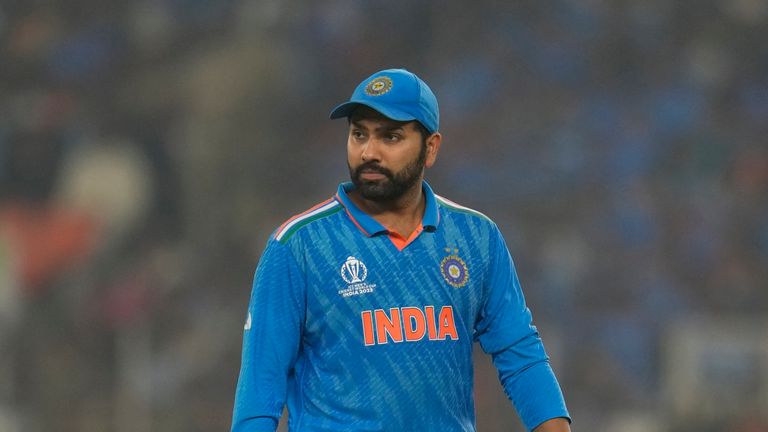 Image: India's captain Rohit Sharma looks dejected after his team lose to Australia in the Cricket World Cup finals in Ahmedabad
It wasn't meant to end like this for India.
They were tournament favourites before the World Cup even began, playing in front of a home crowd in familiar conditions where the game is followed with a religious intensity.
India looked invincible all throughout the campaign as they cruised into the finals after 10 big victories in all their games, they looked to win in every way.
Scorecard: South Africa vs Australia, Cricket World Cup final
India vs Australia – as it happened in Ahmedabad
Stream the best cricket and more top sport with NOW
So, where did it all go wrong for India?
When Australia's skipper Pat Cummins made the decision to let India bat on a dry Ahmedabad pitch after winning the toss, eyebrows were raised.
His side have fared better setting totals as opposed to chasing in this World Cup, but with the promise of dew in the evening and concerns over the dryness at either end of the wicket, Cummins took the leap of faith.
Both India and Australia announced unchanged teams with Marnus Labuschagne remaining in fifth place, leaving out Marcus Stoinis as they did for their semi-final win over South Africa. The hosts also stuck with three quicks instead of going for their extra spinner in Ravichandran Ashwin.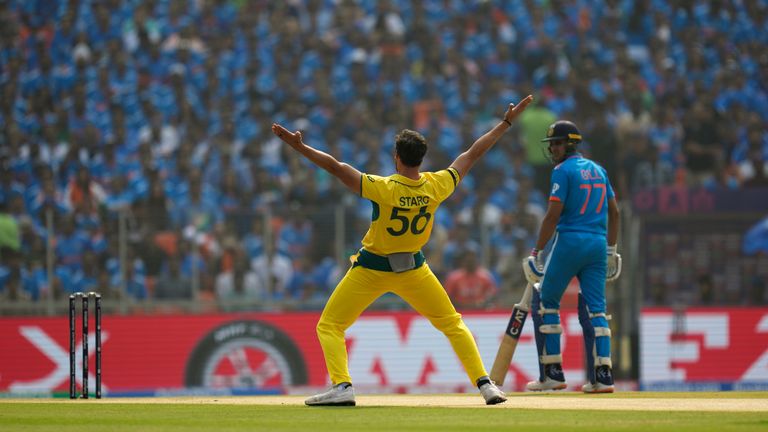 Image: Australia's Mitchell Starc appeals unsuccessfully for the wicket of India's captain Rohit Sharma during the World Cup final
When India lost Shubman Gill (four) and Rohit Sharma (47) within the powerplay, an unnerving silence washed over the crowd.
However, Virat Kohli, so often the man of the moment, gave his adorning fans something to cheer about as he shared a 67-run partnership with KL Rahul (66).
But the two batters didn't accelerate at the speed needed worried that if they were dismissed, their key bowler Mohammed Shami will have to apply pressure with the bat and ball.
In the end, as Sky Sports' Nasser Hussain pointed out, India's long tail came back to haunt them.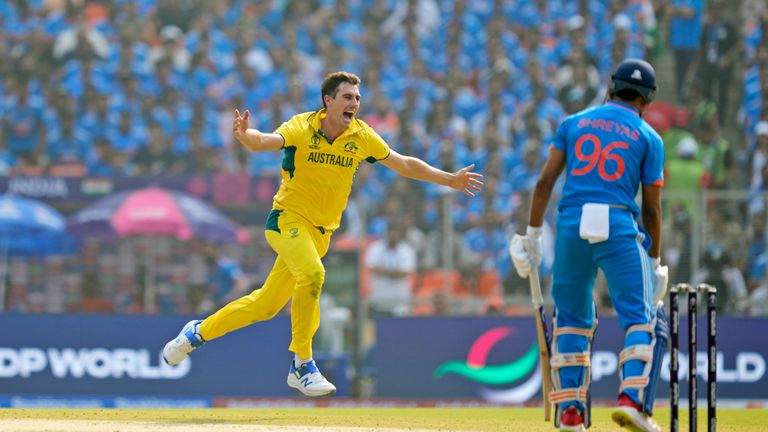 Image: Australia's captain Pat Cummins celebrates the wicket of India's Shreyas Iyer (four) who edged and was caught behind by Josh Inglis
They suffered a mini-collapse towards the end of their innings falling from 203-6 to 240 all out for five wickets in the final nine overs.
"India are still a great side – but the pitch brought Australia into it," Hussain said.
"India's four bowlers not being able to bat that well came back to haunt them. That's why Rahul and Kohli couldn't go hard.
"They were worried about Shami at No 8."
'I didn't think I would be here'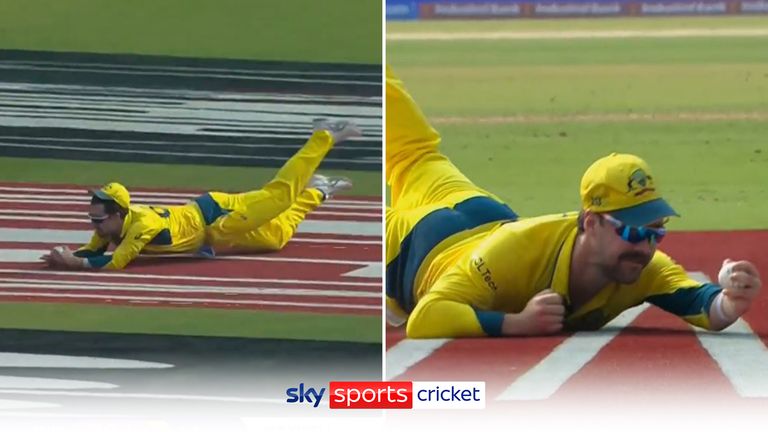 Travis Head produced an incredible catch over his shoulder to remove India captain Rohit Sharma in the Cricket World Cup final.
Two months ago Head broke his left hand in an ODI match against South Africa before the World Cup and was a doubt for the tournament.
However, he was still selected and repaid his teams faith by playing a pivotal role in their success.
Head was named the Player Of The Match for the Championship Trophy final, the semi-final against South Africa and the final against India.
"I didn't think I would be here," Head said in his post-match interview.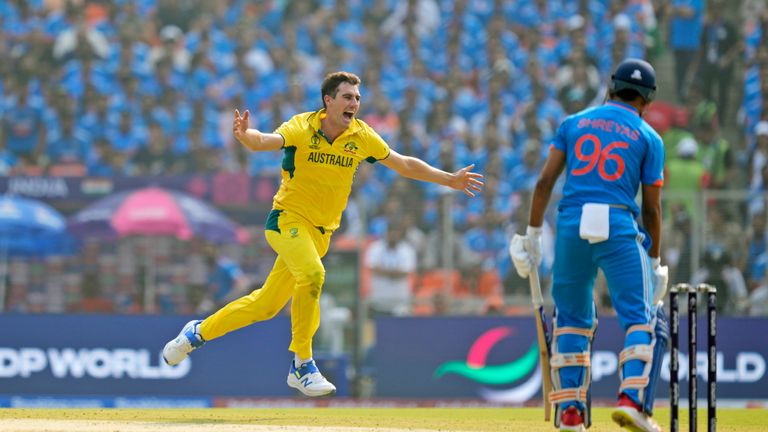 Image: Australia's captain Pat Cummins celebrates the wicket of India's Shreyas Iyer (four) who edged and was caught behind by Josh Inglis
"What an amazing day – and it's going to be an amazing couple of days now! It's something I will be able to look on later in life," he added.
Head took a spectacular diving catch to remove Sharma (47) and then put on a gladiatorial innings for the ages smashing 137 off 120 balls.
Australia fielded to a degree of acute precision, diving to stop boundaries, throwing the ball back quickly and taking regular wickets. In the end, their efforts were rewarded.
When Kuldeep Yadav (10) was run out off the final ball by Cummins and Labuschagne restricting India to 240, there was a look of concern on Sharma's face. Could his batters have gone harder? Could he have played with more aggression?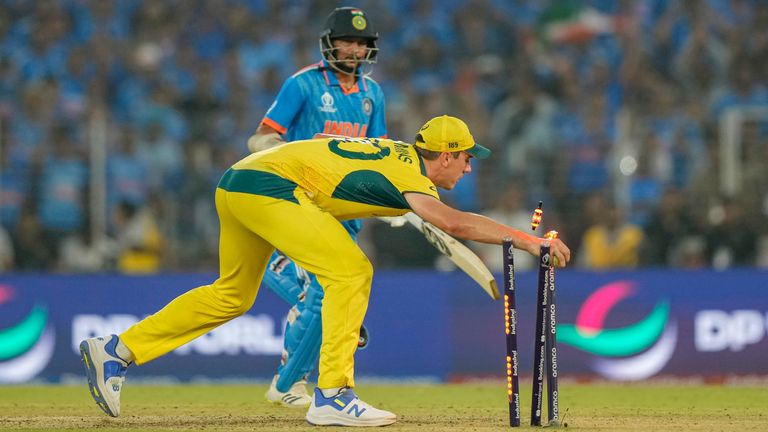 Image: Pat Cummins runs out gets Kuldeep Yadav for 10 on the last ball of the first innings
Alas, it was time to focus on the bowling.
Sharma's seam attack gave the 130,000 fans something to cheer about when they reduced Australia to 47-3 within the powerplay.
But breaking the partnership between Head and Labuschagne, worth 192 runs, proved more difficult.
When Australia win big tournaments, we often speak about good they are at absorbing pressure and Head proved that once again, playing with a calmness only the greats know about.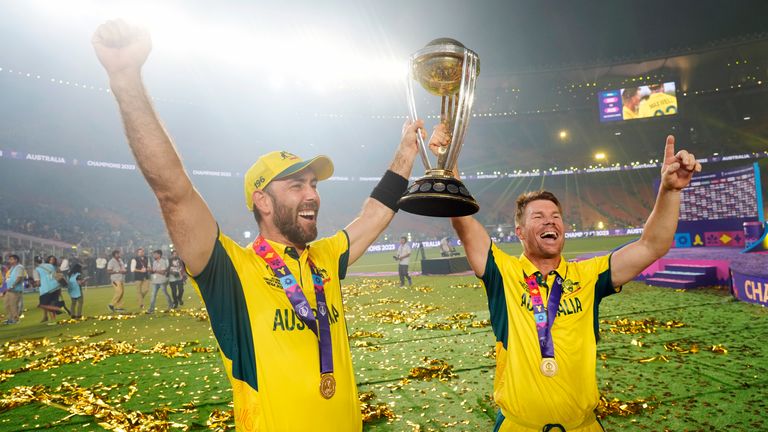 Image: Australia's Glenn Maxwell holds the trophy with teammate David Warner after Australia beat India in the Cricket World Cup final
It was India's spin attack that let them down. Kuldeep Yadav (0-56) and Ravindra Jadeja (0-43) both struggled to take wickets with the Aussies punishing any bad delivery.
Before Sunday it seem as through India had successfully orchestrated the perfect World Cup. This was the final dance. One in which their prime minister Narendra Modi and numerous famous Bollywood stars showed up to.
Instead, Australia crashed India's World Cup party, claiming a record sixth trophy, which saw the sea of blue shirts disperse as though they were never there.
When Kohli went to collect the Player of the Tournament trophy, he looked down at it disillusioned.
This wasn't how it was supposed to end.
Stream the best cricket and more top sport with NOW
Sourse: skysports.com