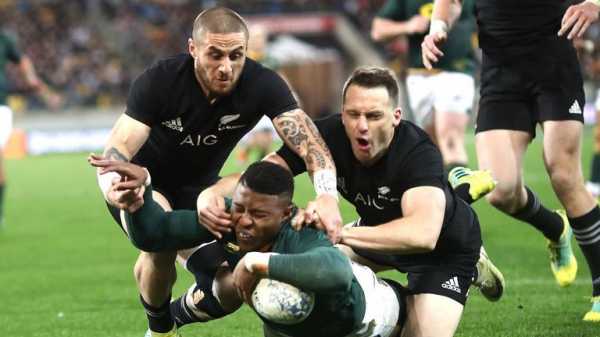 6:09 Highlights from South Africa's victory over New Zealand at Westpac Stadium in 2018
Back in South Africa, Kolbe started in two of the three Tests in the truncated Rugby Championship, and on August 26, almost exactly a year from the day Mola had told him he had been called up for the first time, Kolbe was named in South Africa's World Cup squad.
"That was a special year for me with everything that happened," he says. "A Top 14 victory with Toulouse, Rugby Championship with the Springboks and getting selected for the World Cup in Japan as well.
"I could only think of these kinds of things. I never thought that it would have happened that soon or that quickly for me to be honest.
"I never really thought about being part of the 2019 World Cup or getting a Test cap under Rassie Erasmus. God plans and sets out things for each and every person out there, and the opportunity just came up and it was up to me what I was going to do and make of it. I'm just glad that it came."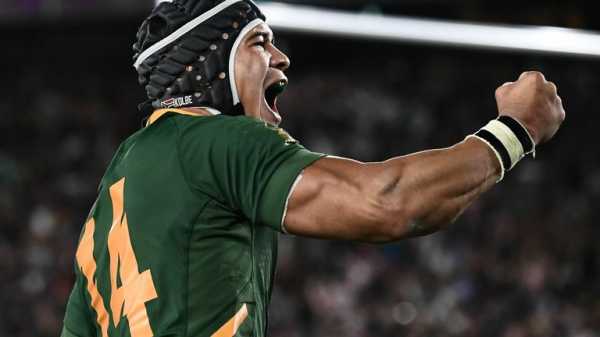 The man who grew up in a hostile area of South Africa's Western Cape stopped short of saying his selection was vindication for the times people doubted him.
"I don't get carried away by what other people think about me, or what they have to say," he says. "Sometimes what they say actually does motivate me at the end of the day to prove them wrong.
"From where I come from, I know what the tough life is like, I know what it takes for someone to be down and out. I just picture where I want to be one day, what I want to achieve."
What Kolbe wants to achieve now is a Champions Cup title, having featured in the last two seasons' semi-finals where Toulouse's ambitions were ended by Leinster and Exeter respectively.
"I believe in this team," he says. "The past two years we came close.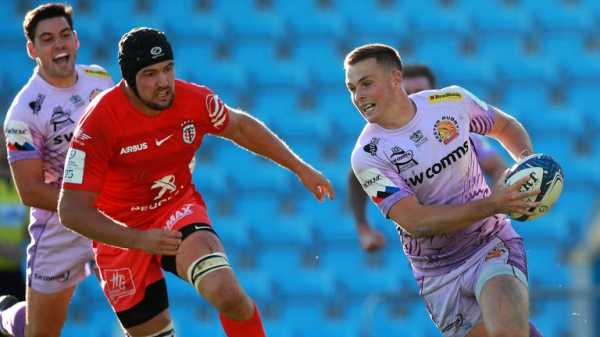 "It's actually insane to see guys at the age of 20, 21, lifting their hand and playing the best rugby compared to the other players out there in the competition.
"It's really exciting to see and I think the future of the club is in good hands."
With the likes of Romain Ntamack and Antoine Dupont at the club – the scrum-half once again showing his talent with a superb individual try over Christmas – there is no question Toulouse are in good shape in their quest to add to their European titles.
And they are off to a good start in Europe this term. Kolbe scored twice in a 29-22 victory over Ulster in Belfast in the opening round, and a cancelled visit from Exeter in the second round put them tied at the top of Pool B – with a trip to Sandy Park scheduled for the third round.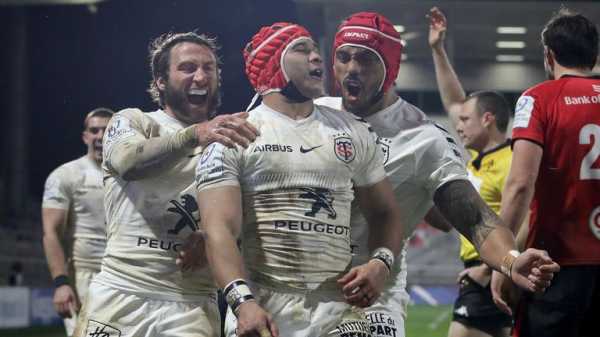 For Kolbe, heading to Exeter to face the team that knocked them out of the competition last time out is a challenge he wants to see through.
"One hundred per cent," he says when asked if he would prefer to play the Chiefs than get another default win. "We would rather play and get five points than just get given them like [in round two], but 2020 has been an interesting year with Covid and everything."
With the coronavirus pandemic still causing so much disruption around the world, Kolbe is more determined than ever to play his part in trying to lift spirits in his adopted city and beyond.
"That's why you're playing this game," he says. "You want to succeed in each and every way, but you also want to have a positive impact on other peoples' lives as well, whether they can take something small out of it or something big that will make a massive difference in their future.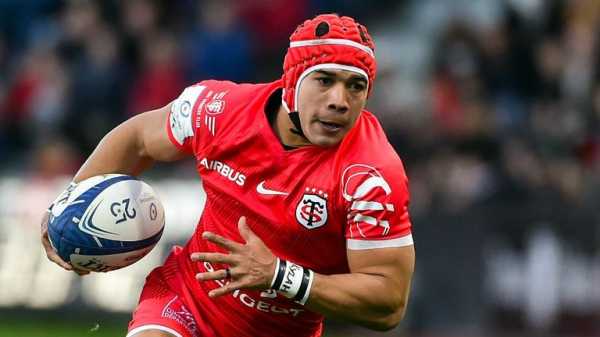 "I go out on the field to perform the best that I can for myself and my team-mates, and then for other people that look up to me who are in difficult situations, to give them that hope and encouragement."
For Kolbe, it's about more than silverware to put against his name. He has not forgotten how he was enveloped when he and his wife arrived with their four-month-old child in the city three-and-a-half years ago.
"We are part of a really special club and special city as well," he says. "For us it's basically a family club; everybody looks after each other.
"Whenever you need assistance with anything, someone will always be ready to give you a hand. It's just the relationship you have with not just the players but all the people at the club.
"It's really good. You get to know people personally, where they come from, what they do and all those kinds of things.
"It's not just rugby," he adds. "It's way more than that. Hopefully we can make this club and its supporters proud."
Sourse: skysports.com