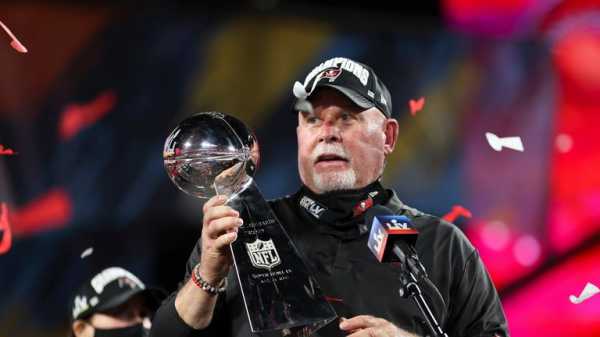 3:17 Tampa Bay Buccaneers head coach Bruce Arians says winning Super Bowl LV in front of his mum was a dream come true
Throughout the college ranks, and during time with six different NFL teams before Tampa Bay, Arians earned huge respect around the league and it allowed him to build one of the strongest and most diverse coaching staffs.
Tom Brady wins seventh Super Bowl as Bucs blow out Chiefs
Tom Brady: I'm coming back!
Super Bowl LV: Bucs hammer Chiefs recap
How did he go from graduate assistant to Super Bowl-winning head coach? And will the Bucs bring the band back together?
1970s and 80s – from playing to coaching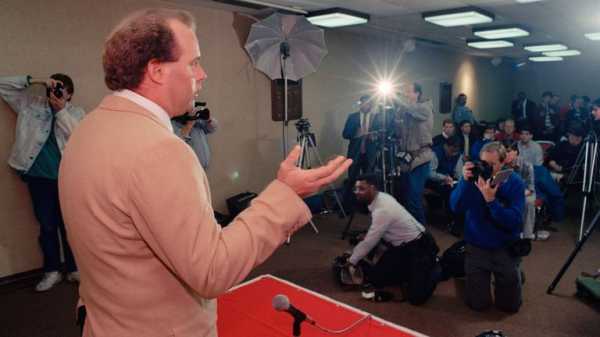 Like many coaches before and after him, Arians was a player in college. After a year as the starting quarterback for the Virginia Tech Hokies in 1974, he made the move straight into coaching as a graduate assistant at the same college and the journey began.
Over the next eight years – at VT, Mississippi State (wide receivers and running backs coach), and Alabama (RBs) – Arians built up enough of a profile to take over as head coach at Temple University in 1983.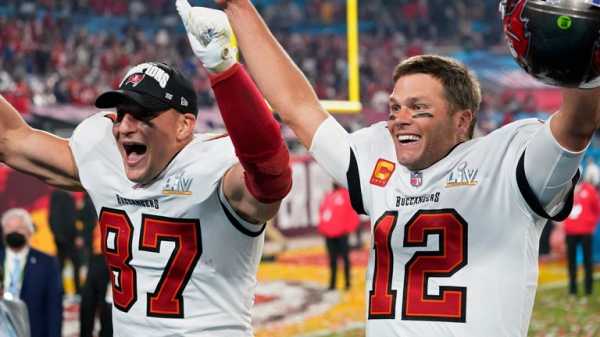 6:06 Highlights of the Tampa Bay Buccaneers' victory over the Kansas City Chiefs in Super Bowl LV
Despite a 27-39 record in his six-year tenure, that experience came back to help him in a huge way when building his current staff.
Among the players Arians coached at Temple were Todd Bowles (now his defensive coordinator), Kevin Ross (cornerbacks coach) and Todd McNair (running backs coach). Clearly, it was an important stage of his coaching career.
Late 80s and 90s – the NFL breakthrough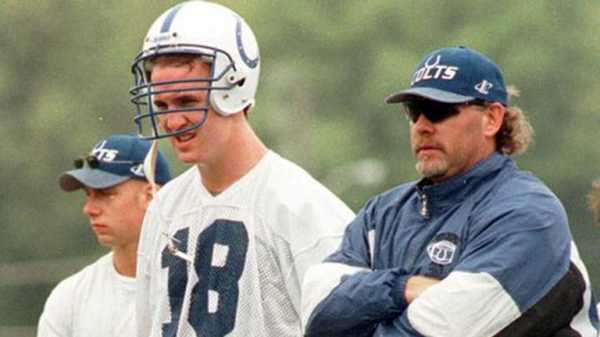 Arians reached the NFL ranks in 1989-1992 for the Kansas City Chiefs as their running backs coach. He dipped back into the college game as Mississippi State's offensive coordinator from 1993-95, but it was the late 90s that put his name on the NFL map, and he never looked back.
In 1998, Arians got the job as quarterbacks coach for the Indianapolis Colts, working with a certain rookie from Tennessee – Peyton Manning. Arians oversaw Manning's progression from 28-interception rookie to consecutive Pro Bowler in 1999 and 2000, and it has kept him in the pros ever since.
2000s Steelers' tenure – two Super Bowl rings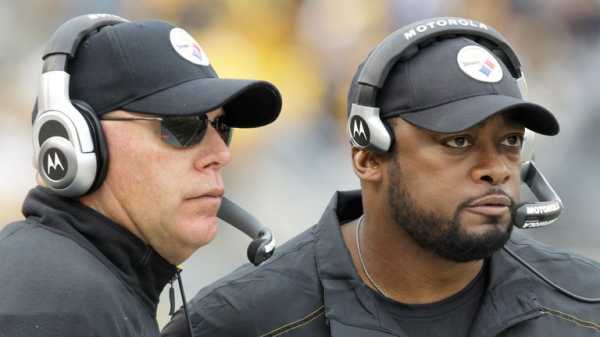 You will have read Arians 'finally' has his ring this year, but that's not entirely true. He finally has his own ring, after earning two as an assistant with the Steelers.
After moving from Manning's Colts to his first OC position – with the Cleveland Browns between 2001 and 2003 – Arians joined Pittsburgh under Bill Cowher as wide receivers coach, and he watched on as a player from his group – WR Hines Ward – won Super Bowl XL MVP.
Three seasons later, now as offensive coordinator, his offense marched 78 yards down the field in the fourth quarter and Ben Roethlisberger found Santonio Holmes in the corner of the end zone for one of the great all-time Super Bowl plays.
2010s – head coaching experience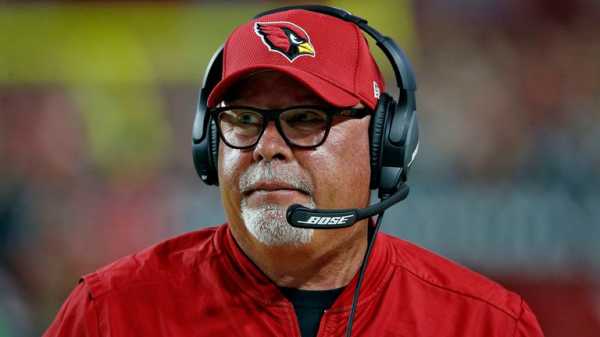 Arians made a lateral move to the Colts as OC in 2012, but following head coach Chuck Pagano's leukemia diagnosis in October, was quickly thrust into the top position for the first time – and he thrived.
Despite the team finishing 2-14 the year prior, and starting 1-2 that season, Arians – along with rookie quarterback Andrew Luck – finished 9-3 the rest of the way, before Pagano returned and the Colts were beaten by the eventual Super Bowl champion Baltimore Ravens.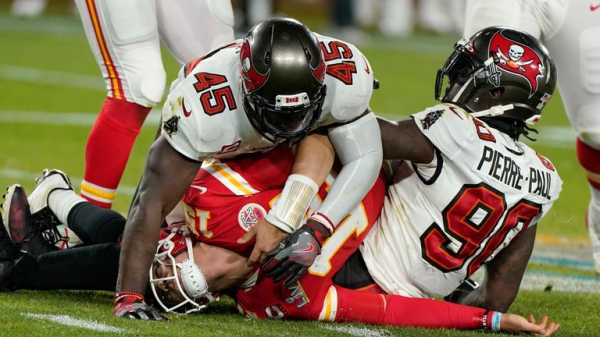 1:56 Some of the Buccaneers' best defensive plays from their masterful win against the Chiefs
Arians won the AP Coach of the Year award, and was snapped up by the Arizona Cardinals for his first full-time head coaching position – almost 40 years after getting his career on the sideline started.
His tenure in the desert was overall a successful one – three winning seasons, a 49-30-1 record, and another Coach of the Year award (2014) – but two playoff runs were ended by the Carolina Panthers in 2014 and 2015, before the Cards fell to 7-8-1 and 8-8 in his last two seasons in charge.
Retirement after 2017 season – and 2019 return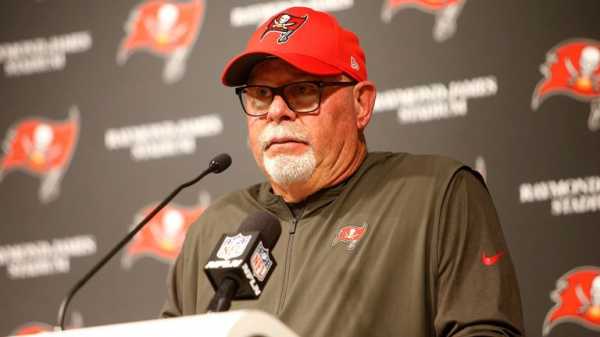 When Arians announced his retirement after the conclusion of the 2017 season, he was emotional. "The tears you see are really tears of joy, peace," Arians said.
"I'll miss the players. I'll miss coming out of the locker room, hearing the national anthem because it still gets me."
Even if he never came back, he would go down as a highly-respected, successful coach. A quarterback whisperer, a straight-up, honest breath of fresh air.
But he could not help himself, and we know how the next bit goes. He felt his Buccaneers could 'win now' when he joined in 2019, and he assembled the largest coaching staff in the NFL – pulling in Bowles, Ross, McNair and many more.
Arians had given Bryon Leftwich his coaching shot in Arizona, and made him his offensive coordinator in Tampa Bay – he has said he "probably wouldn't have taken the job if Leftwich wasn't available."
His diverse staff, well-rounded roster, and of course the ability to tempt Tom Brady to join the team have given him one ring. Do they have the chance to get another?
2021 – going for two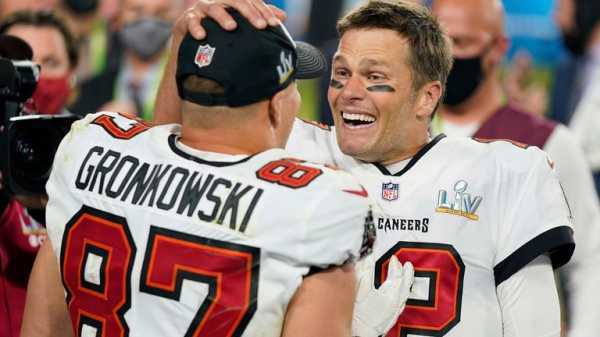 Among the post-game celebrations, Arians said: "I ain't going anywhere. I'm trying to get two, and then we'll see."
After winning Super Bowls, teams are often decimated. Assistant coaches are hired away and free agents demand big money on the market and leave. Some teams cannot handle having the target on their back.
However, the Buccaneers have plenty going for them. Alongside Arians, both OC Leftwich and DC Bowles will remain. Special teams coordinator Keith Armstrong will also return.
With Tom Brady leading the way on offense, there is little question the attack will be competitive again. He played some of his best football down the stretch and knocked off Drew Brees, Aaron Rodgers and Patrick Mahomes along the way.
The defense is young at its core. The secondary is locked up on rookie contracts, and Devin White is not going anywhere.
The big questions start on the defensive line. Shaq Barrett wants to "break the bank" with a long-term free agency deal, while Ndamukong Suh is due to hit the market.
Chris Godwin and Leonard Fournette played huge parts in the offense at different times this season, and both could realistically be gone in 2021. But it might not matter for the Bucs.
With Drew Brees set to retire, the New Orleans Saints (12-4 in 2020) might not have the division locked down anymore. The Carolina Panthers are still young, while the Atlanta Falcons are starting life under new coach Arthur Smith.
Tom Brady's New England Patriots were the last team to repeat Super Bowl wins in 2004 and 2005. Would anyone be surprised if Brady, Arians and the Bucs achieved the double in 2021?
Sourse: skysports.com