Plus: Why Anna Patten and her team-mates are encouraging goalkeeper Daphne van Domselaar to shout at them; The centre-back's improvement since joining Aston Villa; Watch Aston Villa vs Chelsea live on Sky Sports Premier League from 12pm on Saturday; kick-off 12.30pm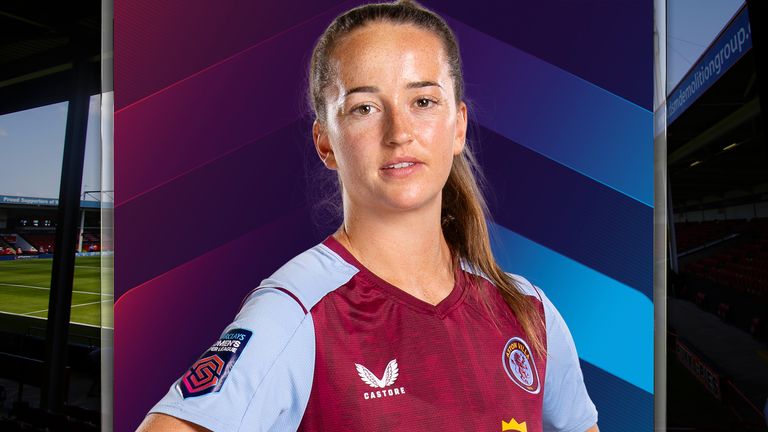 Centre-back Anna Patten cuts a calm and friendly figure as we chat all things Aston Villa Women, clearly enjoying life at the club after her permanent signing from Arsenal Women this summer.
It is perhaps reflective of how the team are feeling, despite a rocky start to the WSL season. It has come as a shock to some that Aston Villa are yet to register a point after four games.
But there have been mitigating factors, including matches against two of last season's top three in Manchester United and Arsenal, where Carla Ward's side were mere minutes away from picking up points. It does not get any easier too as they face champions Chelsea on Saturday, live on Sky Sports.
But while there have been disappointing moments, Patten says the team are not yet hitting the panic button and are learning from their current predicament.
Stream the WSL and more with NOW | Get Sky Sports
WSL table | Watch free match highlights from every WSL game
"It's really tough," she exclusively told Sky Sports. "However, we're a tight knit group. Two of those games have been tough opposition and we have been close with everyone.
"I think Tottenham was one of the games where we were disappointed, but the two against the top teams, we were close to winning or drawing those games and that's probably what was actually most frustrating about it.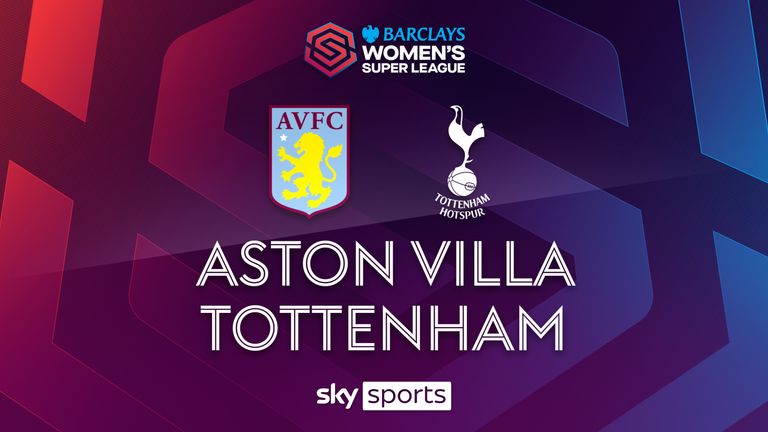 Watch highlights of the WSL match between Aston Villa and Tottenham Hotspur
"But there's not panic in the camp or anything like that. We really want to push on now in November, we've got a lot of games and we believe there's a lot of points we can take from them.
"I think it's going to be a really big mindset shift when everyone returns from the international break. Chelsea is that first one where we can really go out and compete and try and do our best at home.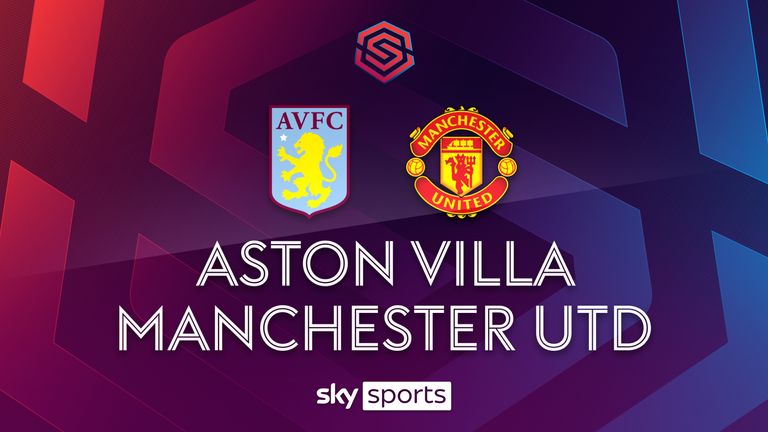 Highlights of the Women's Super League match between Aston Villa and Manchester United
"We know we can take points off anyone in this league. We just have to stay focused and not get that worried mode into our heads or create a really negative feeling because that's when you just get that snowball effect.
"I do think the international break came at a good time because we can be like 'right those four games are done, October's done with', so we can properly get on with our season.
"The good thing about these four games is you actually do learn a lot when you lose. You really focus on aspects of why we conceded at that time – why we conceded that goal, who wasn't doing this and that.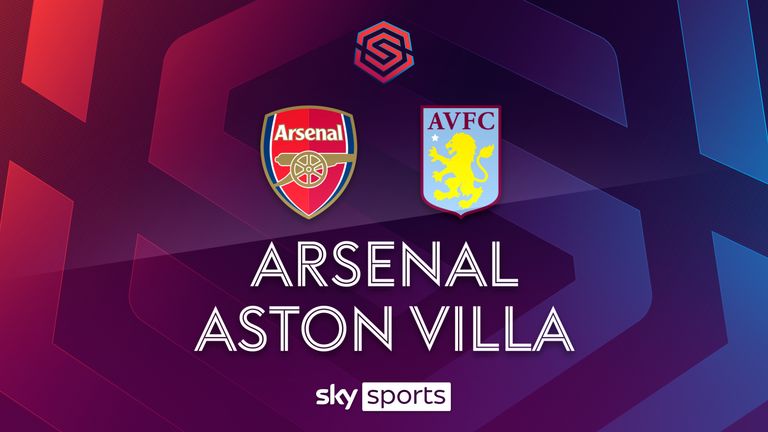 Highlights of the Women's Super League clash between Arsenal and Aston Villa
"You probably get hounded for it a lot more when you lose rather than if you win 3-1 – that goal you conceded you probably don't focus on as much.
"So there's been a lot of learning in those four games which actually might set us up really well for this next long chunk of the season because there is a lot of games to go and we need to just relax."
'We want Daphne to shout at us!'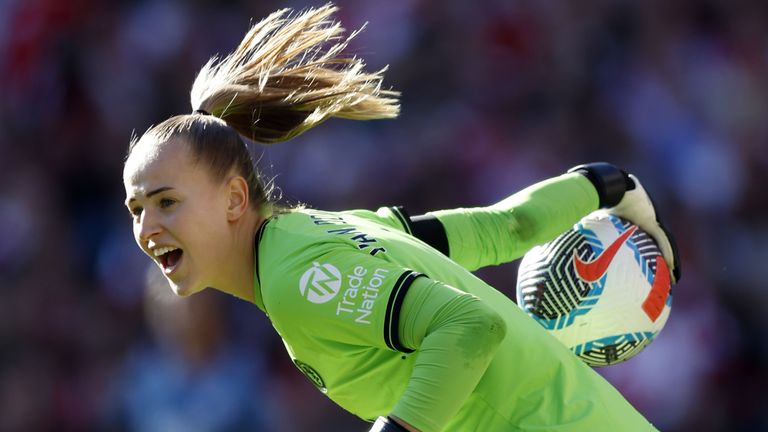 Image: Daphne van Domselaar signed for Aston Villa in the summer
The transfer window was busy for Aston Villa, which included the arrival of Netherlands international Daphne van Domselaar. The goalkeeper finished in joint-29th place in the Ballon d'Or vote on Monday evening.
With Patten playing at centre-back, she has to connect with Van Domselaar almost immediately – and the team have already been encouraging the stopper in one area of her game.
"All of the new players have come in and felt really comfortable and I think that's credit to the group that we do make it a nice atmosphere to come to a new club," Patten explained.
"I had to give Daph a few rides into training at the start of the season before she got her car, so we were bonding over our little 10 minute car journey to training every day.
"It's been great having her behind us. She is a great goalkeeper, she's composed on the ball which is huge for us because we like to use her in our build-up.
"But we have said that when we watch her play for the Netherlands, she's screaming at the players in front of her. When she played England in the last international break, and she put on an unreal performance, the majority of the time after a save, she started screaming at everyone in front of her.
"So when she rocked up to training after that, we said 'Daph, you can do that to us. Please do that!'. But I think with the language, she's like, 'I don't know what to say'.
"There's been a couple of times where she had shouted Dutch things in games. I've said to her 'just shout in Dutch, do what you got to do'.
"It's been great having her behind us and I think she's going to come on leaps and bounds when she's more settled in WSL as well."
Anna Patten on working with Carla Ward…
"She really focuses on making sure the team atmosphere is good.
"It's not trying to keep everyone happy, but just maintaining the standards and creating a really nice atmosphere.
That's one of the main reasons why I permanently signed here because of the group that we have and the atmosphere that's created.
I really do enjoy coming into training every day and want to work hard for everyone in this team on match days."
'I signed my contract on a beach in Mallorca'
Patten spent 18 months on loan at Aston Villa before signing permanently from Arsenal, honing her craft with regular minutes in the WSL.
"I've been able to play a lot of football which has just been huge in my development. There has been a lot of belief and faith from the coaching staff here to play me in the centre-back role, and I've come on a lot as a player.
"This year has been great because we've had [assistant manager] Leanne Hall as well, who has really focused on the defensive roles and little aspects to my game that I can improve."
Joining Aston Villa was always Patten's intention, and during a long summer, the centre-back maintained a balance of down time – including sealing her Villa deal on a beach in the Balearics – with keeping herself prepared for pre-season.
Instagram Due to your consent preferences, you're not able to view this. Open Privacy Options
"Towards, the end of the season, I got pulled for a chat. They [Aston Villa] were talking about how they wanted to keep me and they wanted me to stay," she explained.
"There were other clubs, but in the back of my head, it was always going to be Aston Villa to be honest.
"The deal was pretty much done before my first holiday, which was really nice and I wanted that be put in place. Then I went on a couple of really nice holidays, and I actually signed my contract on a beach in Mallorca, which was fun.
"It was a really relaxing, nice summer that I managed to spend a lot of time with friends and family that I don't really see during the season and watching World Cup as well towards the back end.
"But it was also an opportunity to really work on myself in a football sense. Maybe enjoy is a strong word, but I did make sure that I pushed myself in the summer so that when pre-season came along, I was ready to hit the ground running and I feel like to an extent that's what played out."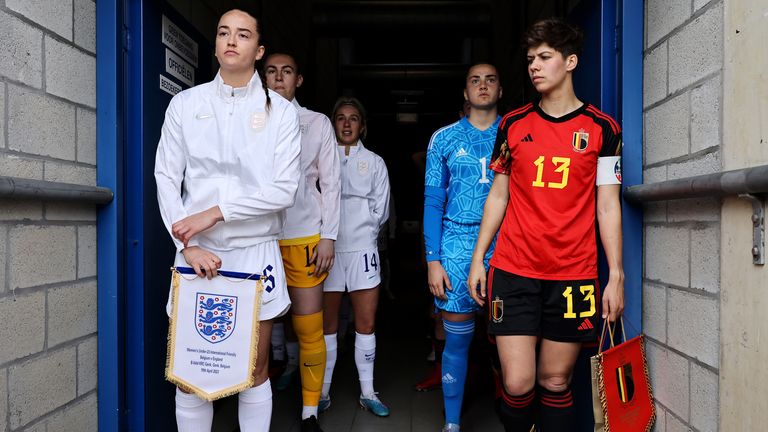 Image: Anna Patten has captained England U23s, but is yet to earn a senior cap
As Patten mentions, one of the reasons for a summer break of just over four months was due to the World Cup. Patten has previously played for England – runners-up at the tournament – at youth level, but is keeping her focus on Aston Villa rather than having one eye on a senior call-up.
"Senior international football is definitely something I'm aiming for. I've just got to keep performing for Villa first and then that comes," she said.
"I don't dwell on it too much because that's not healthy and then you can overthink everything. I just really enjoy playing football and I want to do the best that I can. And if that does lead me to get a senior international cap, wherever that may be in the future, then that would be amazing.
"That's obviously something I really do dream want and want to have, but I'm also just quite happy being able to play week in and week out at Villa at the moment."
For now, the defender's focus will be on a tough Chelsea test on Saturday, live on Sky Sports. With the calm heads and talent of the players around her, Patten and Aston Villa will be hoping a move up the WSL table will not be far behind.
Watch Aston Villa vs Chelsea live on Sky Sports Premier League from 12pm on Saturday; kick-off 12.30pm.
Sourse: skysports.com