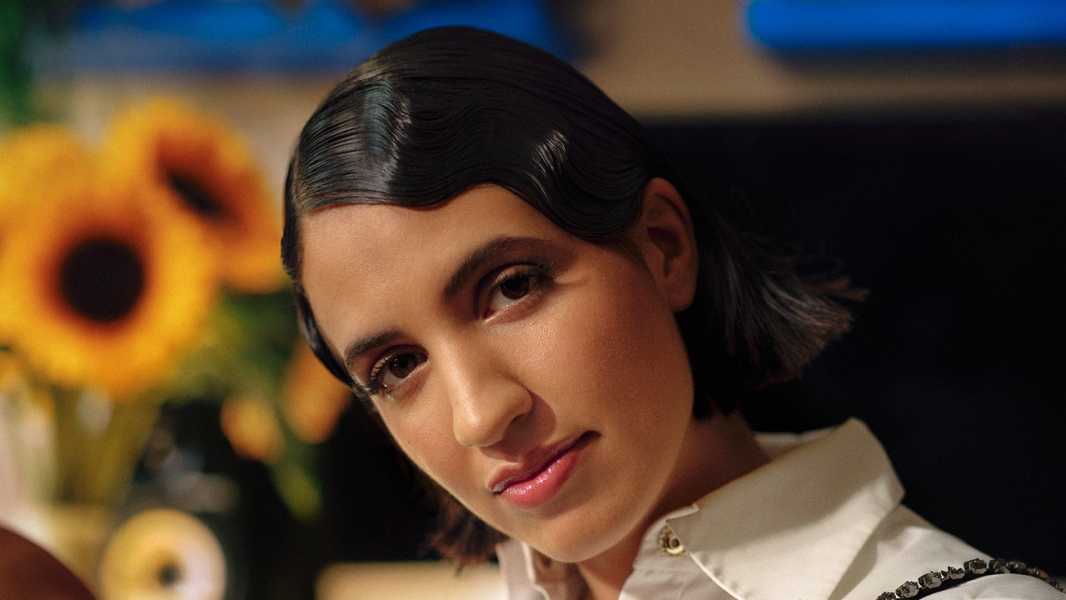 Save this storySave this storySave this storySave this story
Fiction Studios, a recording venue in Farringdon, central London, is a study in scrupulous unkemptness. At first glance, it looks like the kind of secondhand bookshop you don't see anymore—shelves overflowing with old hardcovers, antique lamps, red velvet drapes, clubby leather-upholstered sofas, and a big gilt-framed oil painting leaning up against the bookcases. Only then does one notice a thirty-six-track mixing console and an assortment of amps, synthesizers, and pianos. One evening in August, a group of fans, journalists, and music-industry types squeezed into the space for a "listening party" celebrating the release of "Well Well," an EP by the twenty-five-year-old singer-songwriter Victoria Canal. "I've never been here before," Canal told the crowd, but the place could hardly have reflected her artistic project better: warm and welcoming, but notably organized, too.
Canal wears an almost constant smile, her strong cheekbones lifting her whole face upward, and she often hunches her shoulders in a gawky pantomime of self-deprecation. A recent "One to Watch" column in the Observer described her presence as "lovable" and said, "It feels like she was born on stage." Although her songs address issues such as depression, grief, body dysmorphia, and queerness, her manner has a way of softening heavy topics, and an endearing form of goofball, Internet-addled humor has become the bedrock of Canal's brand. "I don't know if any of you have had mental-health issues," Canal said at one point, shooting a knowing look to the audience. Previously, on TikTok, she had described her fan base with a quote from the drag queen Trixie Mattel: "I'm big with teens, girls, lesbians, the mentally ill, the very sad."
Canal introduced each of the six tracks on "Well Well" with long, chatty anecdotes about their composition and the inspirations behind them. "Braver" is addressed to her mother, who grew up in Alabama and Georgia but emigrated to Spain. "You're braver than I've ever been," the chorus runs, and Canal spoke about how her mother not only moved to a country whose language she couldn't speak but also broke off an engagement in order to marry one of the first men she met in Spain—the man who would later become Canal's father. (Canal is based in London but describes herself as Spanish American.) Introducing "Yes Man," Canal mentioned that she wrote the song while on a writing retreat in Spain with Chris Martin, the lead singer of Coldplay. Martin first made contact with Canal in 2021 and has since become a significant mentor and a booster of her career. At the retreat, he set her the task of writing a song on his Veillette Gryphon guitar in the time it took for him to do his daily laps of the pool. (Also on the retreat was Jacob Collier, who can be heard playing the Veillette on the resulting track.)
"She Walks In" brought back memories of digging a car out of the snow in the depths of a Wisconsin winter. This was at the converted barn that one of the song's producers, Brian Fredrick Joseph, uses as a studio. (The other producer at the barn was S. Carey, best known as the drummer from Bon Iver.) This song is one of two tracks on the EP that address body image and body dysmorphia. "She walks in," the song begins, and then goes on:
Everyone's staring
'Cause she's truly magnificent.
Sometimes I wish someone would stare at me.
But for that reason
Sometimes I get fooled for a second,
But they're staring 'cause my body's different.
Canal has grown up with an acute awareness of the different ways one can be stared at. Clearly beautiful, she has the kind of open, dramatic face that seems made for album covers; she was also born without a right forearm and hand, thanks to a condition called amniotic band syndrome. As far as music goes, her disability—she uses the term "disability" and "limb difference" more or less interchangeably—is essentially a non-issue: her short right arm is perfect for picking out melodic lines on the piano over rippling left-hand accompaniments and for strumming a variety of patterns on guitar. What's more complicated is being stared at—or, in career terms, every aspect of how the music industry and the media perceive her. Her disability has brought opportunities—a partnership with Nike on a sneaker for people with disabilities, say—but also humiliations. (After she sang a duet with Martin, several news headlines referred to "a one-handed pianist" without mentioning her name.) She faces a challenge familiar to performers whose trajectories are bound up with issues of representation and visibility: how to do justice to a difference that is a big part of her experience of the world without letting this difference define her. The opening two songs on "Well Well" mark her first attempt to address this directly.
Canal is at the end of the beginning of her career. For ten years, since her mid-teens, she has been performing whenever and wherever she can, gradually ascending the shaky stairway of a pop career: putting out songs online; touring with Hozier, Lawrence, and JP Saxe; opening for Leslie Odom, Jr., and Teddy Swims. Now she seems to be on the brink of something bigger. Earlier this year, at the Ivor Novello Awards, she won the Rising Star Award, and last year she made her acting début, in Apple TV+'s series "Little America." A turning point came two years ago, when Chris Martin heard her songs online and got in touch, offering support. Canal signed with Parlophone Records after he introduced her to the label, and is now at work on her first full album, for release next year. This fall, after her EP release, she embarked on her first headline tour of the U.K. and Europe. (Last month, she sang across the United States, supporting Sammy Rae & the Friends.) "She has the gift of song," Martin told me recently. "I don't know where that comes from, or how you'd even define it, but songs come through her like they do for some people." To him, her music sounded like nobody else's. "Then, on top of that, she's so emotionally open."
Near the end of the listening party, Canal crossed over to an electric piano and sang "Braver," the song to her mother. When she sings in such an intimate setting, the giggly side of Canal's persona retreats, leaving behind something more inward. She often seems to be singing to herself. Canal finished with a number from a previous EP, "swan song," which Martin, in a video posted to social media, spontaneously exclaimed was "one of the best songs ever written." The song epitomizes much of Canal's style: widely spaced left-hand arpeggios, her right hand playing a few important anchoring notes, and melodies that gently meander in a contralto register. In this intimate venue, her voice was soft but secure, and seemed poised to crack at any moment.
The first date on Canal's U.K. tour was at the Lower Third, an industrial-chic venue on Denmark Street—a street that was once London's version of Tin Pan Alley and still has a residual, slightly beleaguered music-industry presence. Things had been going wrong that day—a lost amp, a nervy sound check—but Canal relaxed onstage, feeding off the supportive energy in a room with ripples of happily awkward laughter. (She encouraged audience members to hug total strangers.) During her song "own me," a helpless cry to God at the prospect of grief, something shifted. Canal's default sound is a whispery head voice, but, during the song's second chorus, she let rip, with loud, wide, pain-filled wails. It was as if the song touched something unexpected inside her that she then spent the rest of the performance coming to terms with. Around the most brutal lines of "She Walks In" — "I'm ugly and nothing will fix it / I'll never be pretty to you"—Canal choked up, seemed unable to sing at moments. "What you saw at the gig is what will happen in the room," the songwriter Eg White later told me, about his experience recording with Canal. White, who has also worked with Adele, Duffy, and Kylie Minogue, said that what set Canal apart was "a shocking frankness and an acknowledgment of the things that you really have to hide in daily life."
The sense of vulnerability as the song ended was palpable. Then a fan presented Canal with a golden crown, and she put it on assuming a "gun show" pose, proudly presenting her shorter arm. Then she sat back on her piano stool, which promptly collapsed, leaving her in a heap on the floor. "It was chaos," she told me later. But Canal had built her audience up into a kind of parachute, and they duly caught her, and Canal and the crowd giggled the way to the end of the set, all boundaries erased.
"I've always had an unusual conviction for just going for it," Canal told me when I met up with her just before the second date on her tour, in Manchester. That conviction can manifest itself in quick gut decisions—getting a tattoo when an audience member at a New York gig offers to do it for free—but increasingly her conviction is more sustained, more carefully focussed on doing whatever it takes to make her career happen. Tony Berg, who has produced records by Phoebe Bridgers and boygenius, told me that Canal "is open for the discussion, and receptive to new ideas, but, when she feels something is inappropriate for her, or she feels strongly that what she's doing is already exactly what she wants, she lets you know." He felt that this independence is serving her well: "She is not one of what is now an onslaught of Phoebe imitators."
Canal attributes her determination to her father, a businessman whose work has mostly been in the marketing of medical devices. She also thinks it comes from her paternal grandmother, who grew up in Cuba but fled to Spain. She would reprimand Canal if she felt her granddaughter wasn't putting her whole heart into even the simplest scale when practicing piano. (In memory of this, Canal has the phrase con alma—Spanish for "with soul"—tattooed behind her ear.) Canal's family followed her father's work around the world; by the time that she was fourteen, she had lived in Germany, Spain, China, Japan, and the U.A.E. At that point, when another move loomed—from Dubai to Barcelona—Canal asked her parents if she could move her education online. This was partly because she felt excluded at school and partly because she wanted to carve out time for her practice, given her belief that a career in music was inevitable. She would attend online school in the mornings, and spend afternoons at a conservatory in Barcelona, where she ended up studying with musicians often ten years her senior. "They were adults, so they were actually nice, and inclusive, and mature enough to look past their own insecurities," she said.
Just before she started online school, Canal had a music teacher in Dubai who gave her the lowdown on the business side of being a singer. Canal fell in love with what she called "the project of making progress," seeing things like gaining followers on Facebook or gaining YouTube views "like a Sudoku puzzle." She said she'd sent hundreds of cold e-mails to prospective artists and producers. "Every tour I've gotten pretty much has been through D.M.'ing the artist on Instagram," she said. "I'm a victim of hustle culture in that I've only thought about my career my whole life," she said, before stopping to rephrase. "I'm not sure 'victim' is the right word, but definitely, like, a partaker."
Canal's current life is a bifurcated one: sometimes she is an international jet-setter casually hanging out with musical colossi such as Collier, Hozier, or Matty Healy from the 1975, but most of the time she is a breakthrough artist trying desperately to make touring sustainable. Canal's career is like a music version of "dress for the job you want," and her schedule is hectic. As well as touring, there is international travel to work with specific producers in specific studios, a fierce workout schedule—she's currently trying to master the one-armed pullup—and, in her downtime, long stretches of time marked out where she's not allowed to use her phone. Her immediate aims, meanwhile, are quotidian: she wants a bigger band, a lighting engineer, a person to run front-of-house, and a tour bus.
Canal is extremely open about all of this, and she regularly shares her biggest vulnerabilities on social media. A week after the London gig, she posted a behind-the-scenes mini-documentary on Instagram. A scene shows Canal at her home in North London, picking out clothes for the show, that evening. "Why do I feel so bloated?" she asks. "Depending on the day, I feel so differently about my body." Canal emerges from her bedroom in a different outfit from the one that she had originally planned, her smile noticeably wan. On Canal's Instagram, there's an emotional reaction video of her listening back to her first song about disability, "She Walks In," and another video in which her body is painted with a lyric from "Shape" ("Don't be so pretty in front of me") while she rides the London Underground.
Part of her expressiveness is a rebellious gesture; her mom monitored her social media until she was of age, and would occasionally ask her to take a post down. But something about her public persona is also discomfiting, a reflection of an industry's glorification of authenticity, which has created an environment where artists like Canal—and other young women, mostly—feel compelled to put their deepest insecurities on show for all to see. There's no doubt that Canal's ascendant career is built on her ability to unflinchingly capture feelings, many of which are drawn from her own experience, but it also shows how hazy the boundaries can be for artists between reclaiming a narrative and allowing trauma to become part of a brand. "Nobody's been telling me to do anything that I don't want to do," she said to me at one point, but she's well aware that the industry is keen to exploit the fact that "people like depression in music."
After the Manchester performance, as with the London one, she emerged from her greenroom to meet the audience, most of whom had stuck around for a chat. Her directness about body image and mental health has brought her an audience of people a lot like her. "It's just young queer women who are sweet and gentle and kind to each other and lonely and sensitive," she told me. There were hugs, selfies, and intense conversations between natural oversharers. Some of these interactions were filmed for Instagram, but most of the conversations drifted along happily until, after about twenty minutes, Canal seemed to have dissolved into the room and become indistinguishable from her audience, just as she'd planned, and hoped. ♦
Sourse: newyorker.com