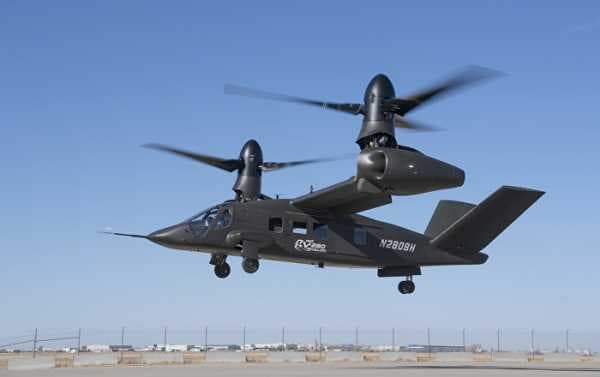 The V-280 Valor Joint Multi-Role Demonstrator from Bell Helicopter has shown it is capable of reaching a forward flight speed of 80 knots in recent tests.
Keith Flail, the company's vice president for advanced tilt-rotor systems, told Defense News in an interview that since its maiden flight on December 18 at the Bell facility in Amarillo, Texas, the aircraft has been behaving "incredibly well."
Last week, the tilt-rotor aircraft reached an air speed of 80 knots while flying at an altitude of 1,000 feet, accompanied by a chase aircraft. It has also demonstrated its ability to ground taxi, hover taxi and perform low-altitude hovering maneuvers, including 360 pedal turns and forward/aft/lateral repositions.
Flail pointed out that a flight speed of 80 knots begins to test a new function that hasn't been tested yet: minor pylon rotation — which converts the rotors from facing upward, like a helicopter, to facing forward, like an airplane — and as air speed continues to pick up incrementally, the pylons will move to face forward until the aircraft is in full cruise mode.
Designed to fly twice as fast as conventional helicopters, the V-280 was developed as part of the Future Vertical Lift (FVL) program to create a new generation of tilt-rotor airframes for the US military.
According to Bell, Valor has already logged more than 52 hours of rotor turn time, more than eight hours of flight time and over 28 hours in restrained ground runs.
The US military currently operates one tilt-rotor aircraft, the V-22 Osprey, also built by Bell, which first flew in 1989 but only entered service in 2007 due to repeated accidents and equipment failures.
Sourse: sputniknews.com